4 months later! and I'm back! As you last heard Reggie and I are expecting another baby and guess what it is!!! A GIRL!!! Yeah! I am so glad I got pregnant during girl season! lol! EVERYONE I know is have a little girl!!! Well you know how excited I am after having two amazing little guys! As soon as we were told the news I started thinking about her nursery. At first I wanted to do the traditional PINK….because well she is a girl. I wanted soft and feminie pretty and sweet sophisticated and luxurious all wraped up in one little bow! Don't get me wrong I still want all of those things but instead of going with PINK….which has taken me forever to make up my mind, I decided to go with the untraditonal colors, yet still girly of lilac and sage aka PURPLE AND GREEN! I thought that would be some what different and I would still be able to have all of those things I wanted in the room!! Check out some of the things I was thinking about….
This is the crib that we purchased for her 3 days after we found out what we were having! It the Stanley Isabella Crib by Young America! You can find it on PoshTots! I found mine on craigslist for a fraction of the cost and it was in PERFECT PERFECT PERFECT condition! What a steal!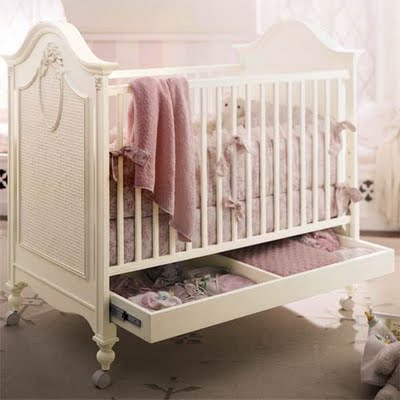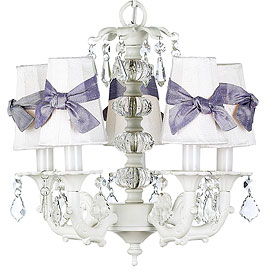 Ohhh how I heart this chandelier! Perfect fot the HER room! I found this one a PoshTots too!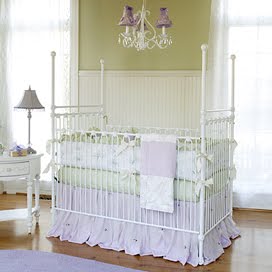 PoshTots again! The color scheme is right on with what I want! The bummer is that this beautiful little hand made set is 800+ smackers! 🙁 I did find a place that I can have something like this made for about 300 though, which is still alot! Hey you never know, I might just have my mom help me tackle another sewing project…how hard could it be!?…lol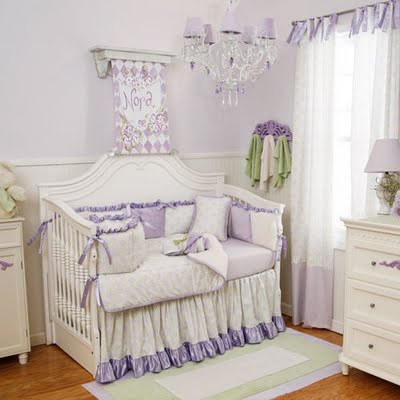 This one is just as sweet and much more affordable…and you can acutally customize the color scheme anyway you like! My girl Alexia found this site for her crib set and told me to take a look! Glad I did!!! The colors are wonderful! Babybedding.com
I also looking for some BIG FAT BOWS!! :0) Can't wait to have one in every single color…lol…this should be fun!!!