Handsome Teen Boy Bedroom Ideas
This post is sponsored and may contain affiliate links, please read my disclosure policy.
This post is sponsored by American Furniture Warehouse! All opinions are mine!
I desperately want to finish my kid's rooms. I feel like I've never actually finished any of their rooms. I want to. I have all the best intentions in the world but I NEVER get to finish them. For some reason, in this season I'm getting a bit emotional about it all because my little ones are growing up SO FAST.  So now instead of designing little girl rooms and little boys rooms, I found myself thinking about plans for a teen rooms. Makes this momma so SAD!!! 
My boys have always shared a room. Even when we moved into our new home last year, they still wanted to share a space. It makes sense though, I mean if you've always had a friend to talk to late and night, someone to fight with during the day and someone to play with when you find the best games, why wouldn't you want to!
The overall look I'm going for in their room is something grown up and more teen appropriate. They aren't even pre teens yet but to get some longevity out of the room, I decided to head towards the direction of teen rather than kid.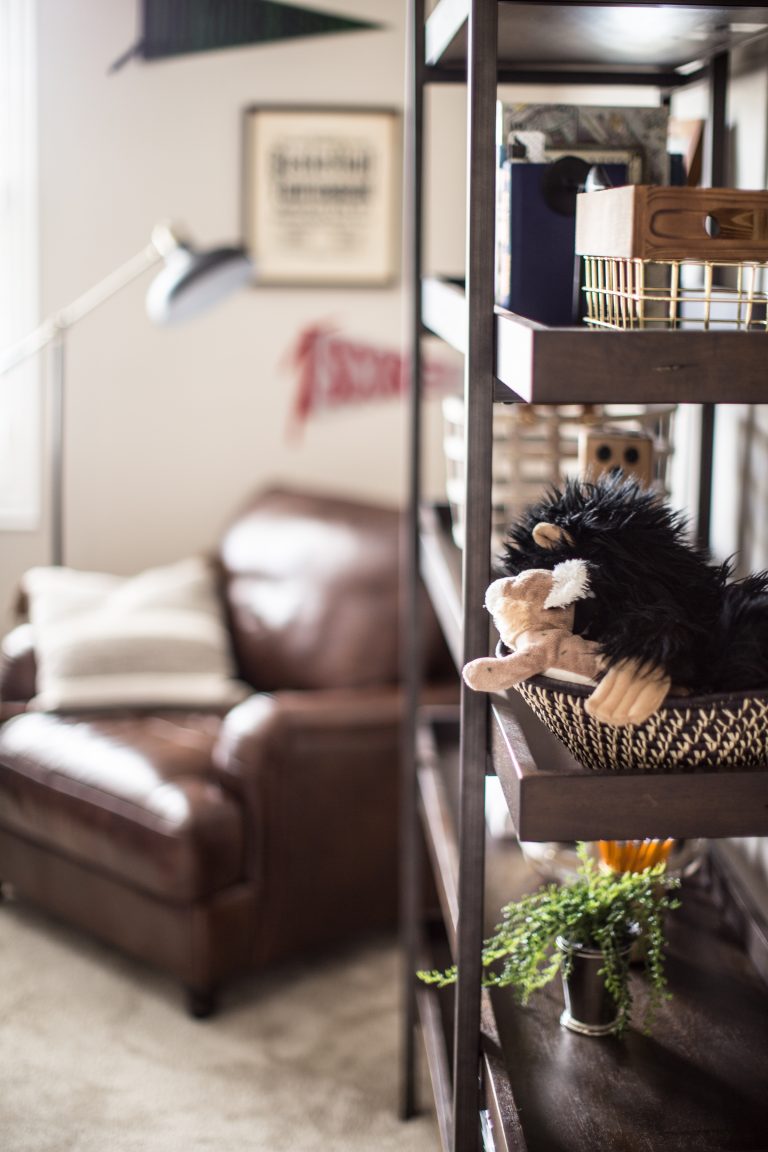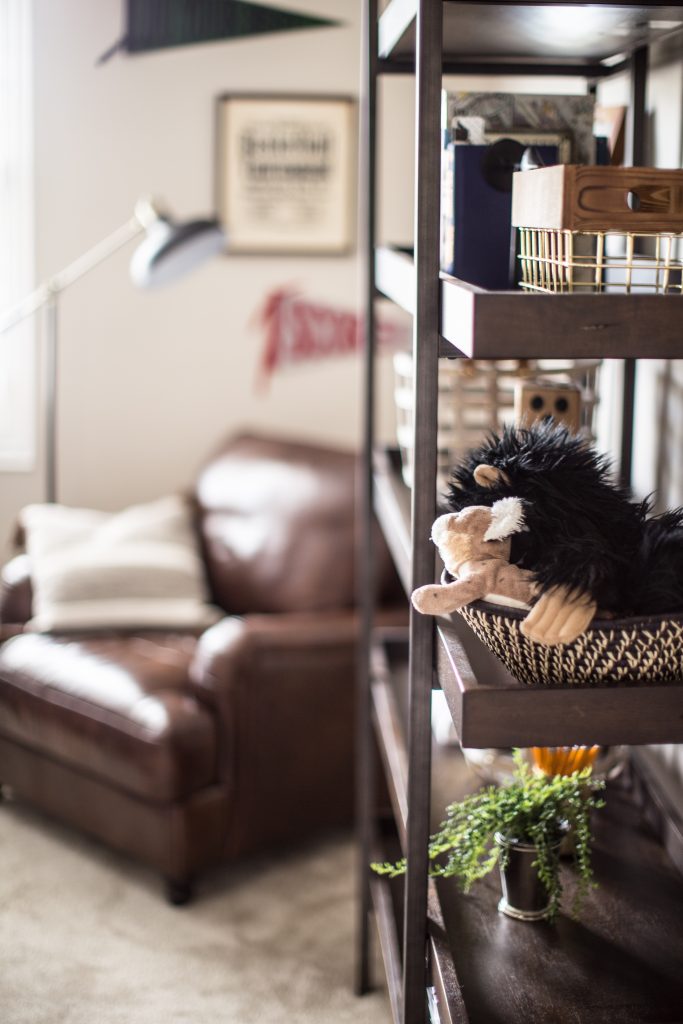 Thanks to my friends at American Furniture Warehouse we are well on our way to a perfect retreat for them. I was able to add some anchor pieces to their room like a leather chair, bookcase and a nightstand! If you're luck enough to have an American Furniture Warehouse close to you then you know the mass selection of furniture they have to offer! It was fun to look around at all the different options! If you don't have one near you then no worries, they ship and have even more selections ONLINE!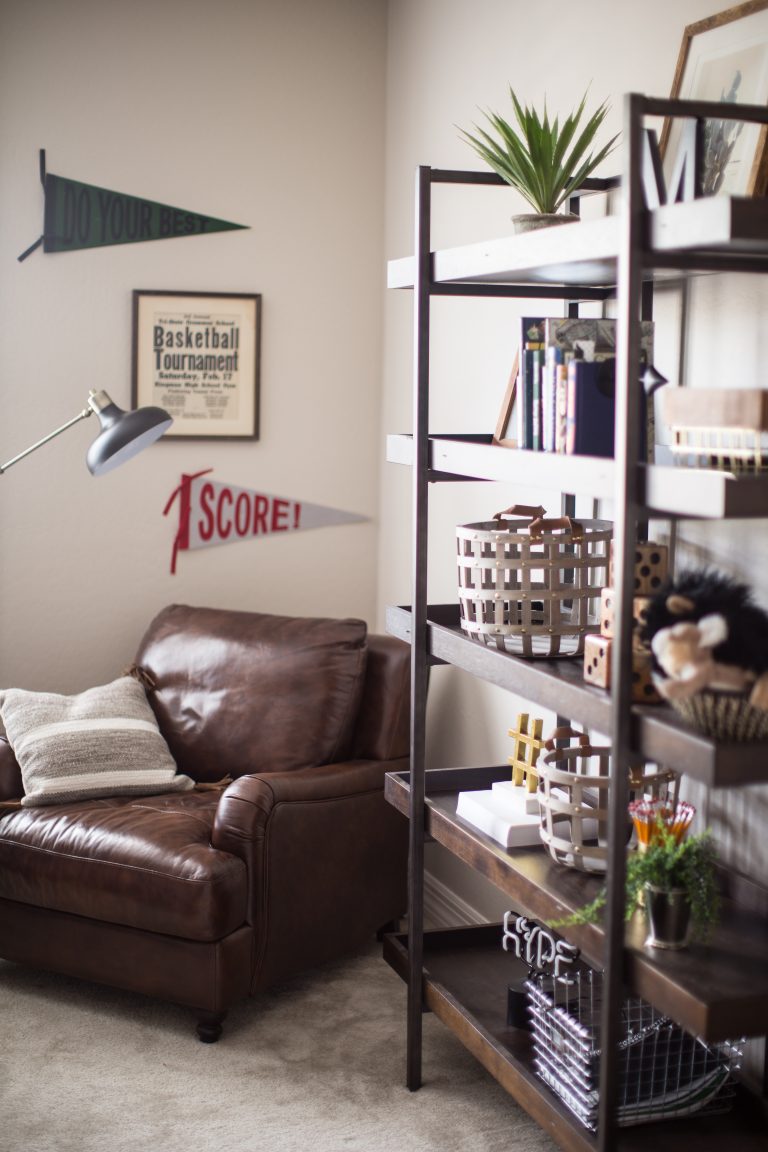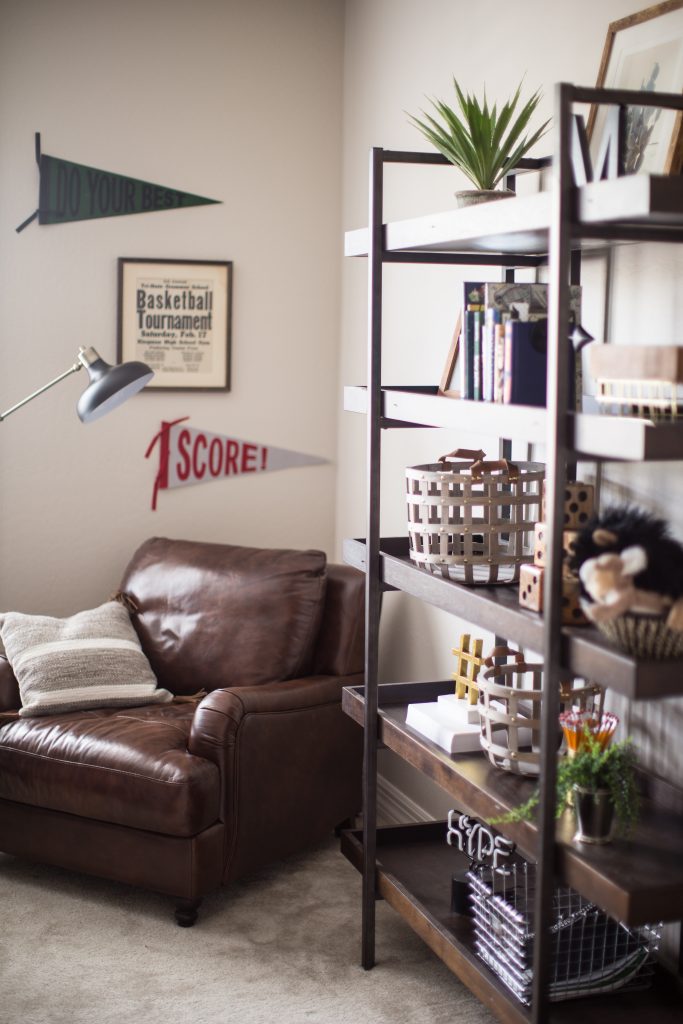 I'm the first to admit that leather is never my first choice when it comes to decor. I just don't do it. I think it might have something to do with growing up with a black leather sofa that was always so cold …lol!
It's crazy how your childhood can dictate your decor choices. But after seeing some very inspiring leather selections on Instagram I decided that the perfect way to get reacquainted with leather was with this gorgeous club chair. ( You might still be able to find this one in-stores! Online is sold out! ) See a similar one here.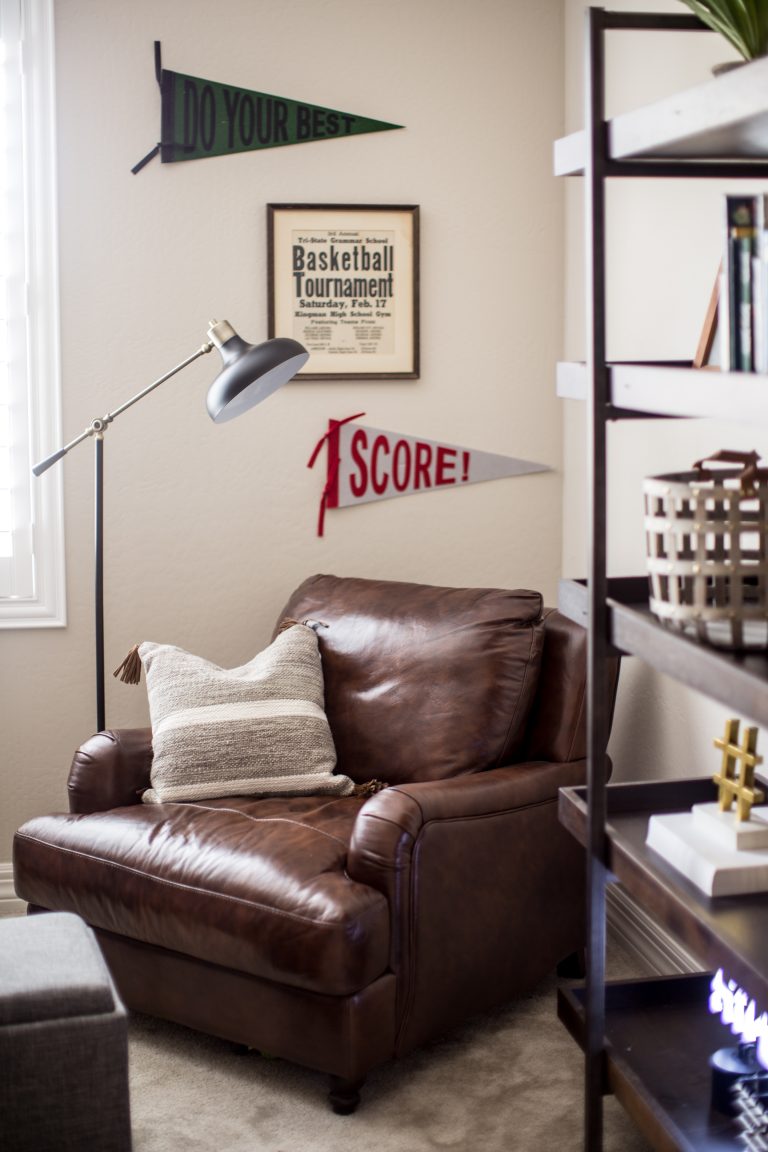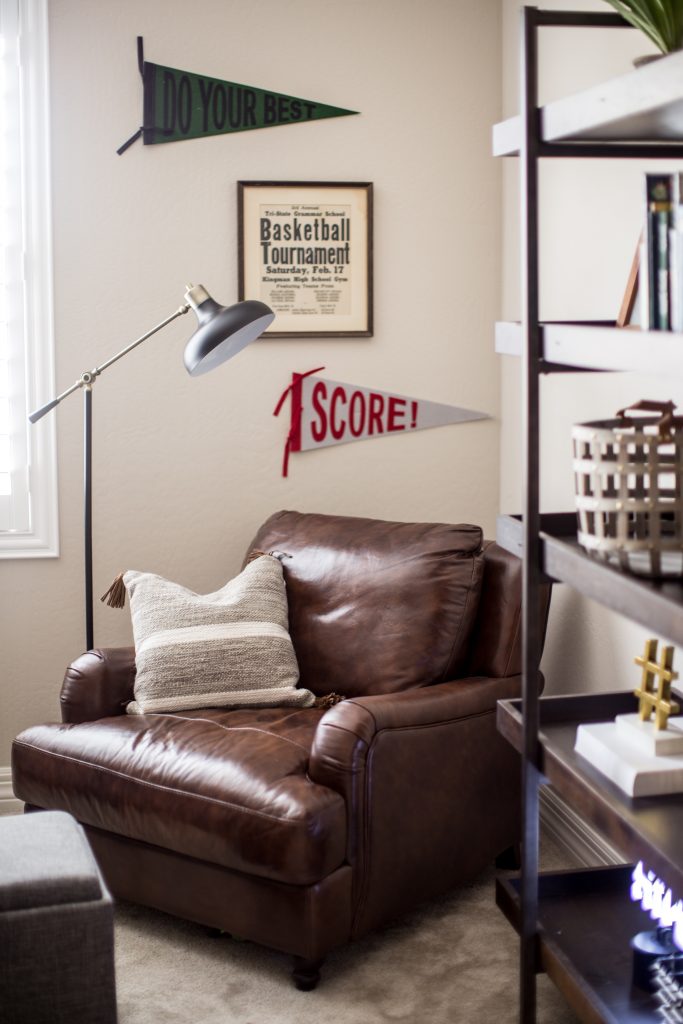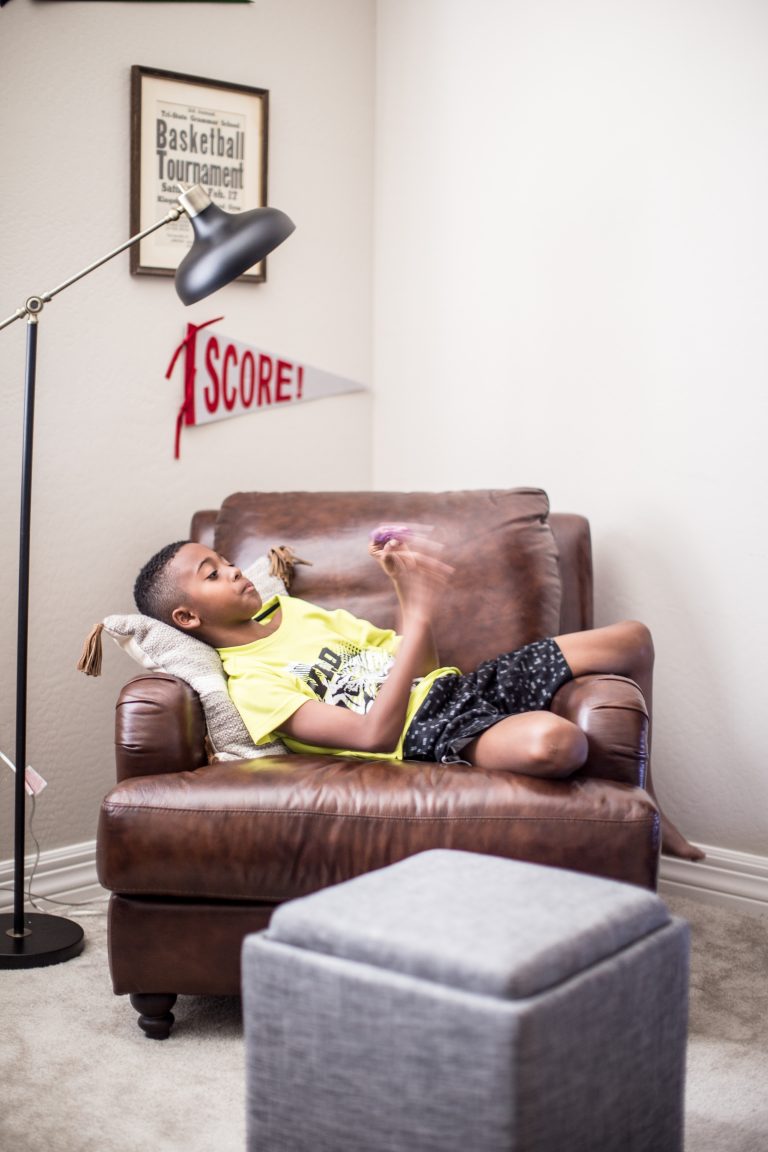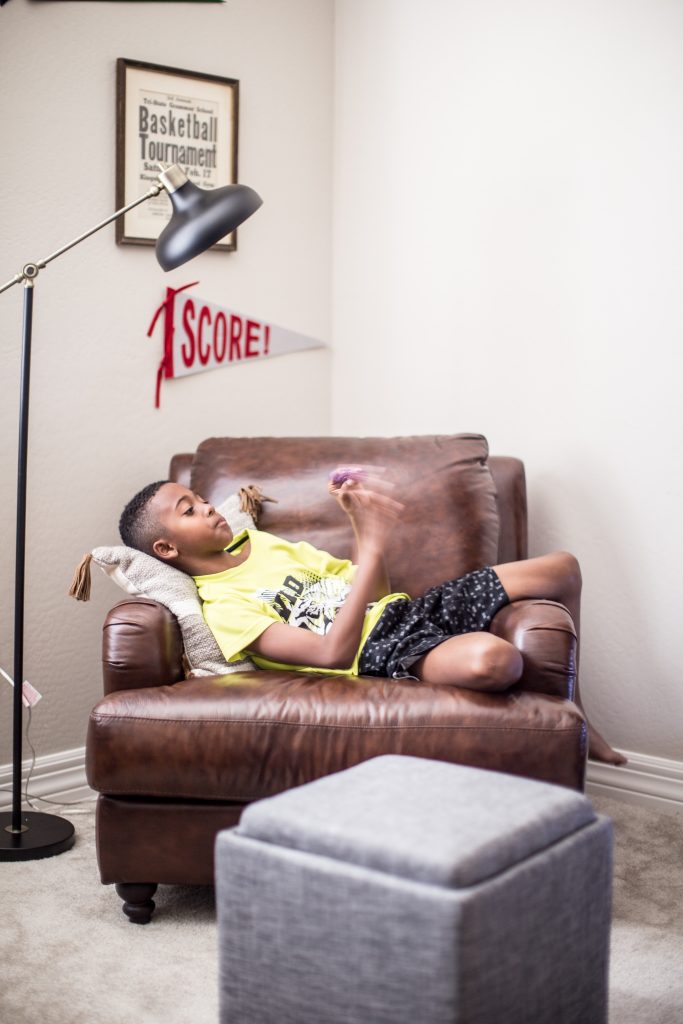 The details on this chair are so classic. Rolled arm with a pleated finish.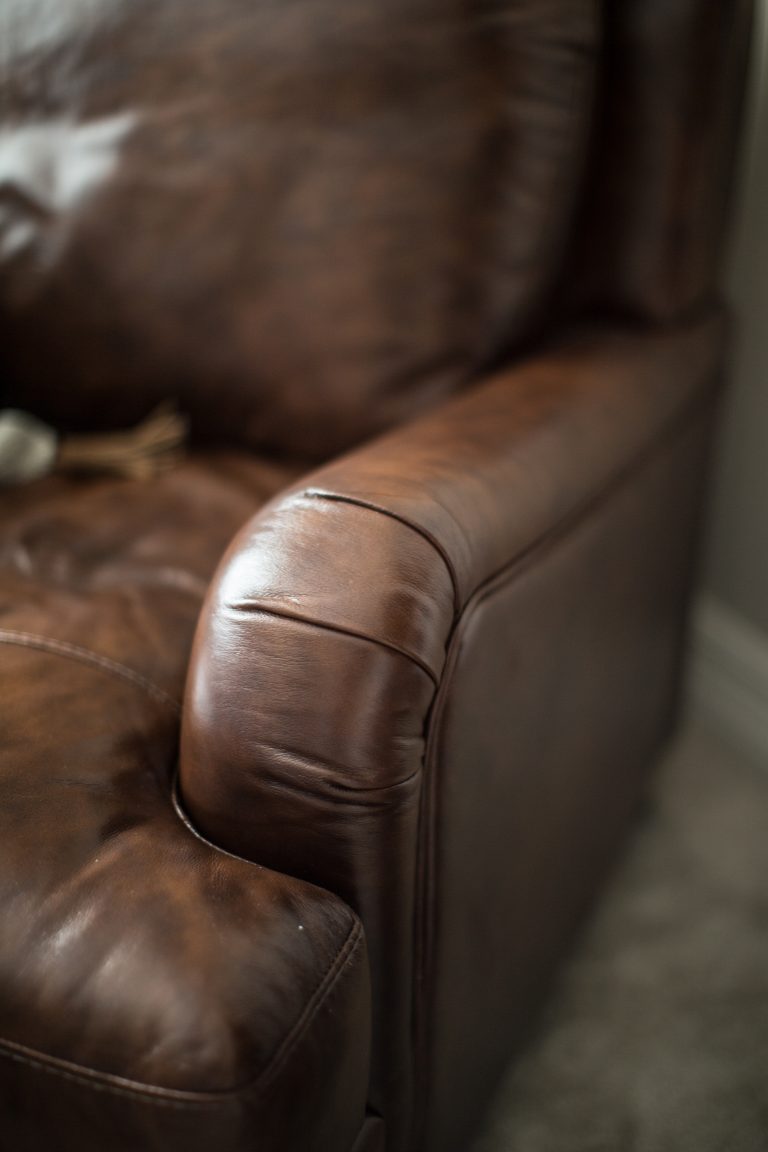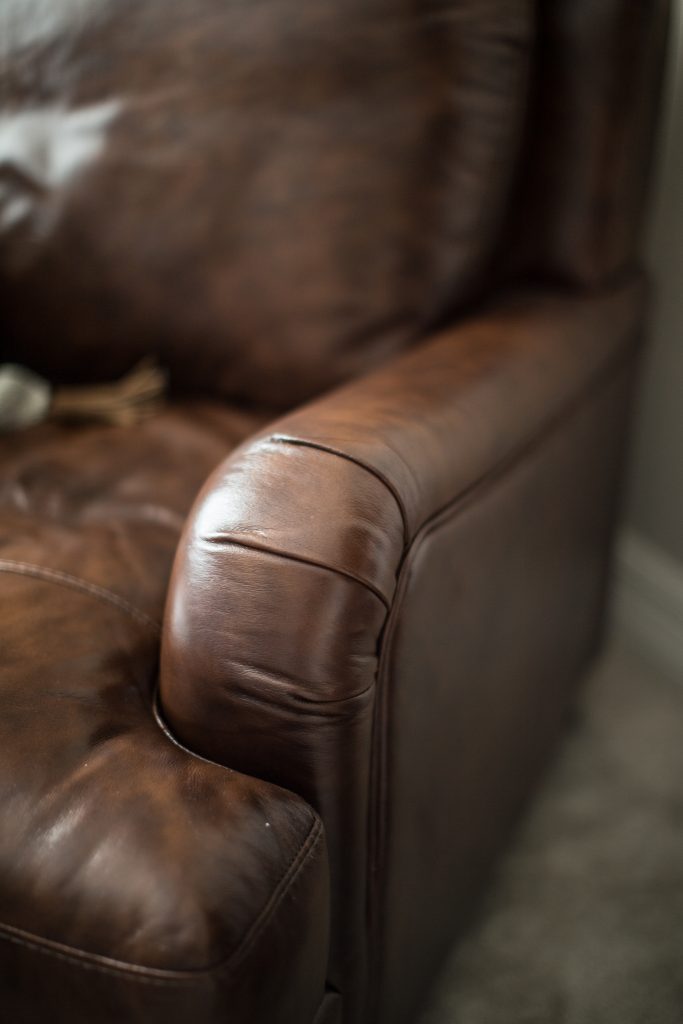 I can also confirm that his chair is SO soft and comfortable. My boys wouldn't have it any other way. I find them on it all the time.
To display and hold some of their belongings I opted for this stylish bookcase. The open shelves are perfect for baskets, books and boy stuff. Oh and the price is AMAZING. I had to do a double take! You just won't find a better bookcase for the price!
I love the combination of wood and metal. Gives a industrial vibe without committing to industrial everything. I'm also totally crushing on this matching desk!!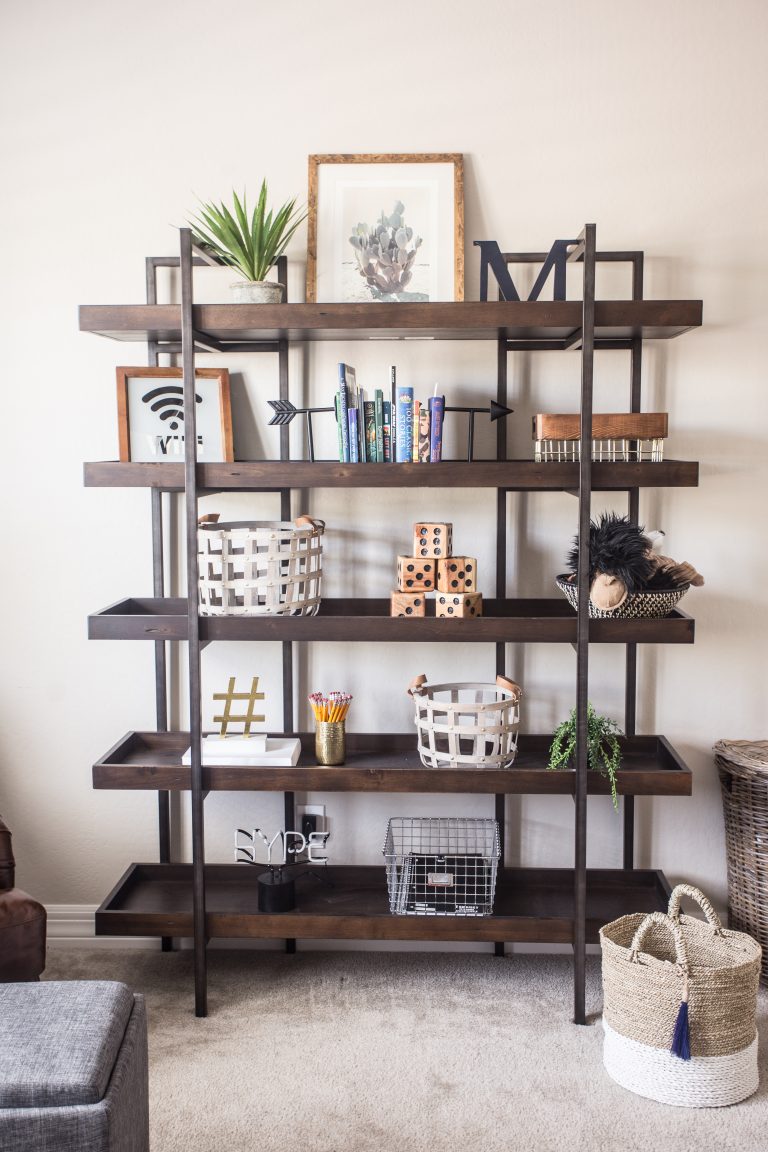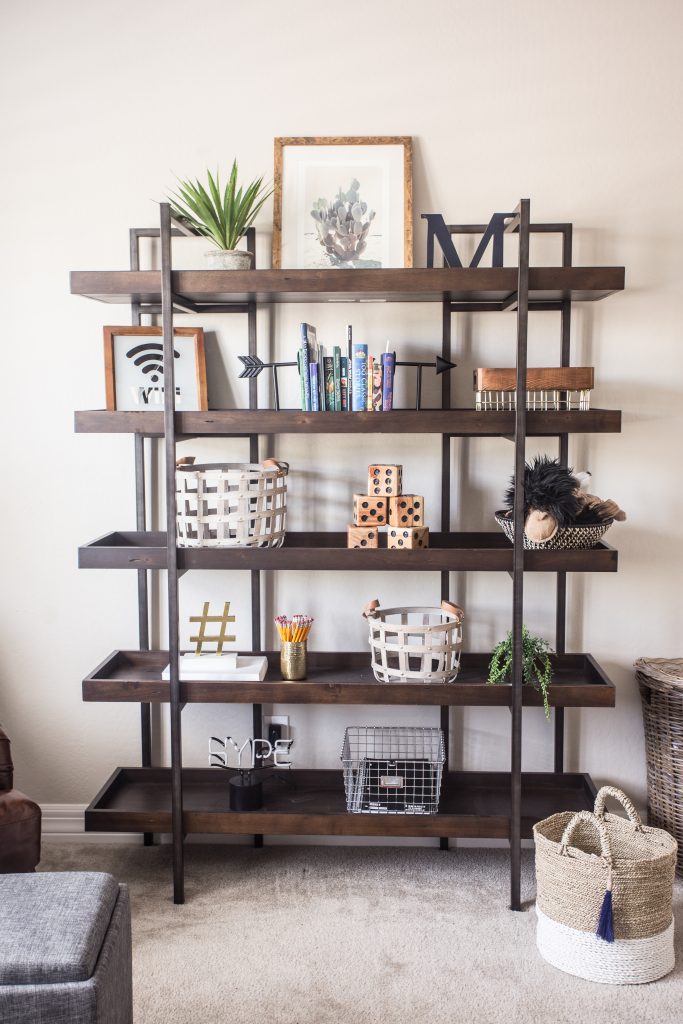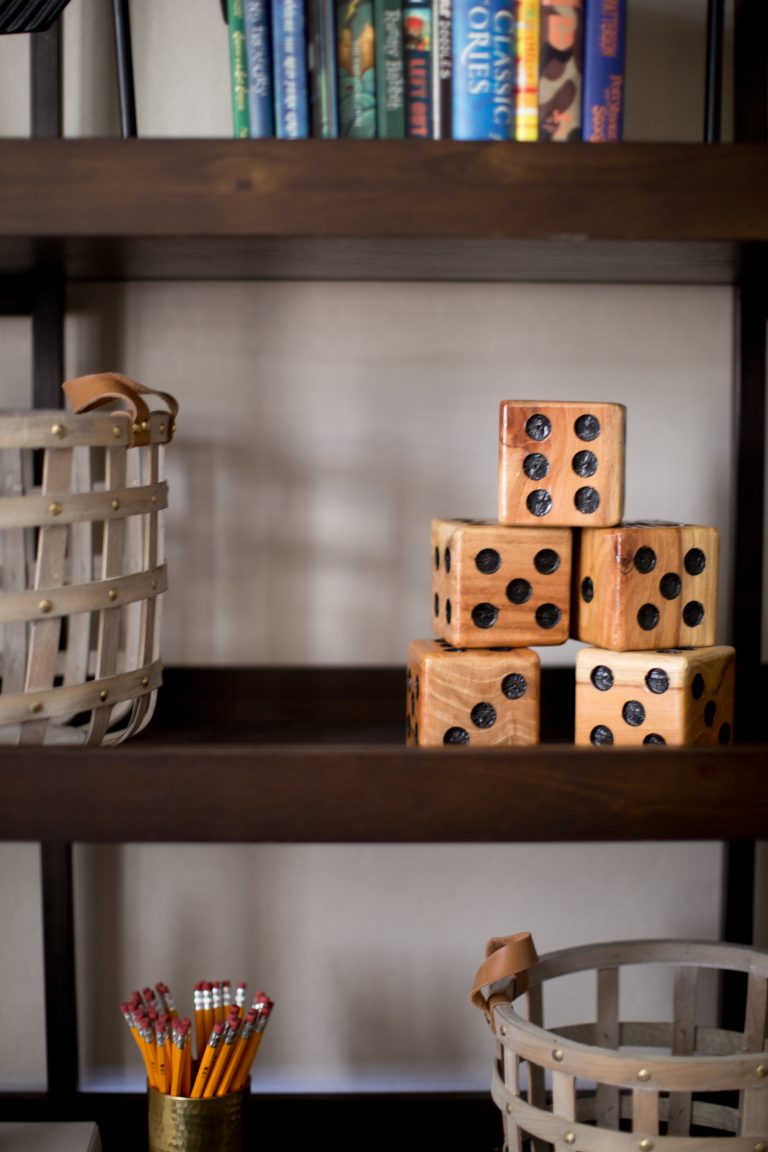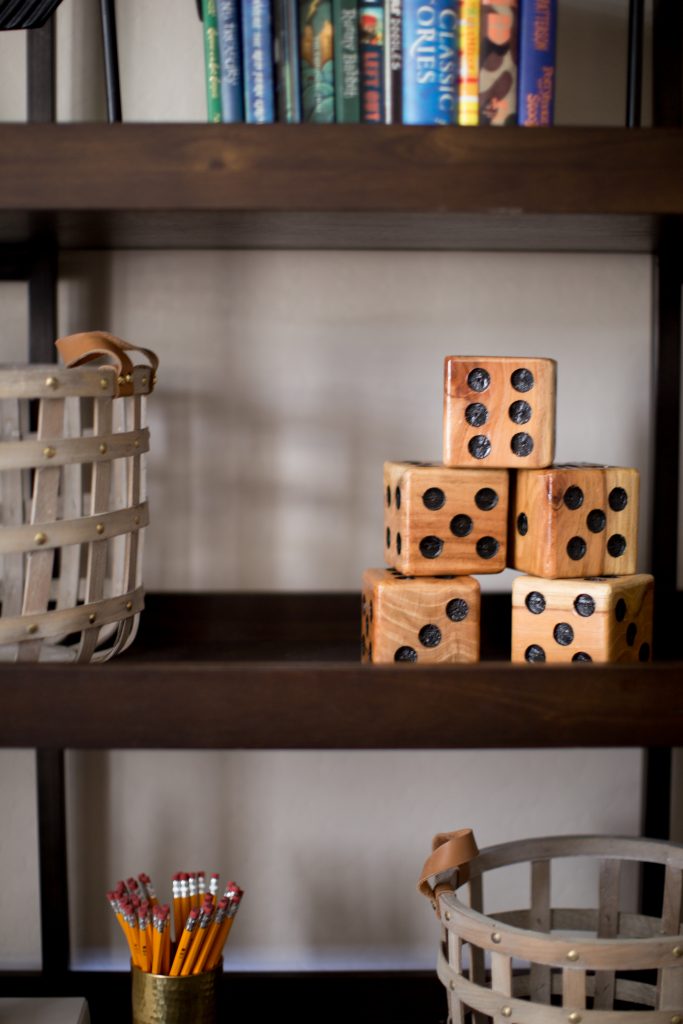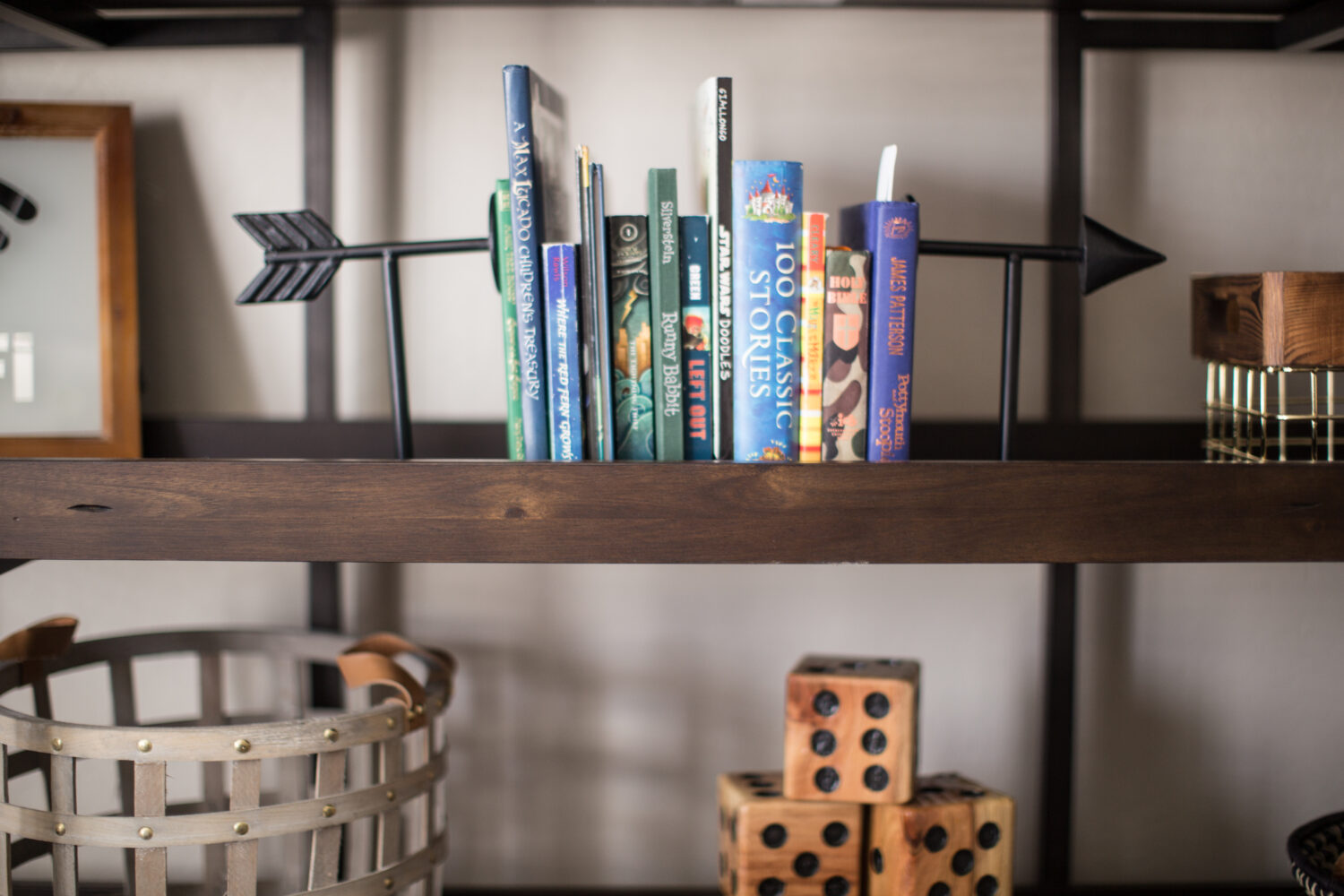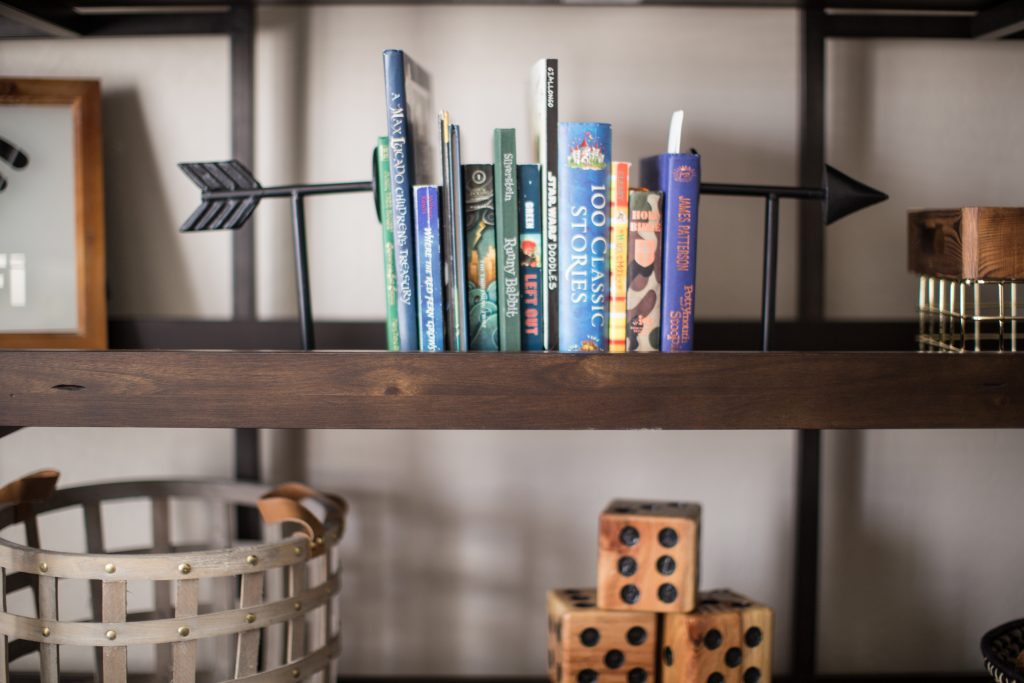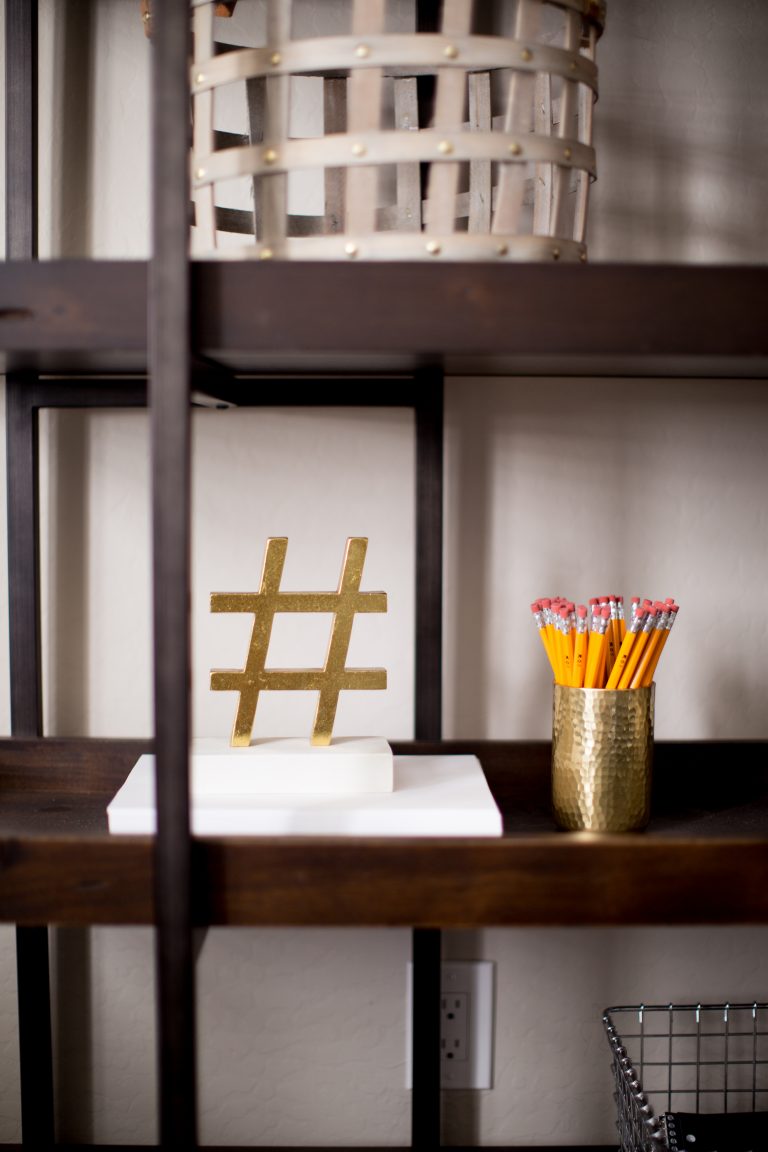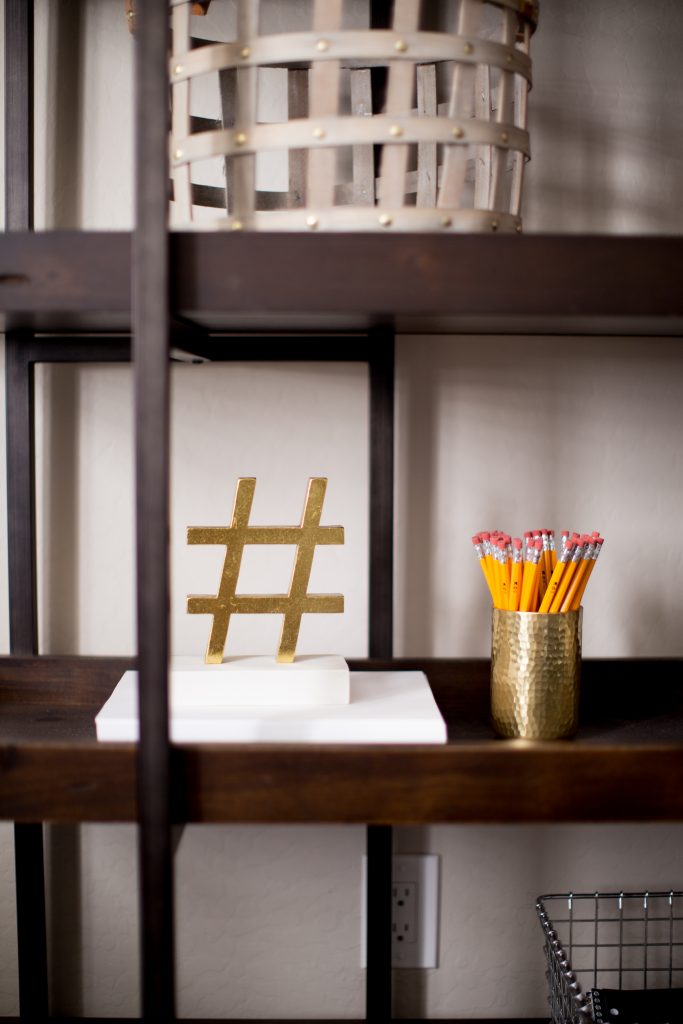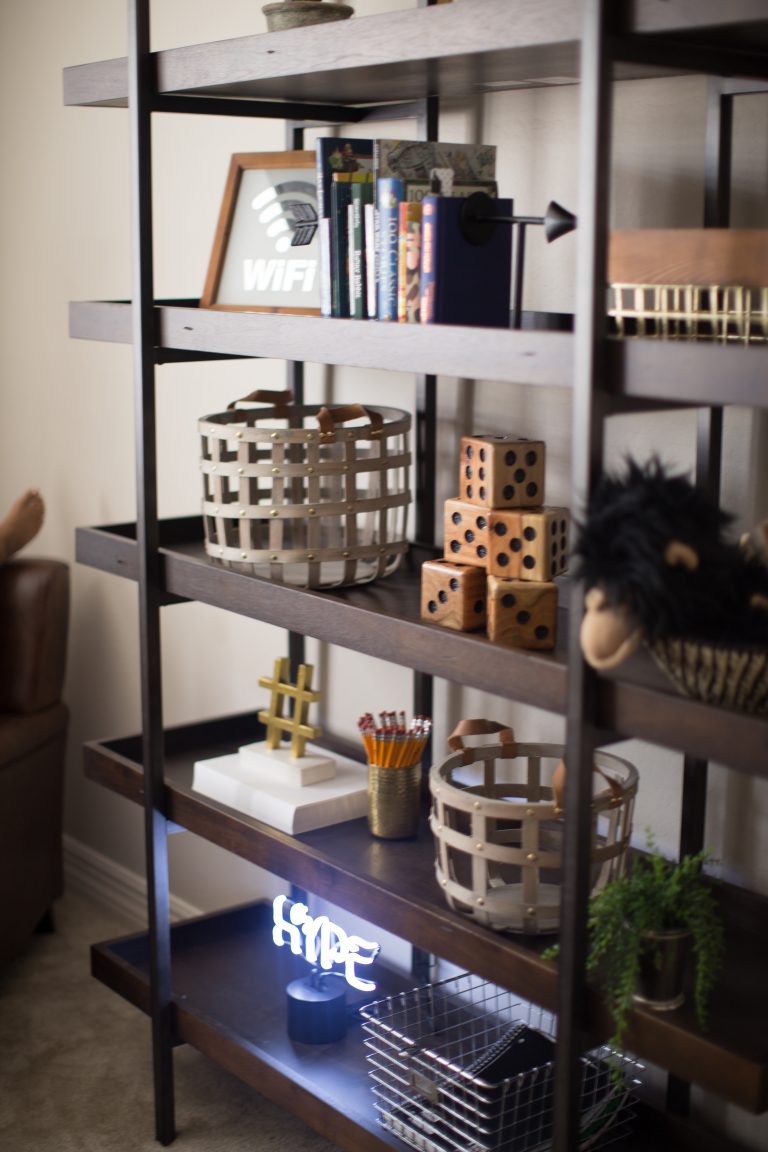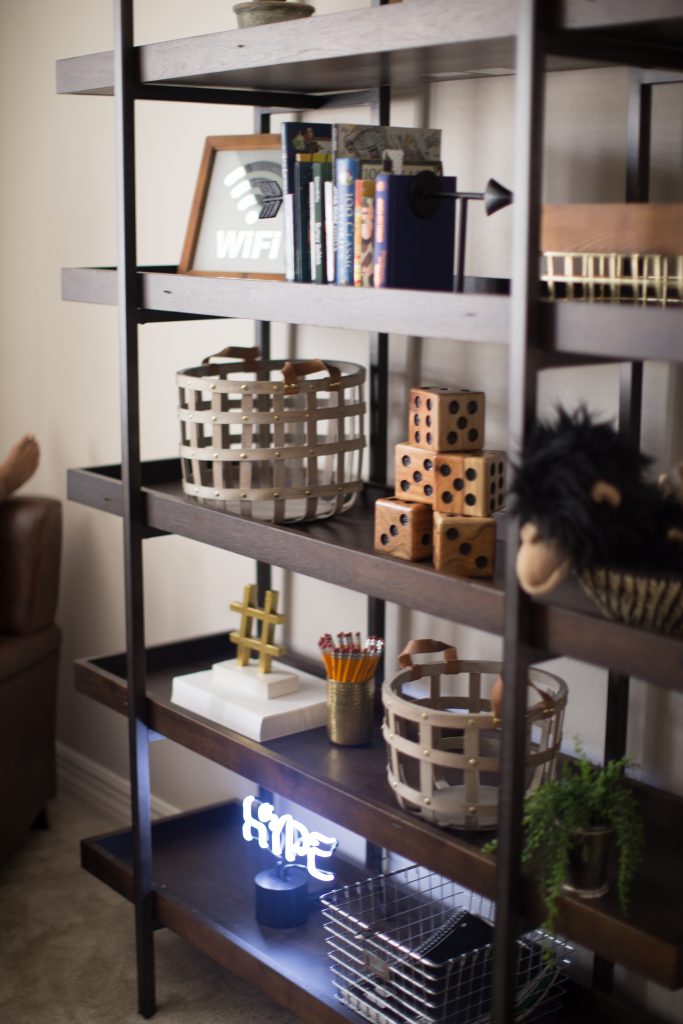 For in-between the beds I choose this handsome nightstand with plenty of storage.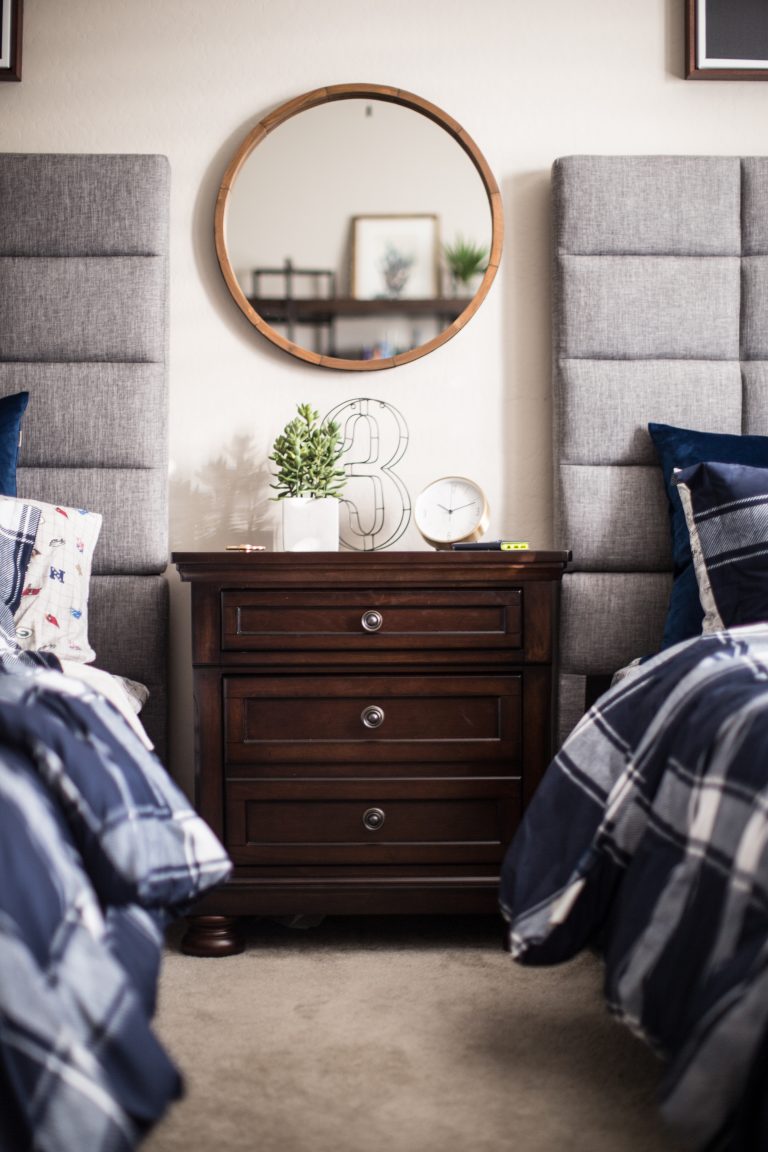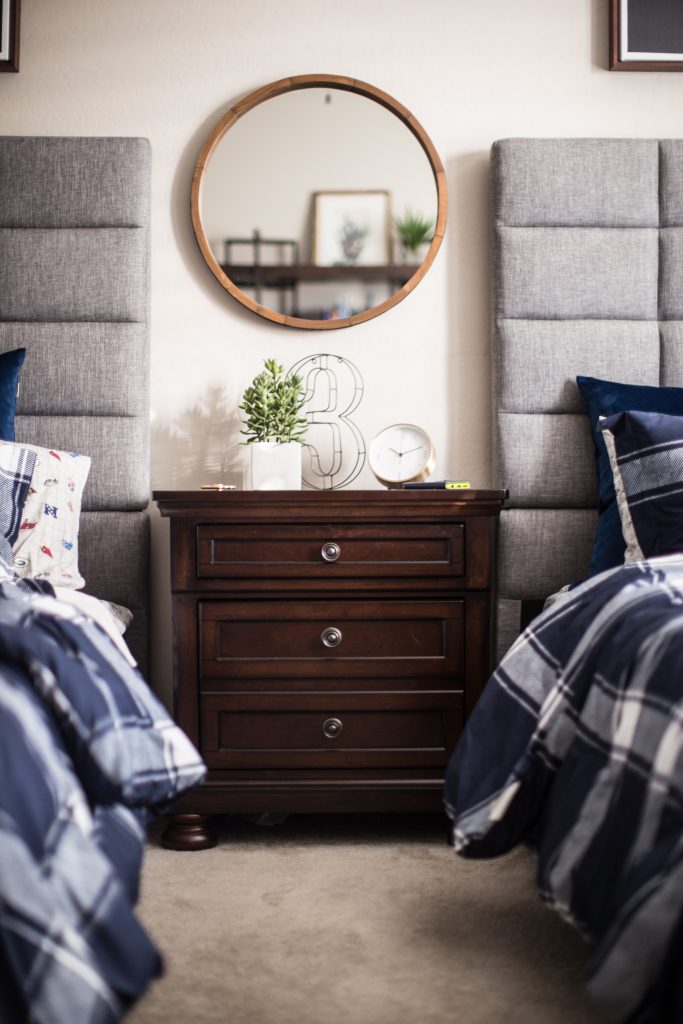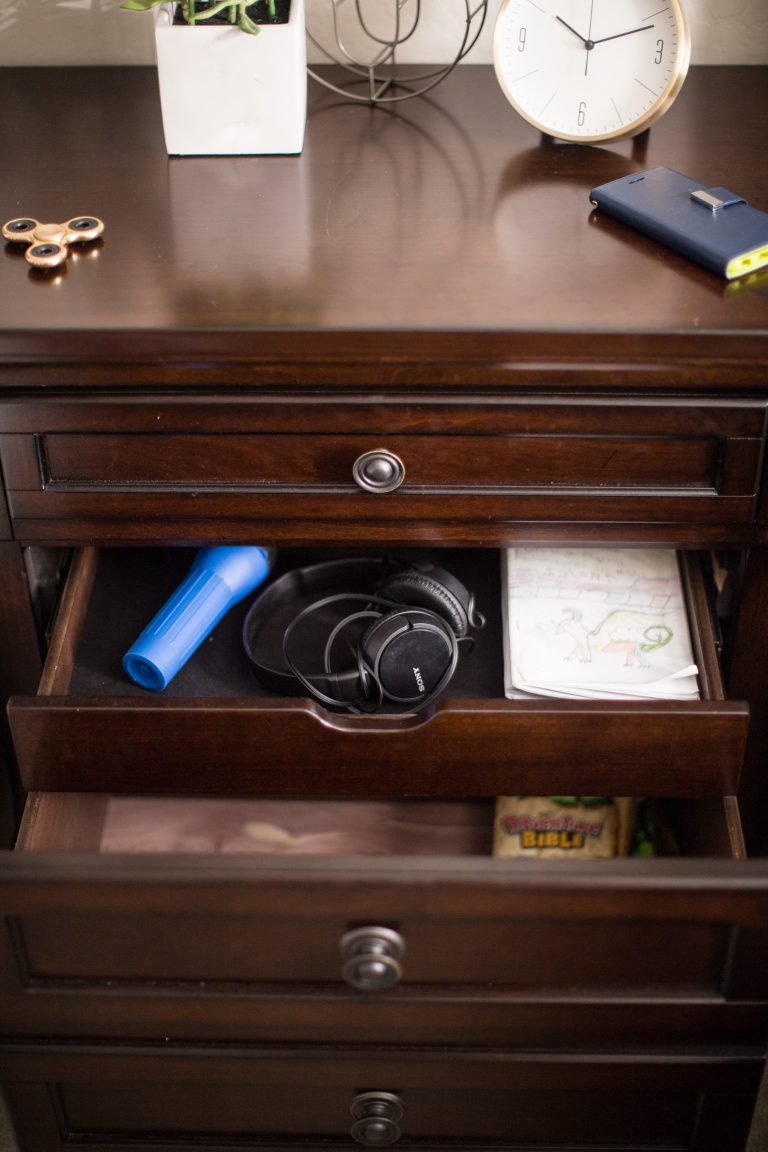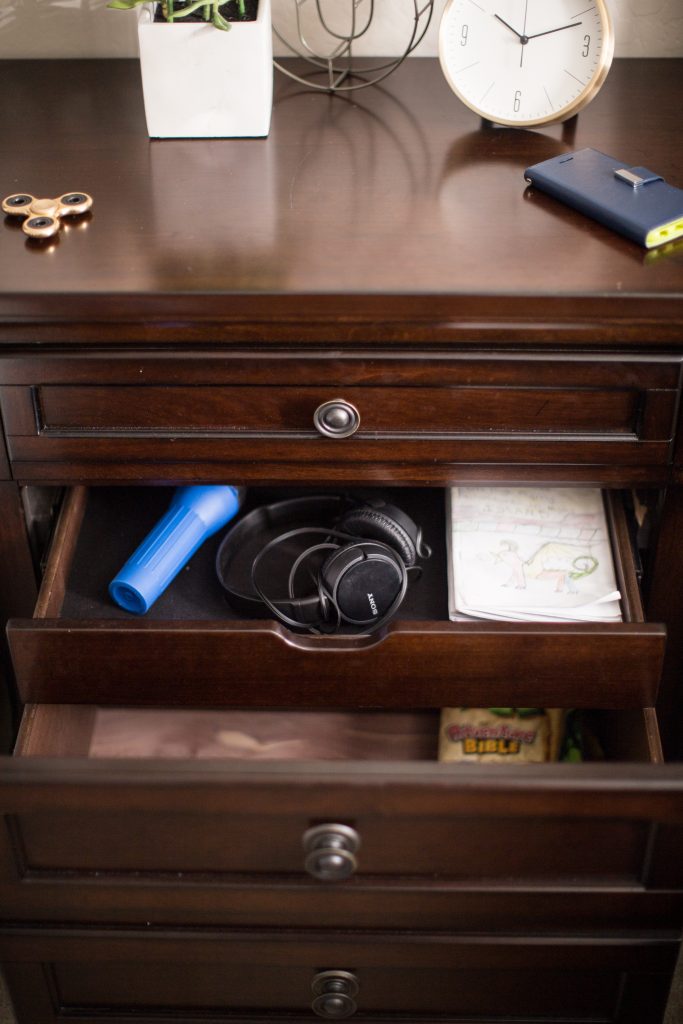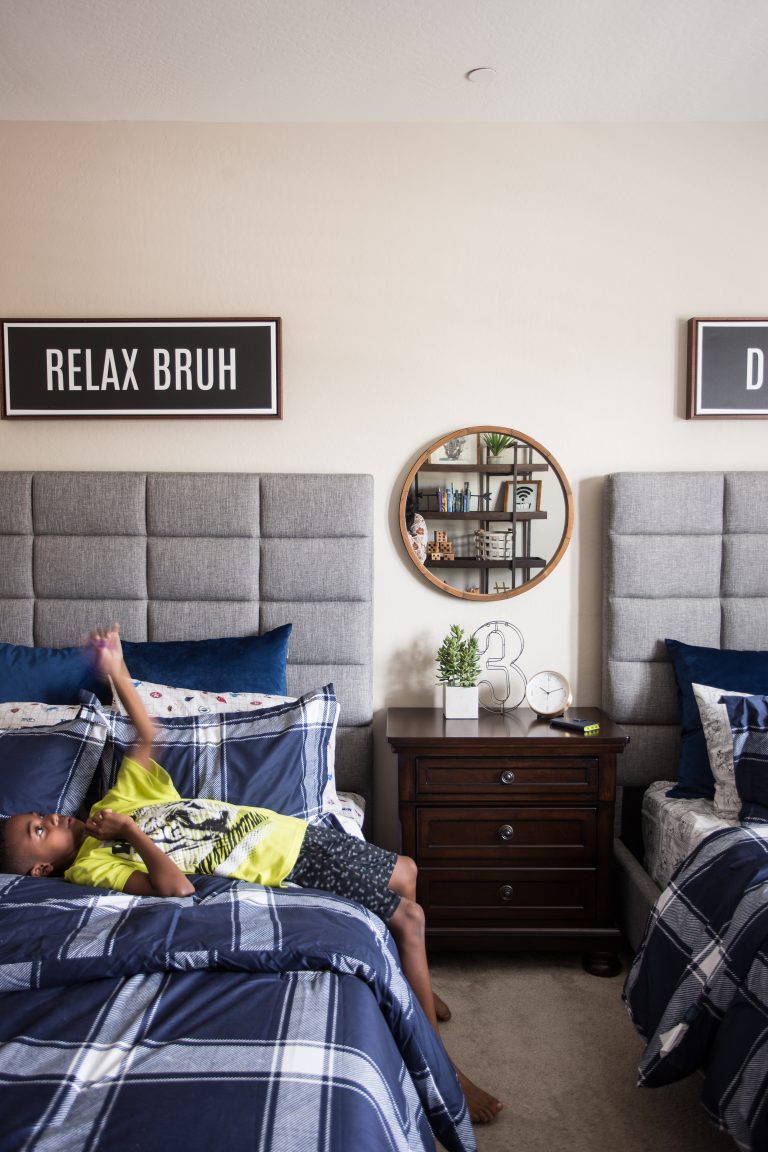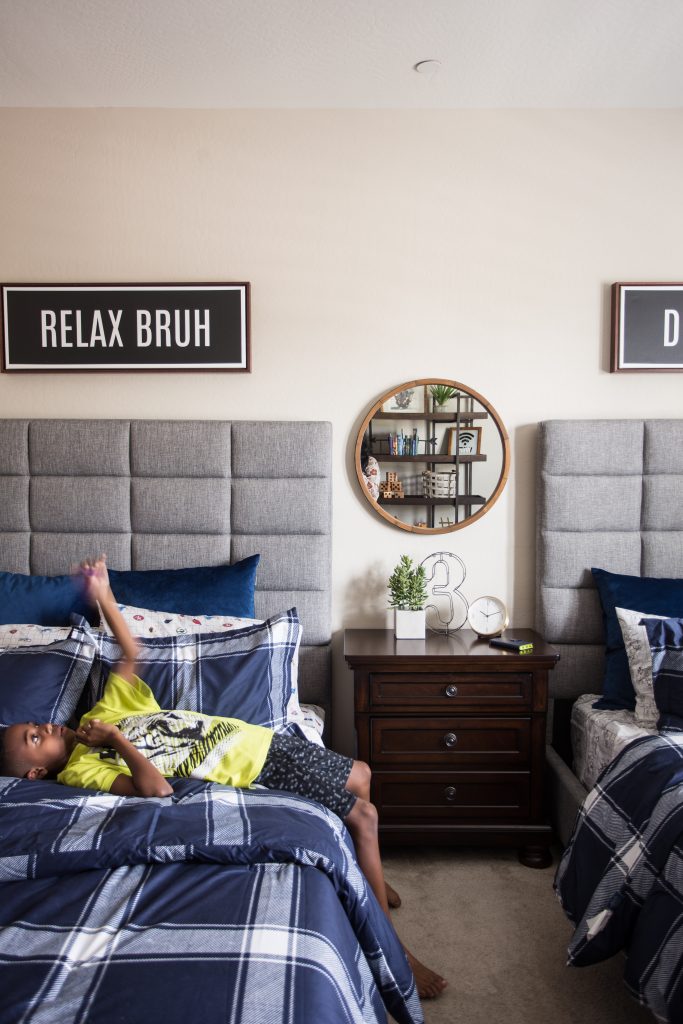 You can never have enough storage when it comes to kids.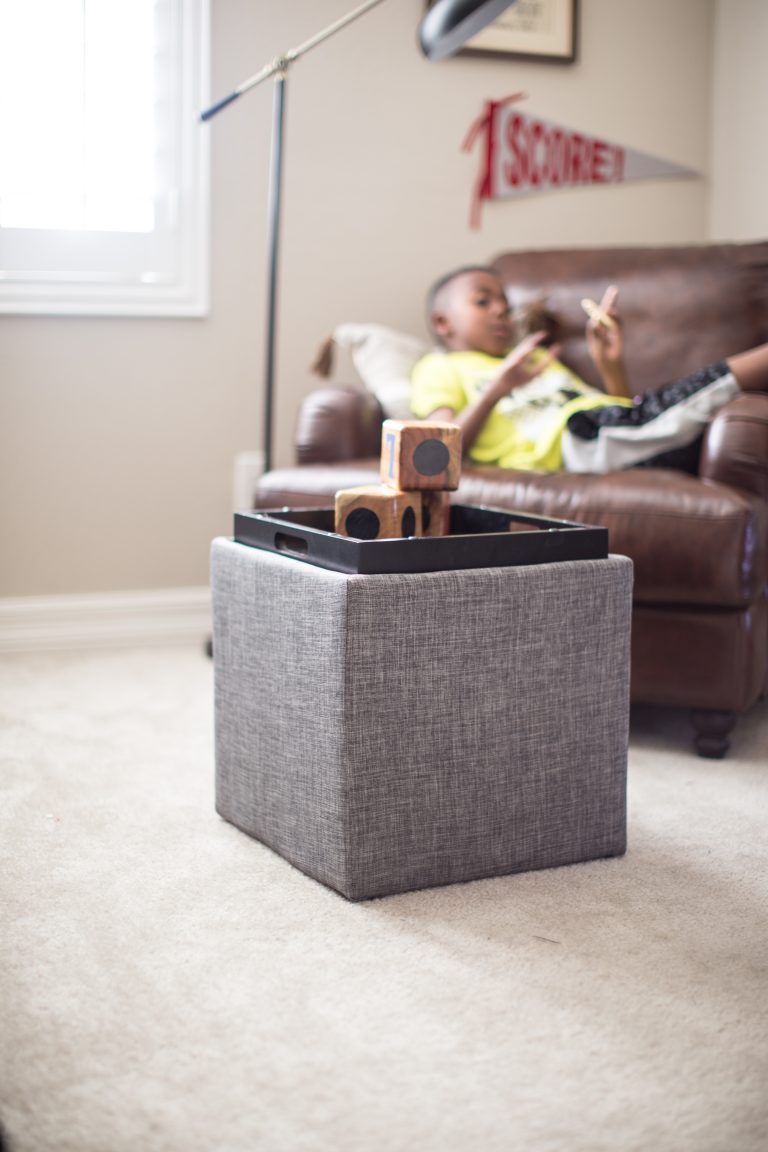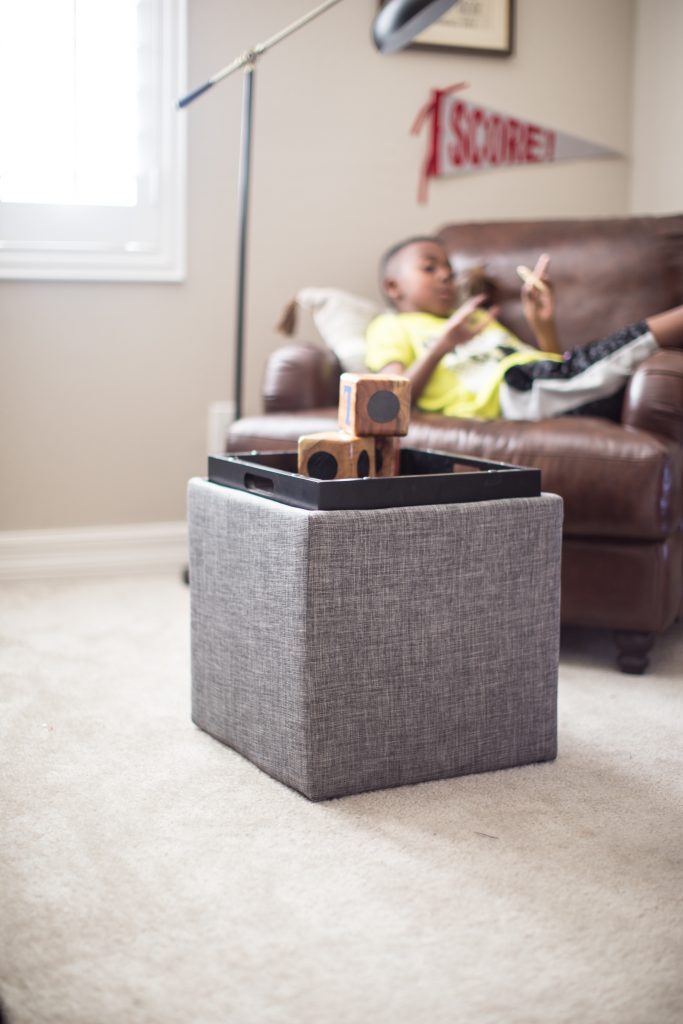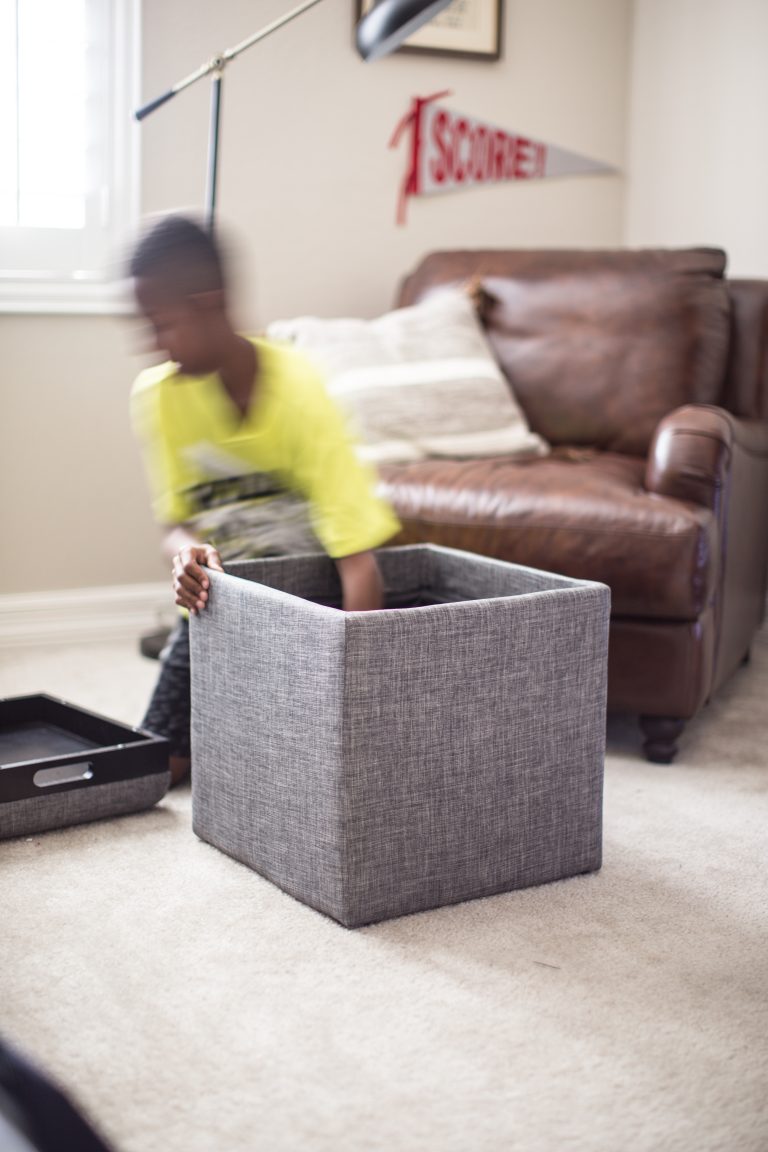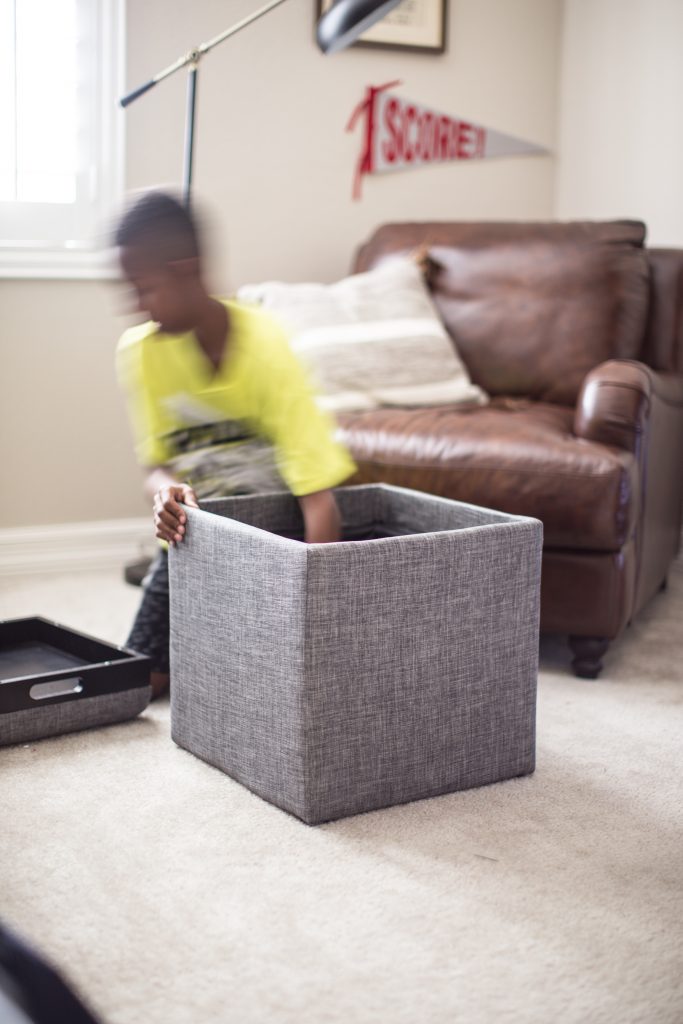 This little storage cube is only $40 and holds extra toys and what nots! Plus it has a tabletop side and a cushion side! Perfect for playing and sitting.
We still have a few more things to finish up in here. I'm seriously thinking about ripping up the carpet because we have one who suffers from asthma. Plus carpet is just hard to keep clean with kids in general. I just love how soft it is. Curtains and an accent wall is also on the list!!! Stay tuned!