So last Saturday I got some of my favorite girls together for a "Favorite Things Party" Kinda like Oprah, I asked the girls to pick one of their favorite things and bring 11 to share with the rest of the girls there! ( Well I kinda said that:0) You'll see later!!) But anyways at the end of the night everyone would leave with 11 different things to take home!!! FUN FUN FUN!! Check out some of the pictures my friend Alexia took on her newwww NIKON d40!!! Gosh that camera is sooo fun! Can't wait until I get my hands on one!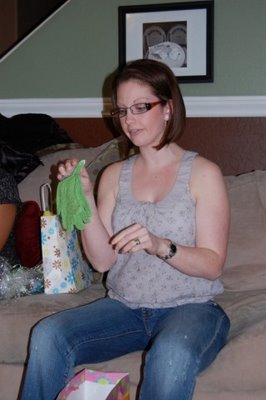 This is Erin, she like four other girls thought that the invitation said to bring 11 of your favorite things..which it did , but they brought 11 different things! I guess I should have made myself clear!:0) But it worked out anyway because they shared 11 REALLY cool things. This is Erin sharing the wash cloth gloves that she LOVES in her favorite color..GREEN!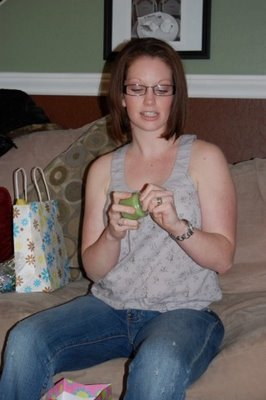 This was one of her other favorite things….Vanilla Lime candle by Yankee Candle! We all got to take a wifff of it and it was AMAZING…I am definitely on my way to pick one of these up! But only one lucky girl got to walk away with it…I think it was my sister!
Erin's other favorites were Pasta Recipe, a book, and MELT scrub!!!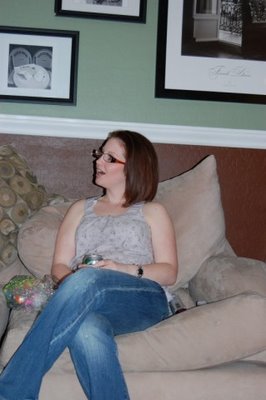 Erin looking on…she is so CUTE!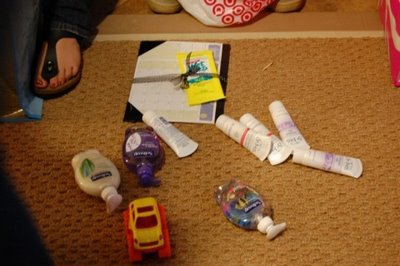 This was my sisters favorite things….Soapsoft Handsoap and St. Ives Hand Lotion! Not the random truck! I picked the pink grapefruit!!! It seems that she is rigorous hand cleaner and love to stay moisturized!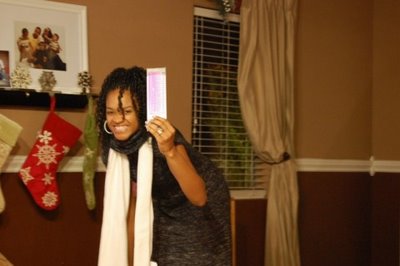 Tammaria had a little theme going on with her favorites…hair care! And if you read her blog you know she is all about it! So some of her favorite things included a silk night cap, shower caps, wide comp, fun socks, cute pajamas, and her favorite soda…Dr. Pepper but she chose Pepsi because it was in a cute bottle!:0)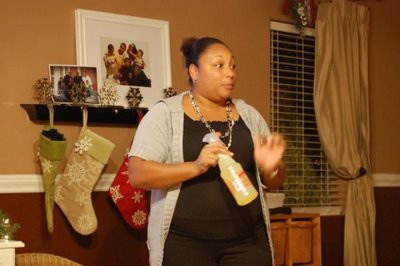 This is Tish and she is sharing one of her favorite cleaners! She shared a story about how her little girl has a yellow crayon stain on the inside of her pants and she tried EVERY product to get it out! Well one of her friends suggest she use LA's Totally Awesome..funny name. But she used it and the stain came right up! She now uses it for everything! Can't wait to test it on some ragu stains! The best thing is that it only cost $1.00!!!!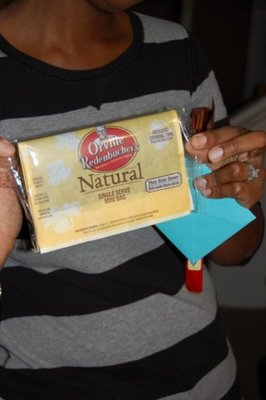 Alexia my little sidekick latley, helped me with the food and everything! She is awesome! She let me play with her camera while she shared a couple of her favorite things! One was the yellow clean me gloves that we all use while we clean, but she got them in a cute pink color for us all. The other was this yummy gormet popcorn, garlic butter!!! It was great!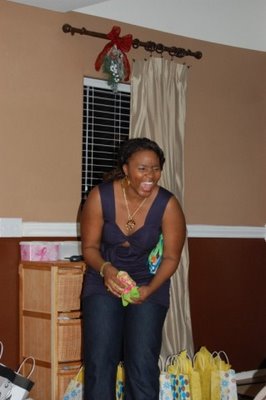 This is me sharing my favorite things which was also really cute cleaning gloves that I saw at target. I started using them after someone told me what those chemicals were doing to my hands!:0) I also shared makeup bags. I carry around totes and in every big tote I always have a little bag of makeup!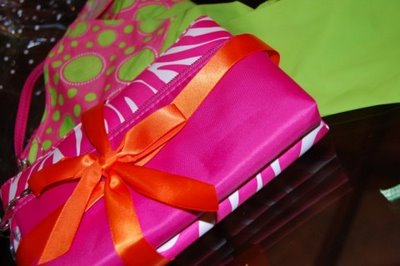 Cleaning gloves and makeup bags!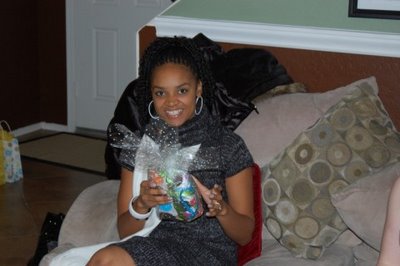 Tamarria do you like it!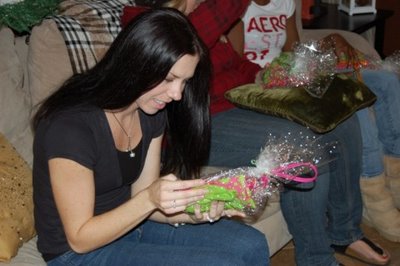 I think Shelby does!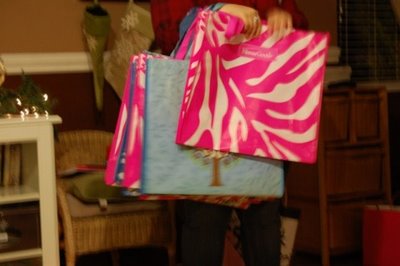 My sister's friend Erin has been really cute lately with her eco-friendly reusable bags from Home Goods! They were SOOOOOOO cute you should have seen everyone dive in the middle for them! They are extra big and carry any and every little bit of grocery. She said she uses it in every store she goes in! Now so will I! I picked up the pink zebra one!!!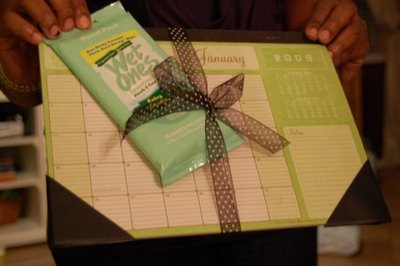 My neighbor friend Monique got stuck at home but she sent over THE cutest little calendars and WetOnes! She has a little bit of a germ thing! She uses them to clean off the icky shopping carts! I think she uses about 1 pack a week!:0)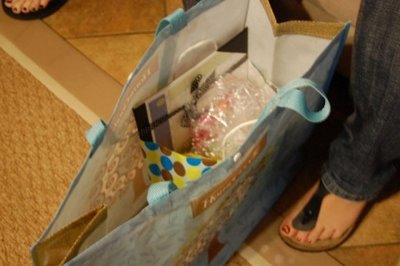 Everyone filling up on Favorites!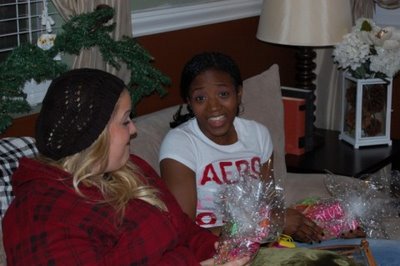 Erin and Desiree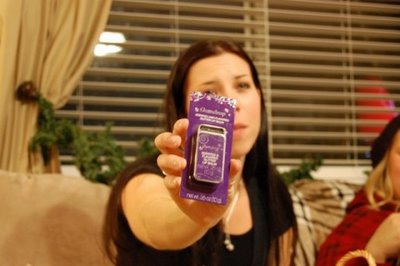 Shelby had a bath theme with her favorites! She all found out the she has an thing for LIP GLOSS! She also brought Bath and Body Works Shower gel, candles, loofah, brush/mirror and lots more!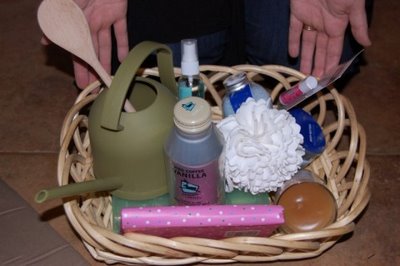 These were all Megan's favorite things! She loves to garden so she brought a little watering can! Cute. I think Tamarria called that one! Iced coffer, candles, photo album, bath salts and others!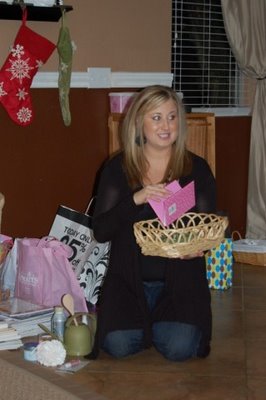 Megan sharing!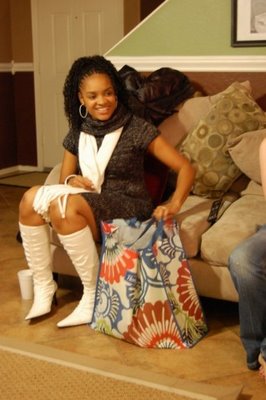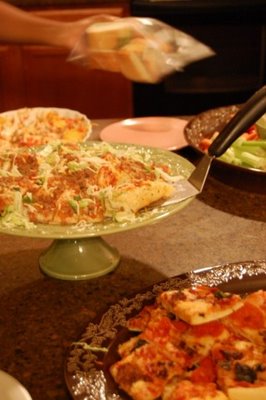 Of course we had to pig out on our favorite foods before we started our DIETS on Monday!:0) Alexia made some really yummy pizza and I made some RED VELVET cupcakes! But not enough apparently!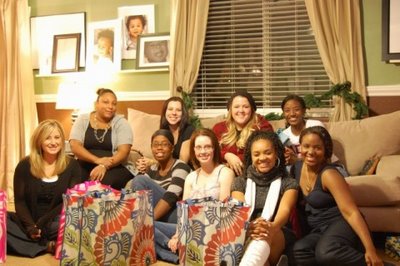 All of us with our FAVORITES!
After we shared some of the girls stuck around to make Inspiration Boards! Basically we just cute anything we saw or wanted in our future for ourselves and family!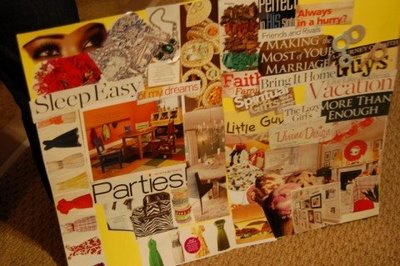 Here is mine!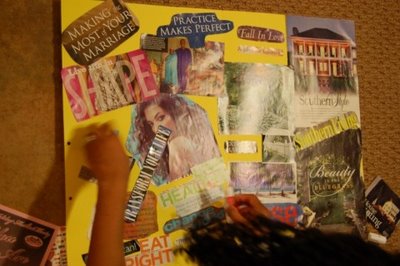 Here is T's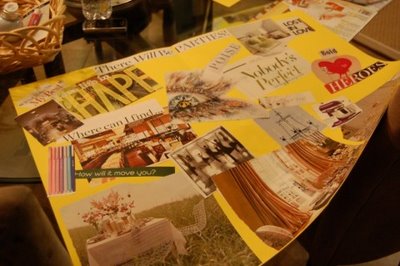 Erin's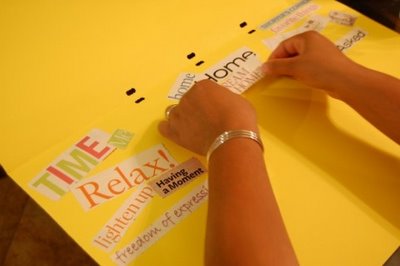 Tish's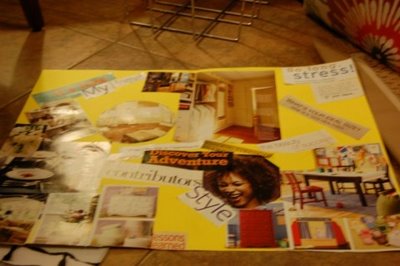 Alexia's
So overall I think that all the girls has a really good time! They loves receiving all this fun stuff from everyone! They were already talking about doing a spring theme!!!