Gift Giving for Everyone On your List
This post is sponsored and may contain affiliate links, please read my disclosure policy.
Tuesday Morning has something for everyone on your list this Christmas! I could bet you have a store close to you and you don't even know it! Tuesday Morning is sort of like a hidden gem in the world of homelovers! So this holiday season make sure you pop in and get all your Christmas shopping done! You're going to see name brands housewares like Kitchenaid, Cuisinart, Mikasa and more! But at SUPER affordable prices! Not only can you get some great gifts, they also have all your wrapping needs. Check out some of the gifts ideas I put together as I shopped the fully stocked store last week!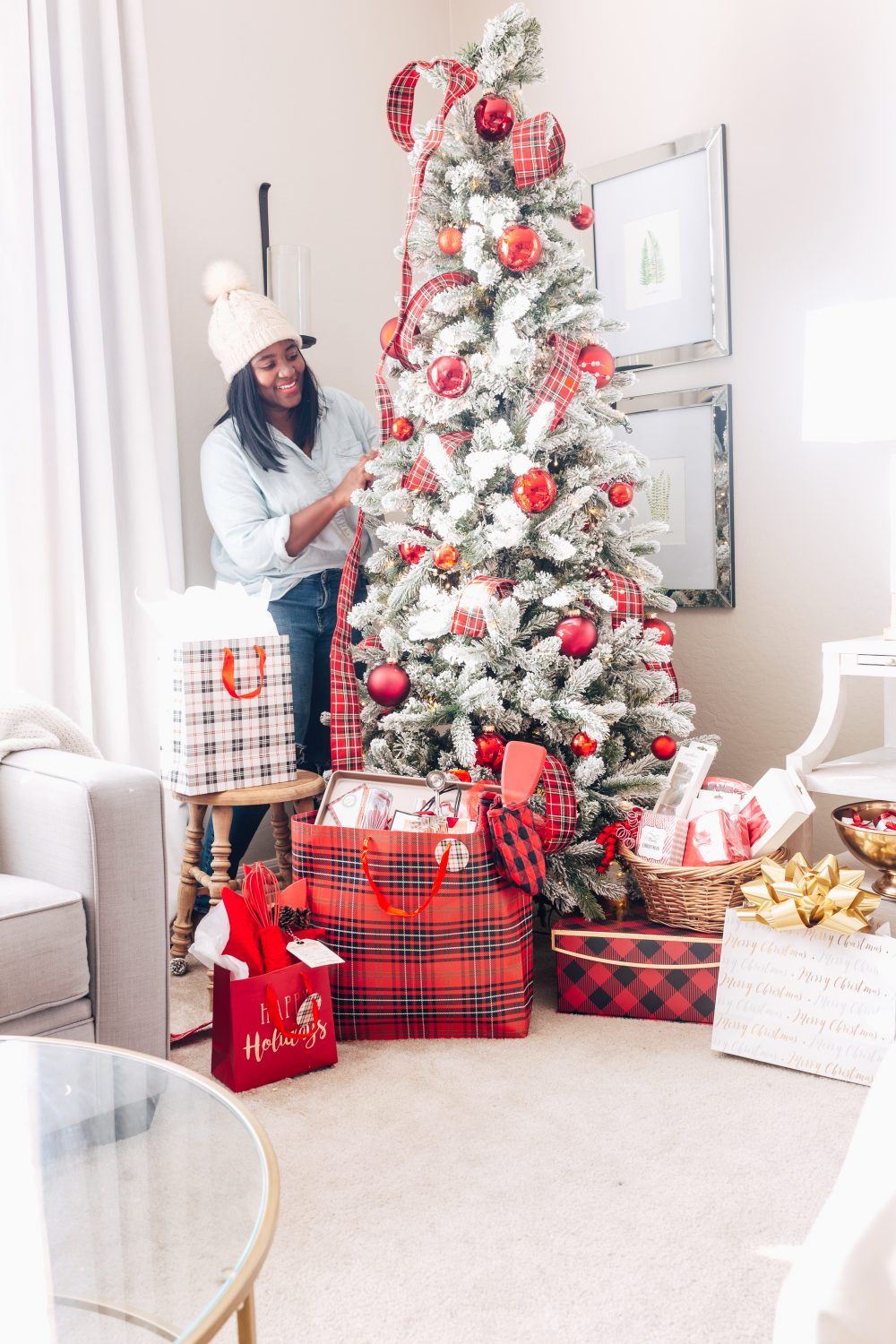 But first, here are a few things you should know about shopping at Tuesday Morning.
Savings
You will find some AMAZING deals on anything from toys to towels to office supplies to rugs and furniture!
Quality
Because Tuesday Morning highlights brand names you don't need to worry about the quality of the products you're purchasing!
Limited Availability
Tuesday Morning items can go fast and stock is limited. So I suggest if you see something you love, GET IT! ha!
Uniqueness
There are many unique products all in one store! I saw paper clips shaped like hearts, craft and cookbooks, stationery supplies, cute slippers, a blush pink beanie set from Jessica Simpson and so much more!
GIFT GUIDES FOR EVERYONE ON YOUR LIST
The Family Gift
I was the first one to start having kids between my older brother and younger sister. But as time has gone on our family has gotten BIGGER! Girlfriends, kids, fiance's you name it! So we decided this year to do either family gifts or a secret santa. I love the idea of family gifts because everyone can enjoy it!
I collected about 12+ different items around the store to create this…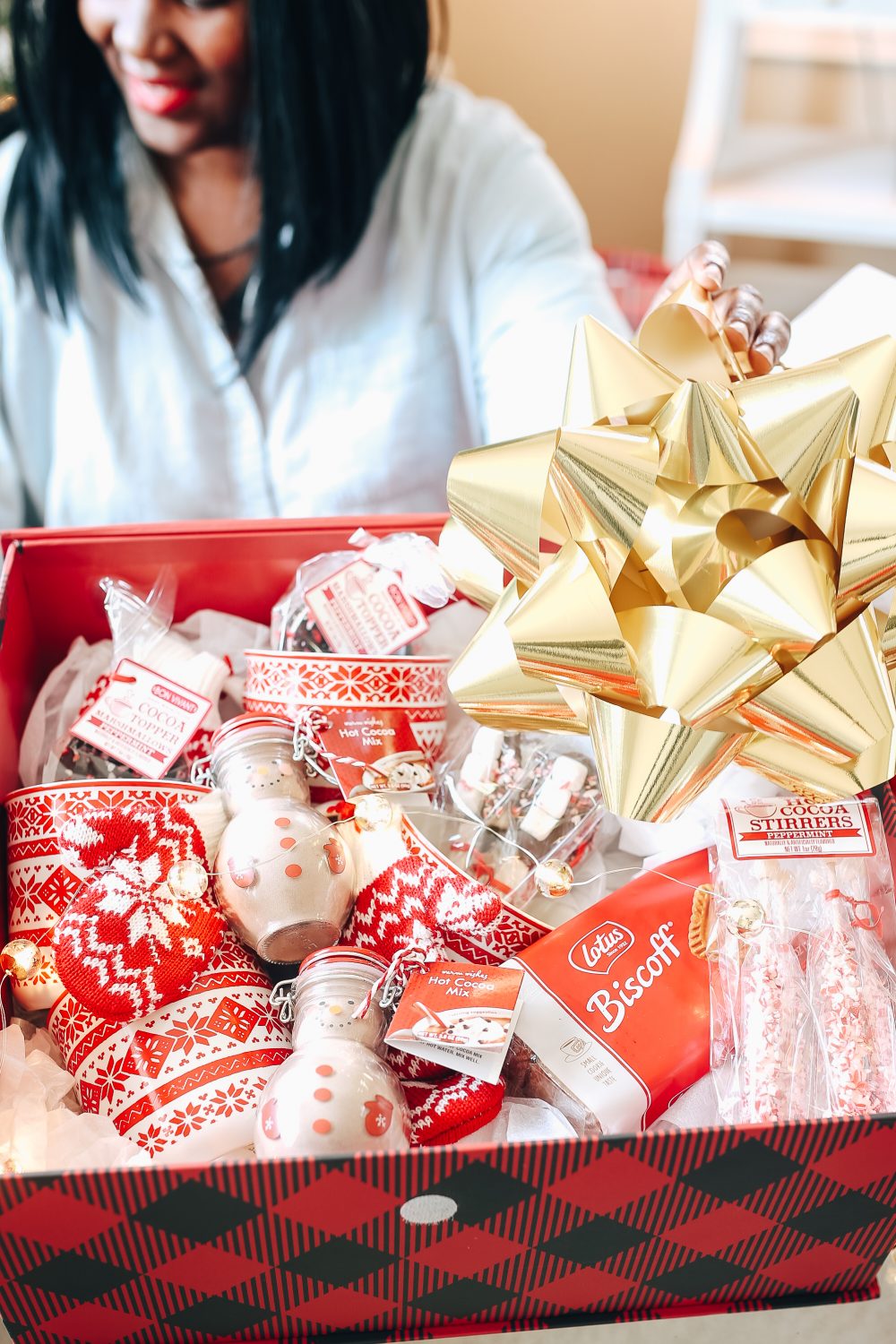 A Hot Chocolate Box! Equipped with mugs for each family member, festive sirt ins, cookies and of course hot chocolate all found at Tuesday Morning. My favorite is the mugs with the little mittens! How cute right?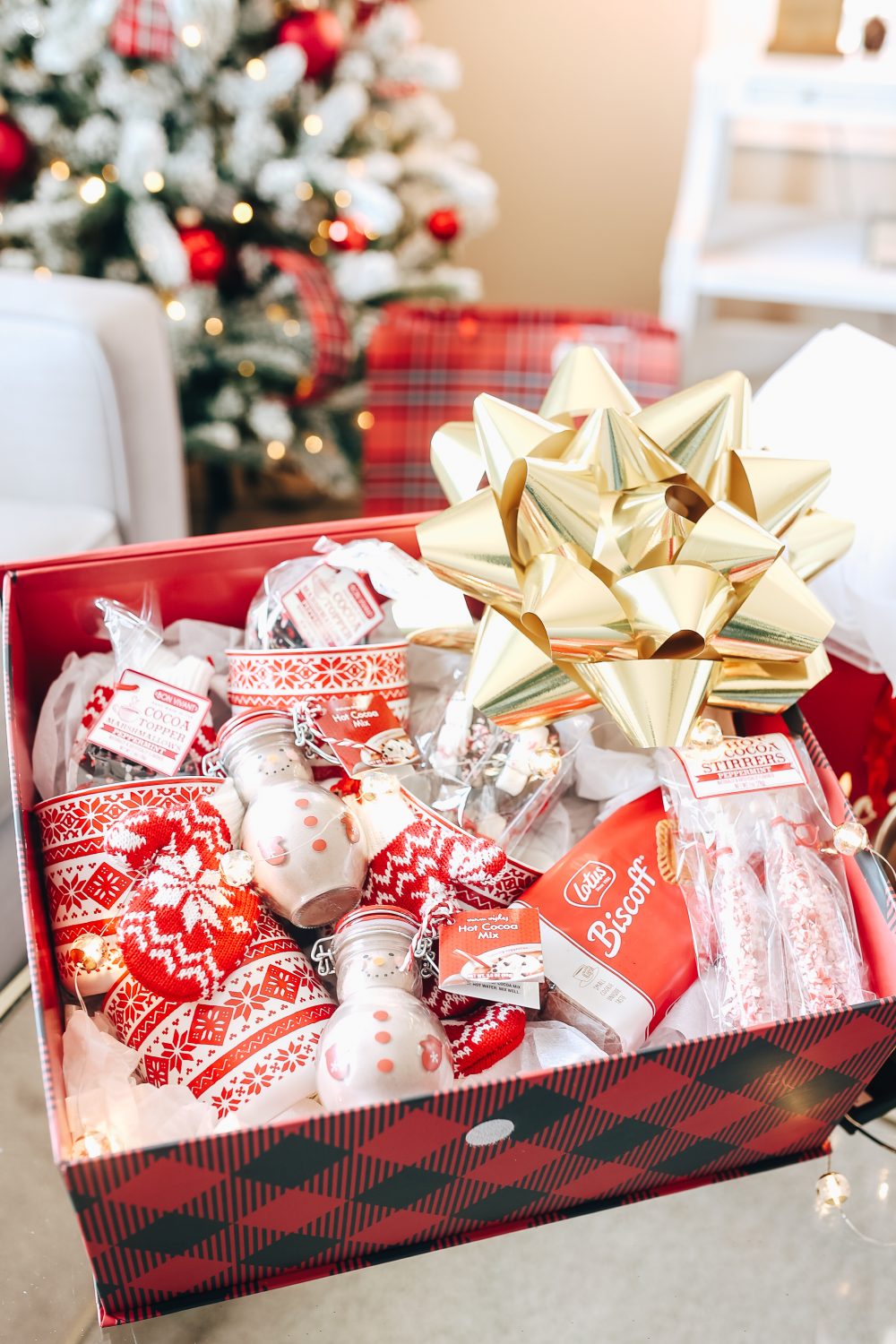 This is such a great gift to open up on a cold winter night, even after Christmas!
The Baker
Everyone has a baker on their list. I promise. So this gift idea is great for the person who loves to bake cookies! I included a non stick cookie sheet, a spatula from Cuisinart (yay), cookie scoop, a notepad, holiday cookie cookbook that I found in the craft aisle, and even cookie mix! I wrapped it up and made it into the perfect gift bundle using some glitter red tulle. Perfect for the holiday season. Glitter just makes everything festive!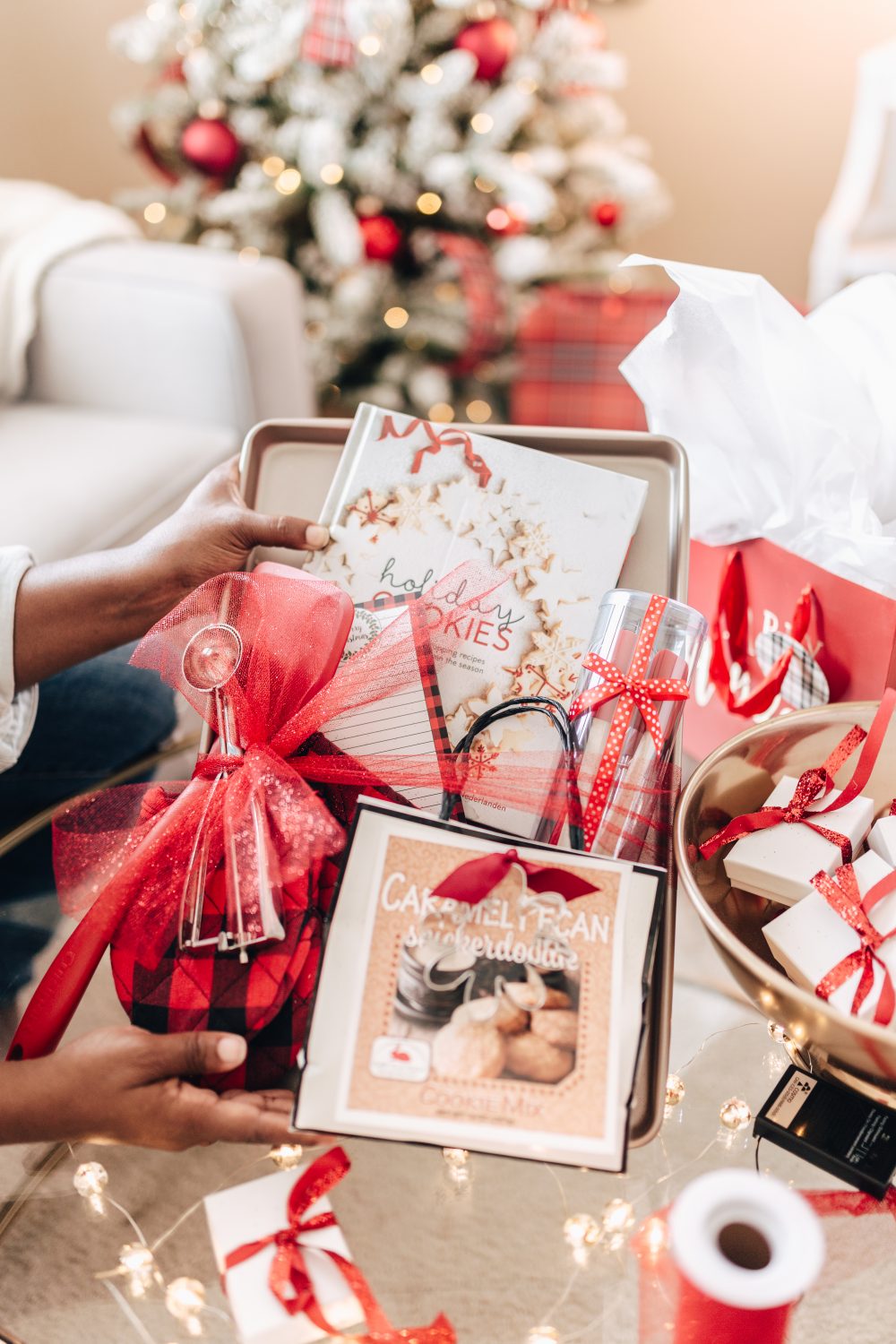 If you're looking for something quick, stick a set of kitchen gadgets in an oven mitt and you have a great hostess gift!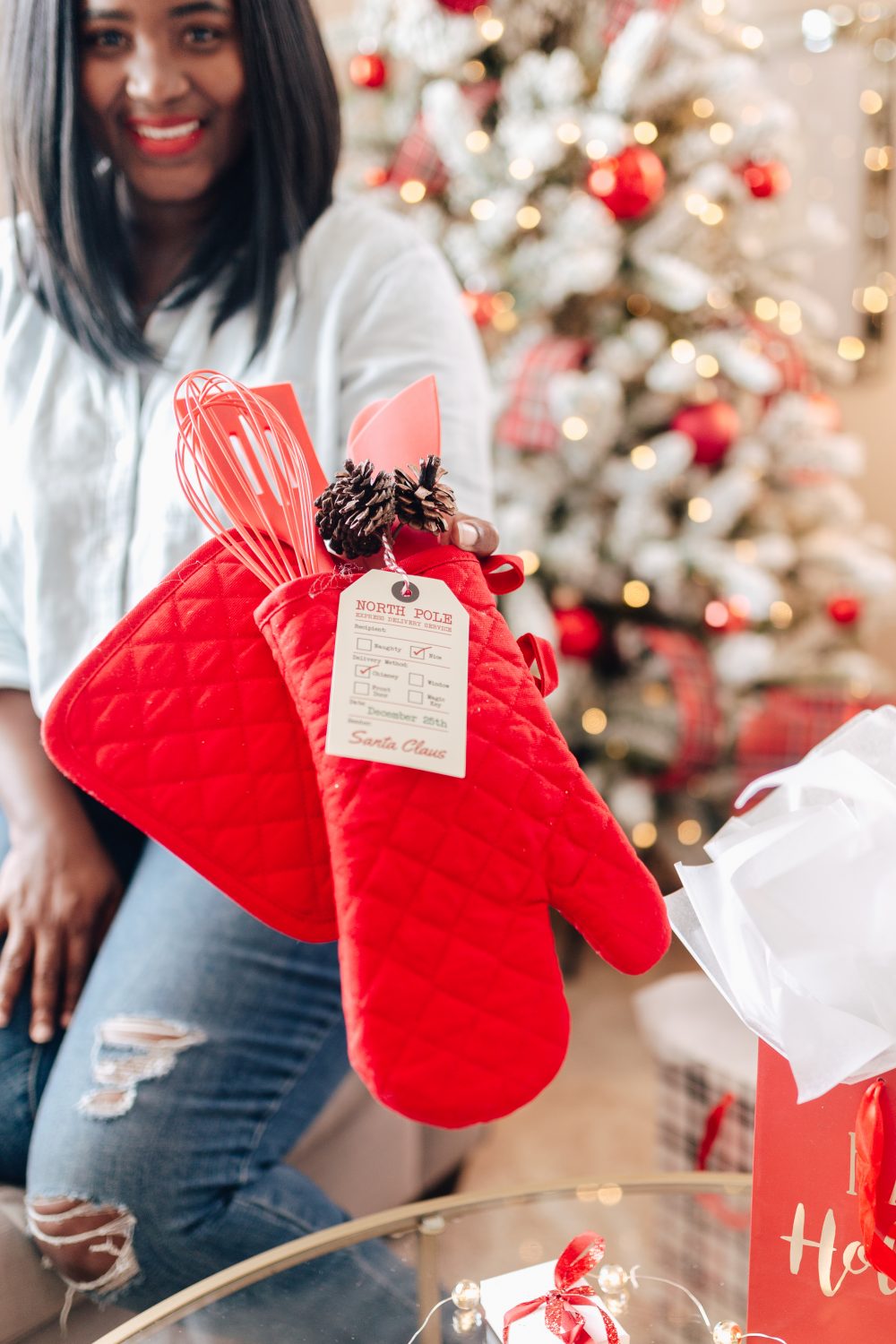 The Friend with the Good Handwriting/ List Maker/ Planner
I just HAD to tie this gift recipient all in one. You know that friend with the good handwriting? She's probably a list maker. If she likes to make lists, then I bet you she's also a planner. haha! ( By the way this girl is totally me..lol)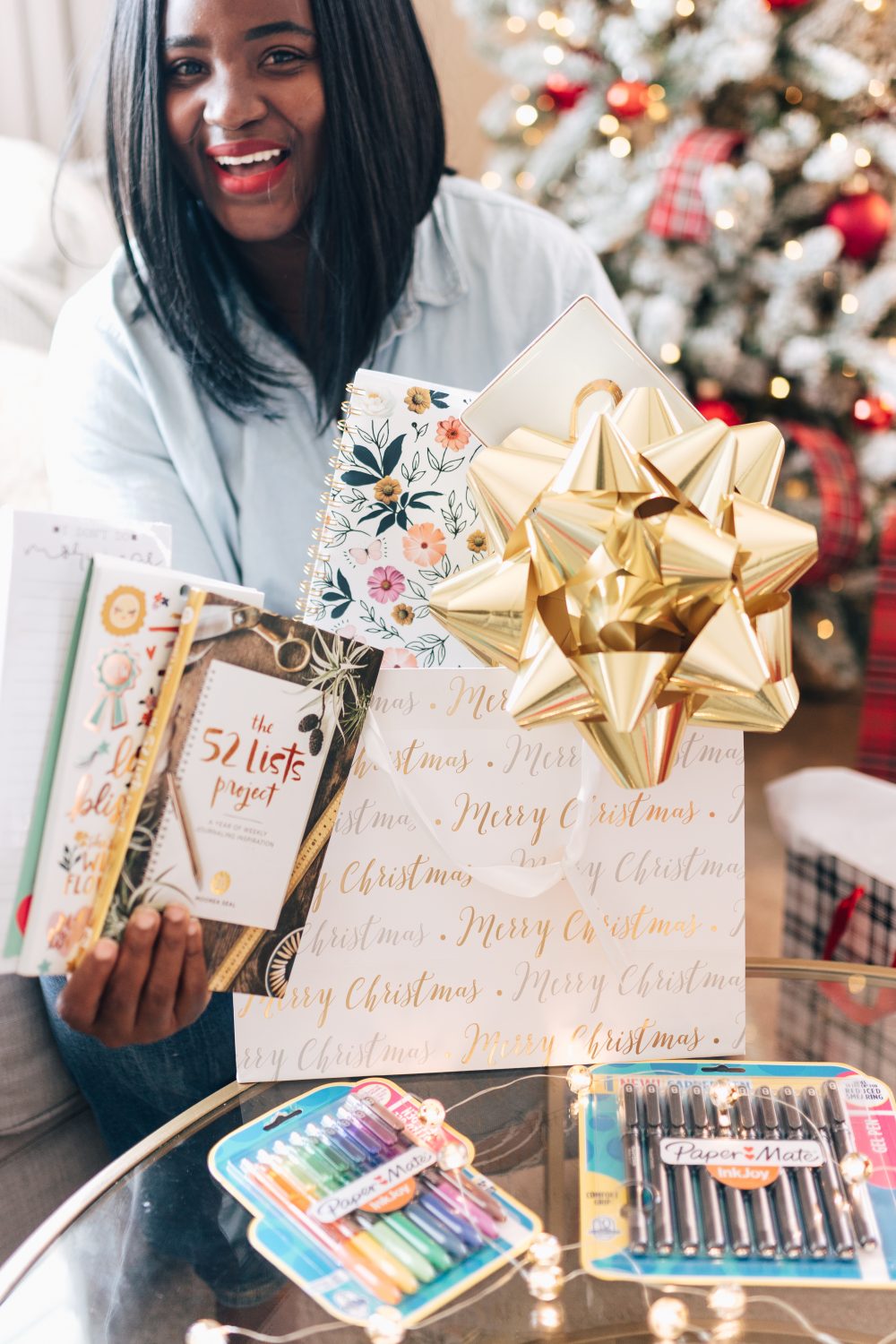 So I bundle together a gift just for that girl. When I tell you Tuesday Morning has just about everything, I mean it. I wrapped up a set of PaperMate pens ( another fav!) , a 2020 planner, list journal, planner stickers, a notepad and a desk tray!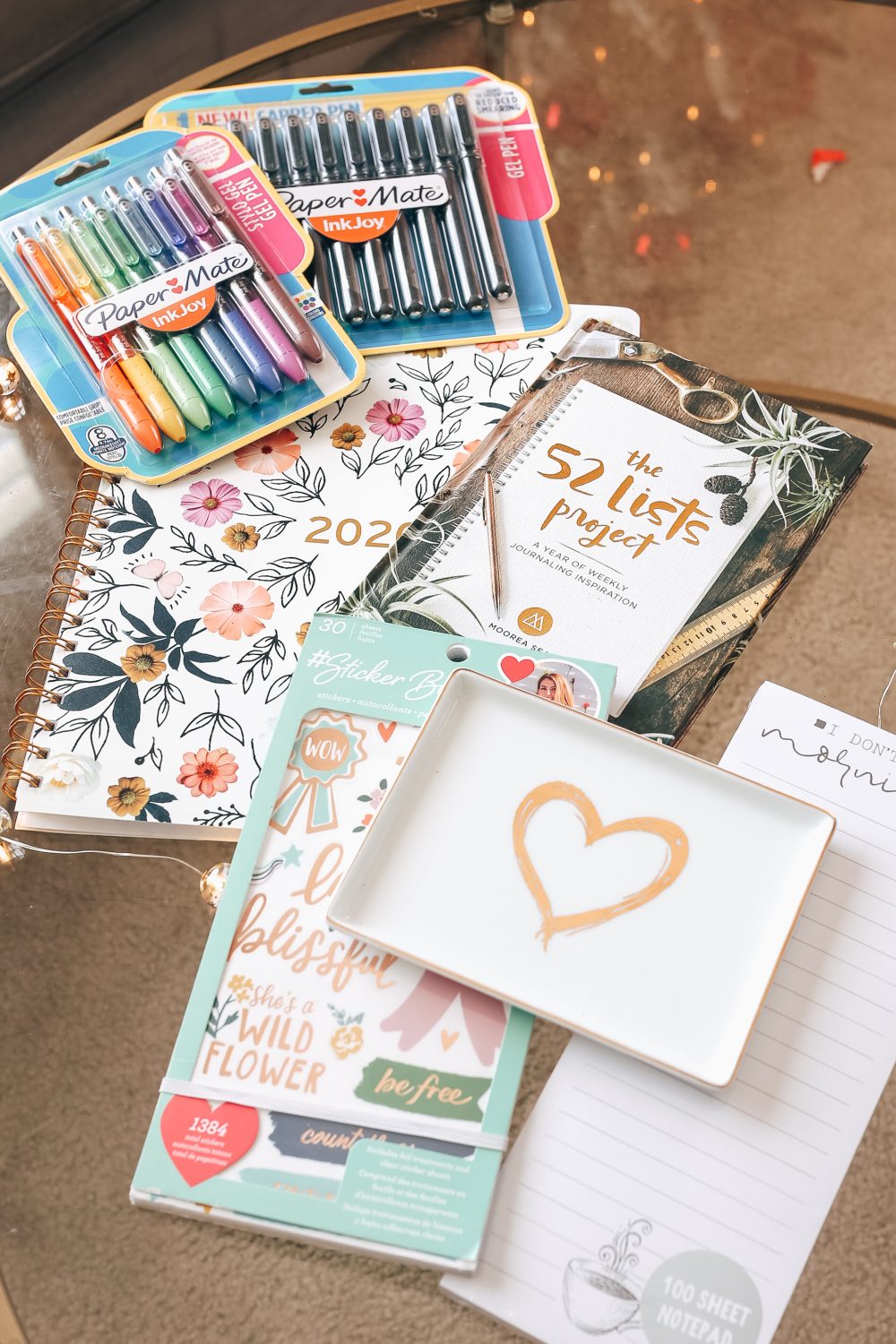 The Entertainer
This one is a favorite! I love to entertain. Sometimes it's planned and sometimes it's impromptu. When it's impromptu/ last minute I still love for everything like the paper plates, napkins, cutlery, etc to coordinate. Give this gift to the entertainer in your life and she will totally get it! It's like a party in a box or in the case, a party in a basket!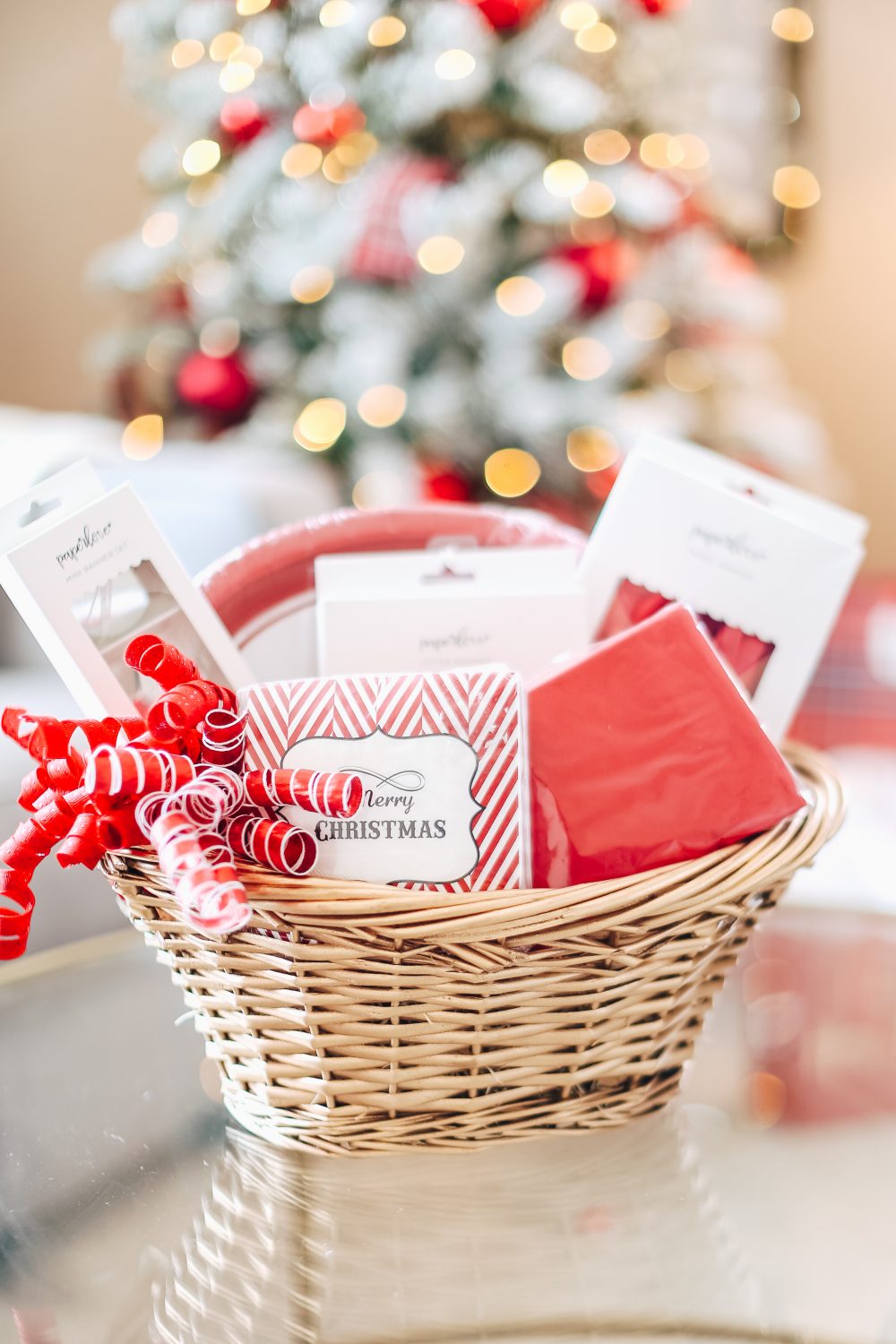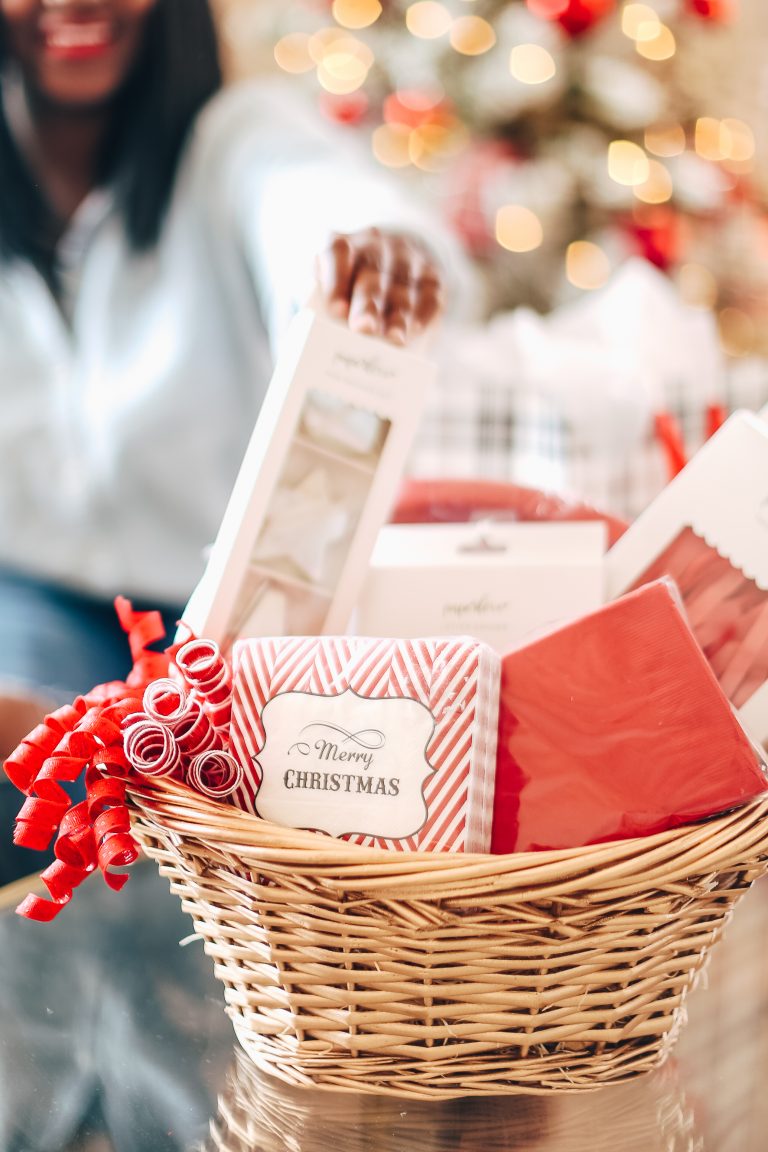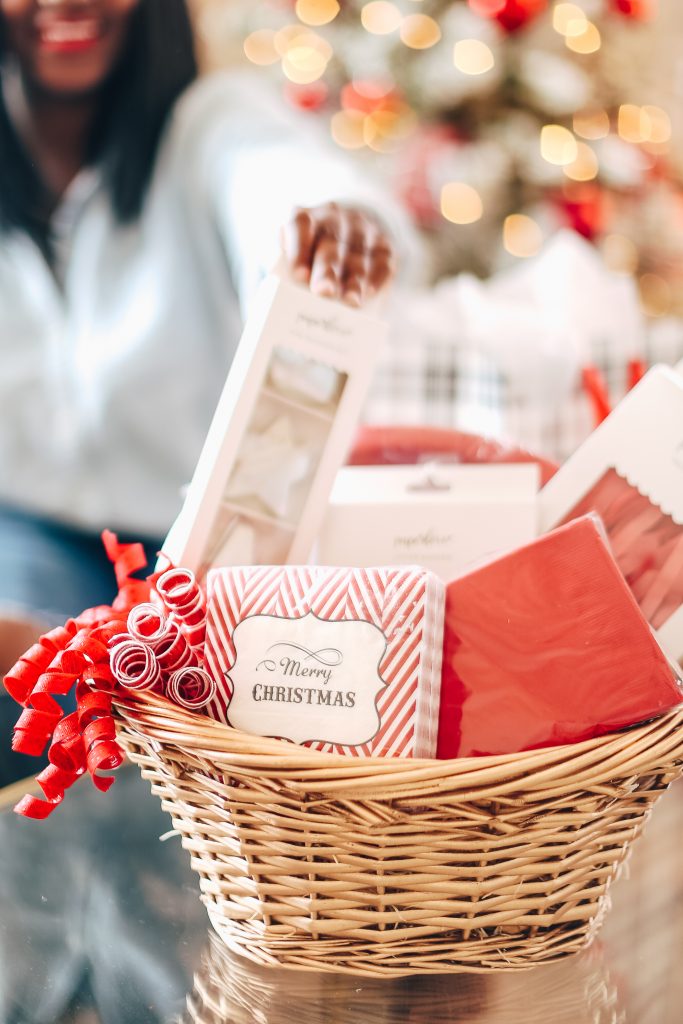 Mini banners from Paperlove, festive napkins and paper plates all make for a great Christmas themed package and I got everything from Tuesday Morning, even the basket!
Other ideas I saw that would be cute…..
Rainbows and Unicorn Basket: Tuesday Morning had a lot of cute unicorn products. I saw a piggy bank, notepad, sprinkles, corkboard etc. SO fun! This would be great for a little girl.
Bear Family: I also spotted some cute Mamma Bear, Papa Bear and Lil Bear slippers that would be a cute family gift!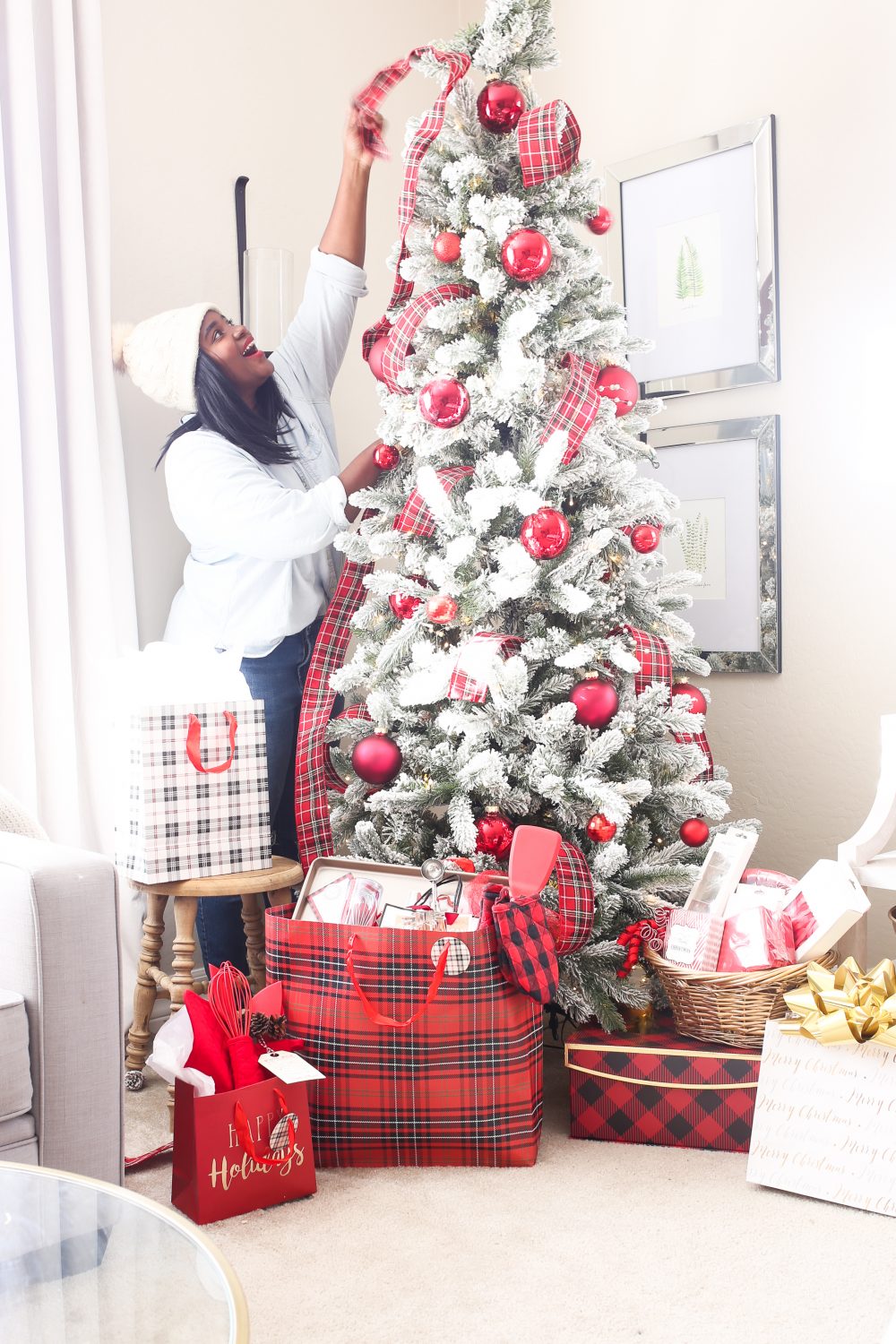 This holiday season can come up fast! So do yourself a favor and get into the stores before all the good stuff is gone! Right now all the shelves are overflowing with the best gifts ever!! So hurry friends!