I LOVE gettin all of our Christmas cards in the mail during the holiday season. From friends and family and folks that you really haven't "seen" all year. Whenever I get the cards it's always interesting to see how the card matches the personality of the family.
This one year I received a card from a college friend and it was super CUTE! At the time everyone's Christmas cards were all the same.. poesy poesy smiles with the Christmas tree backgrounds, but hers was PINK and RED with pictures off all her babies! I immediately flipped it over and discovered it was from SHUTTERFLY!  I logged on and the rest is history:0) I have ordered many things from the sight including calendars(that hangs in my husbands office) and large scale prints for my home and for friends because the quality is SO amazing!!!
So here it is Christmas time and after a few years of making my own Christmas cards via Photoshop, I decided that I would mix it up and let someone else do the work for me…lol.
Shutterfly has and variety of amazing Christmas cards. Some printed on cardstock and some are a little simpler printed on glossy photo paper. No matter which one I choose I know that it will be excellent quality and I wont have to worry about anyone having the same card as me because there are so many CHOICES!!! If you don't have a vision for your family card before hand you might end up ordering two or three different ones to satisfy you creative bug:0)
My favorites from 2010 collection: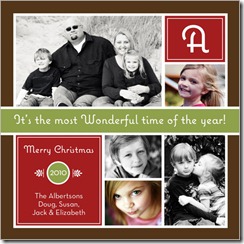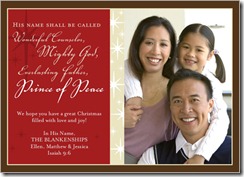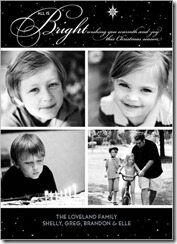 Aren't they just lovely:0)))
If your all about color these are a must!…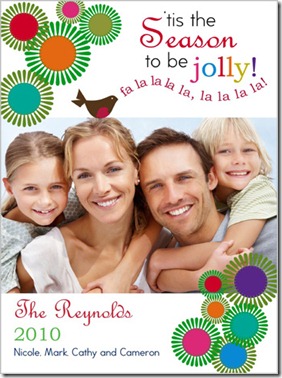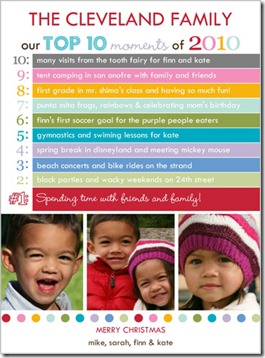 I can't wait to send out this years card to all of our family and friends!!!! I took a couple of snapshots of the babies….Reggie and I will make the card again one day…lol…for now we just give everyone the best of us…lol MERRY CHRISTMAS!!!
This post was Sponsored by Shutterfly. In exchange for a post about their products I will receive 50 free cards,but all opinions are mine:0)  For more information, click here.  Thanks everyone:0)