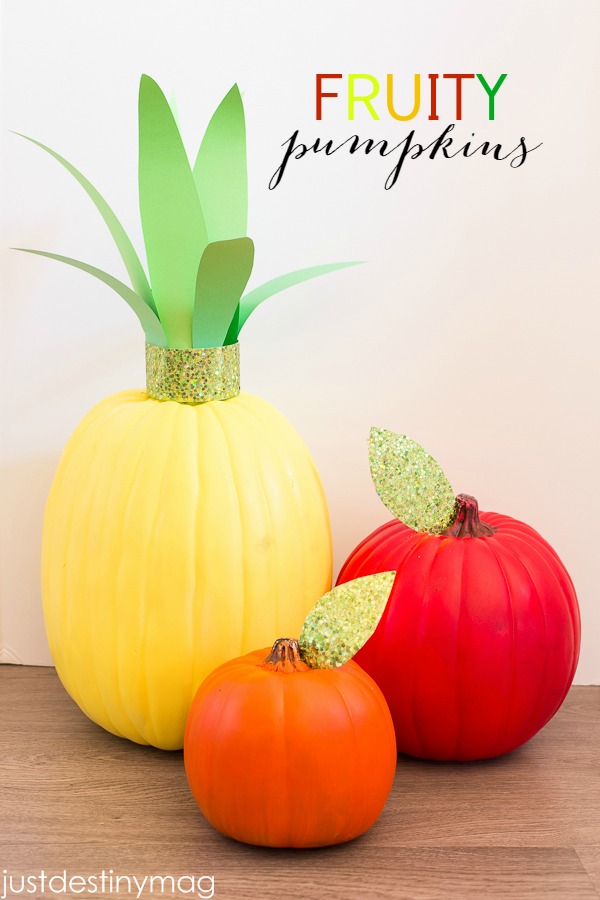 Can you believe this? My pumpkins, dressed up like fruit? I mean I know it's mid October and it's 90 degress outside. I know you could probably dip your toes in the pool right now and sip a pina colada. But we can't have our pumpkins doing this. It's pumpkin season and well, we need our pumpkins to do pumpkin things!!:0)
I had a great time dressing up my pumpkins for the Michael's #TrickYourPumpkin Sweepstakes going on right now! Below you can find out how I dressed up these pumpkins in fruity costumes and also see how YOU can enter your own creative pumpkin to win a $250 gift card to our favorite craft store ever!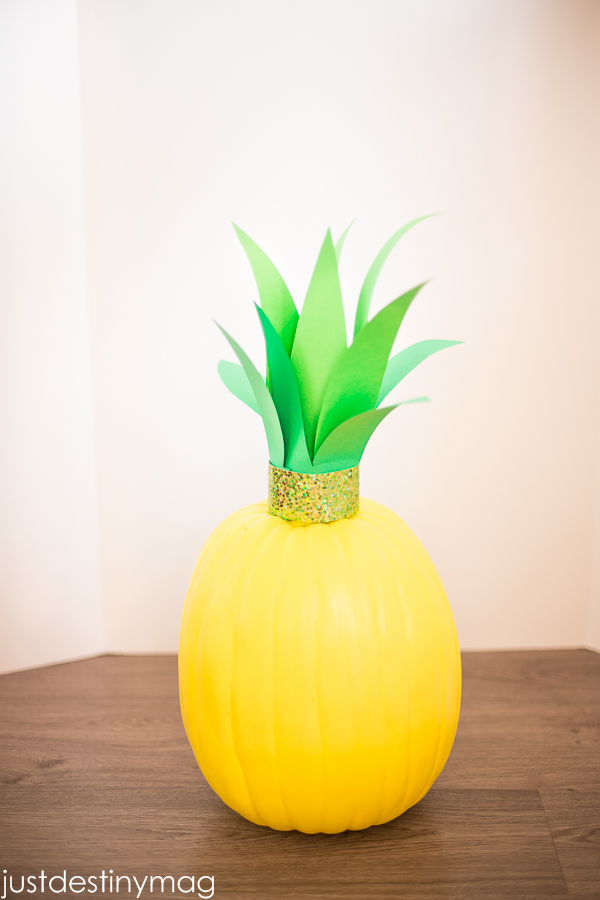 This is a pretty easy project!
Your going to need the following to make one orange, one apple and one pineapple pumpkin.
Design Master Spray Paint in Yellow, Tangerine and Carnation Red
3 Different Size Pumpkins from Michael's
1 Green Glitter Cardstock
2 Green Cardstock in Green and Light Green
First spray each pumpkin with coordinating color. Each pumpkin needs two coats for a beautiful finish. Allow to dry.
Next take your glitter paper and cut out two leaves about 3.5 inches long.
For the pineapple top cut out 8 long leaves about 8 inches tall. Then cut out a 3in x12 in piece of glitter paper. Then hot glue the leave on the inside of the glitter paper at different heights. (pictured below)
After that seal the ends of the of each side with glue to make a top. Curl out the leaves with your fingers.
Place the pineapple leaves on top of the yellow pumpkin and secure it on top with hot glue.
Take the other two leaves and secure them on top of the apple and orange with hot glue as well.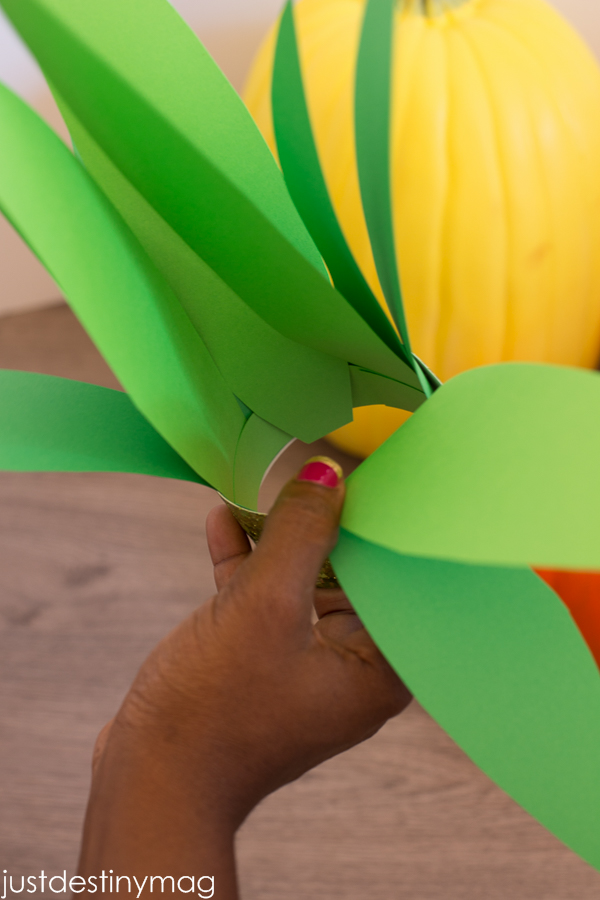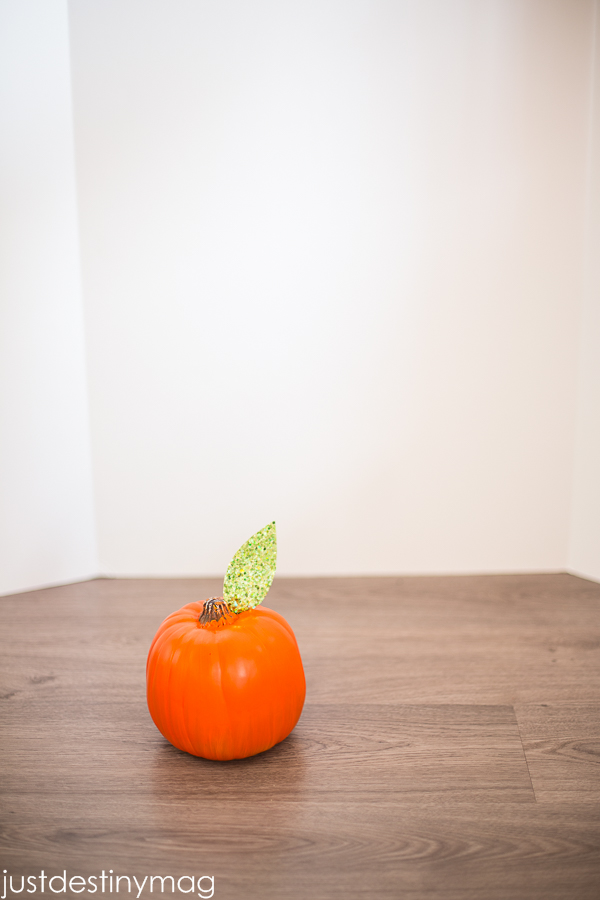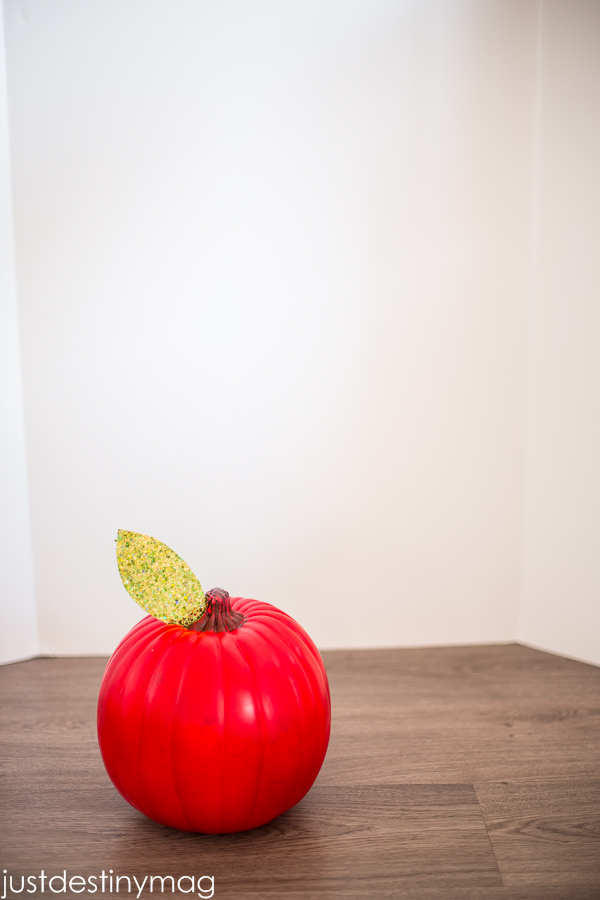 [line]
Are you ready to #trickyourpumpkin!
Crafters just like you are invited to submit their

pumpkin

creations via Instagram any time between

Oct. 4 through 31

for a chance to win a $250 Michaels gift card and Plaid products each Friday throughout the month of October! Just use the hashtags #

TrickYourPumpkin

and #sweepstakes and tag @MichaelsStores to enter!
Just Destiny Mag is a Michaels Makers and may have received trade, product or payment in exchange for my participation. All opinions are mine.