Fresh Paint, New Prints and a New Furniture | Family Room Update
This post is sponsored and may contain affiliate links, please read my disclosure policy.
Hello there friends!
I'm back today with a family room update! The last time I shared it was here. Since then I've done some updates to the entire area.
We replaced our Ikea console table with a beauty from DownEast Home. It was the only one that I could find that was long enough to fit our family room. Most tv consoles are super short and deep but I wanted something that acted more like a buffet with lots of storage. I even thought about going the custom route but when this one went on sale, the hubby and I jumped right on it.
[line] GRAY AND GREEN FAMILY ROOM TOUR [line]
It's a little open in the middle because of our receiver and cable stuff. We need to cut a little hole in the back so it goes back a few inches:0) But most of the time it's open:0)
We also I added some gorgeous and functional lighting to the sides of our TV. These Kenroy lights are so perfect in here I can't even tell you. I love the fact that they are plug ins and act like sconces more than lamps. The swing feature makes it easier to add light where we need it. Plus it adds to the overall ambiance of the room. I'm all about mood lighting!
Thanks to the team at Kenroy Home for sending us a pair of these beauties for our space!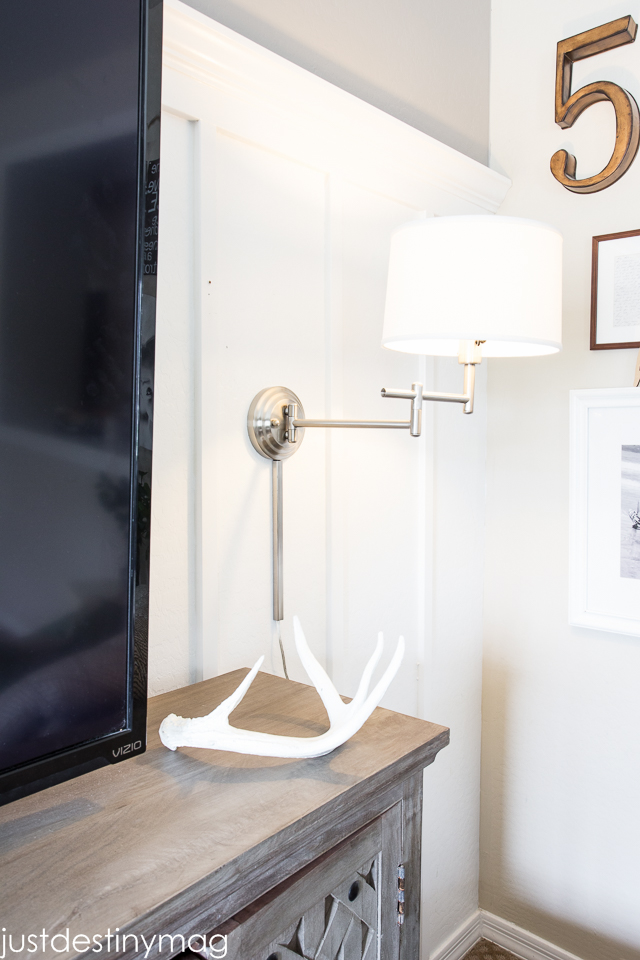 I also added a chair and a coffee table! Remember last month I won a gift card to Living Spaces? Well I spent those winnings and I spent it well.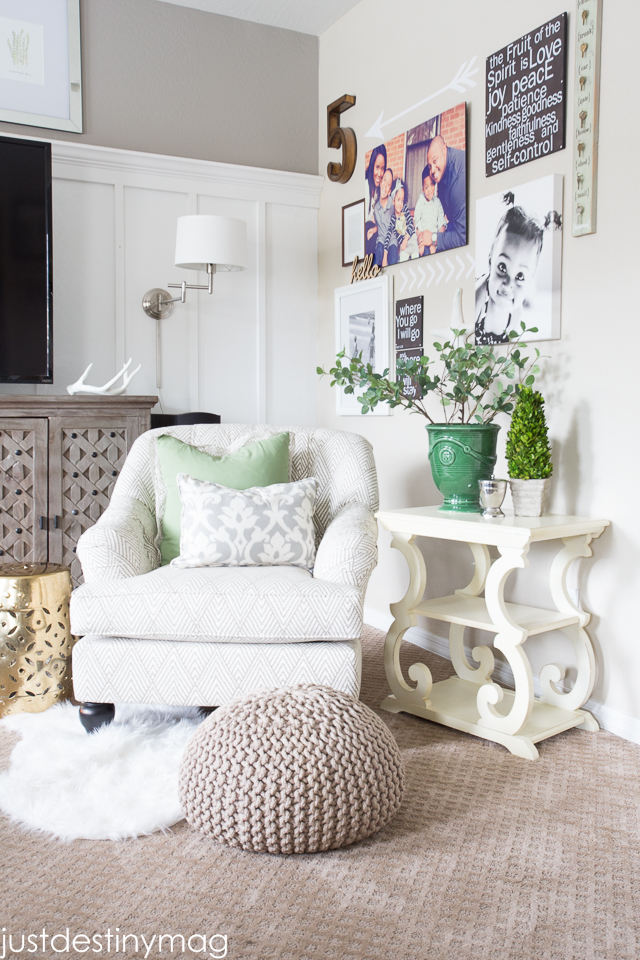 This chair so so comfy and deep according to some our guests that have tried it out:0) I was very attracted to the fabric choice,which is surprisingly a in stock choice! So I got to bring this baby home same day! Even though I wanted to spend the money on some things for our playroom, I'm happy that I spent it on some upgraded items in our family room.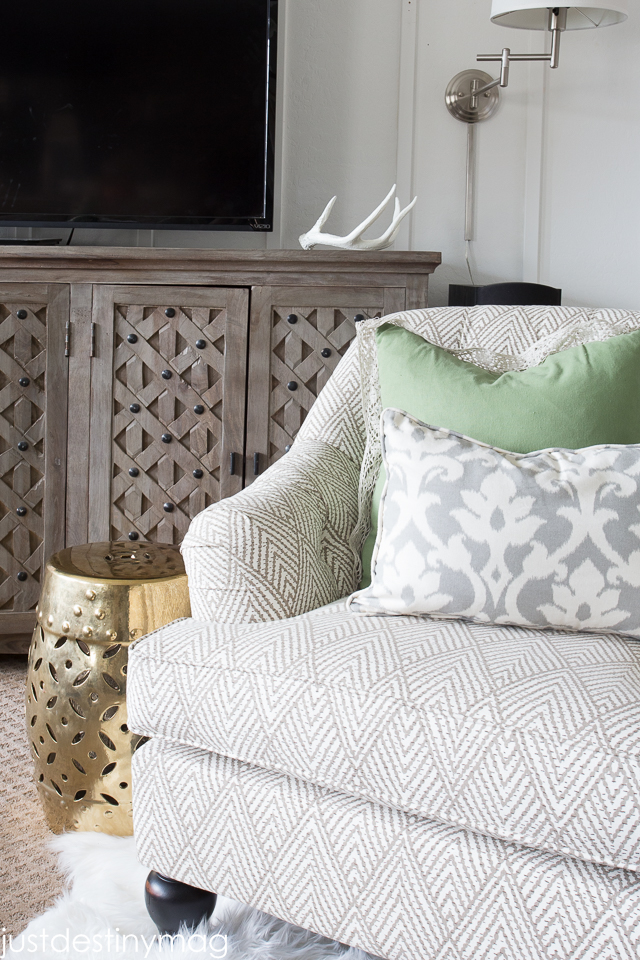 The coffee table is something I shared on my Instagram feed awhile ago and was actually the first piece I bought. Again, it was in stock and I was able to pick it up SAME DAY from Living Spaces! Seriously makes me so happy. lol! It's a beauty that reminds me of the baluster table from Restoration Hardware but way less!
As you all know once you get a new piece, other pieces follow. So when I saw this end table at my local Homegoods the other day I knew it was the PERFECT piece for this space. The curves and color on this baby is gorgeous. I like to mix and match my furniture and I usually go with items that have some type of curve on it.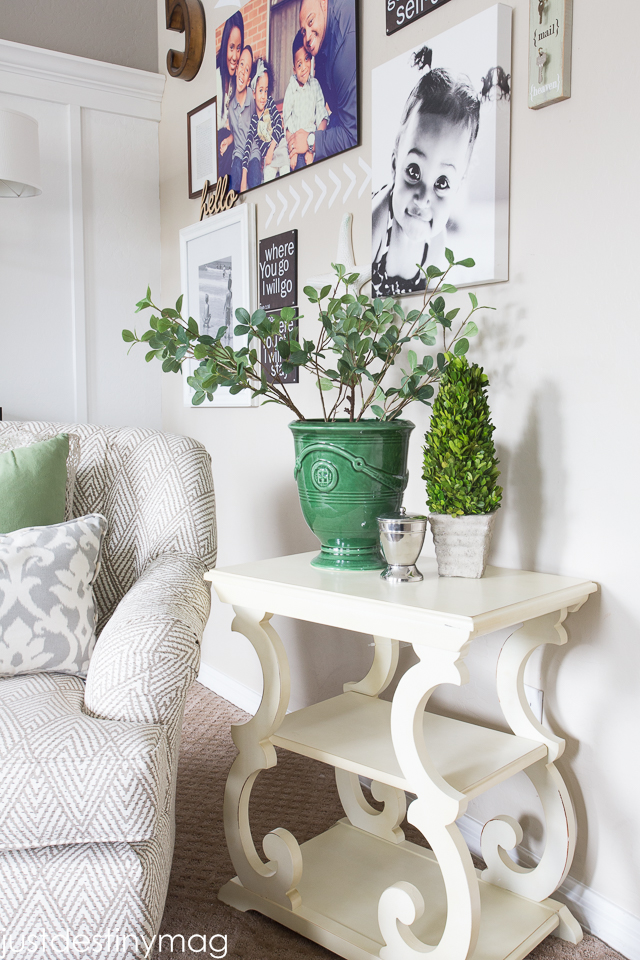 Because of the new chair annnnd table :0) I decided to lighten up my brown paint with Functional Gray by Sherwin Williams. Which is differnt from the rest of the walls. That one is called Oatbran by Valspar. A wonderful neutral.
On top of that new paint color you can see some beautiful prints from a Etsy store called Color Zen. They are watercolor prints of different ferns. I adore the natural element of them and I knew they would be perfect for this space.
Here are some more photos of our family room! Enjoy and look for a list of sources at the bottom of this post!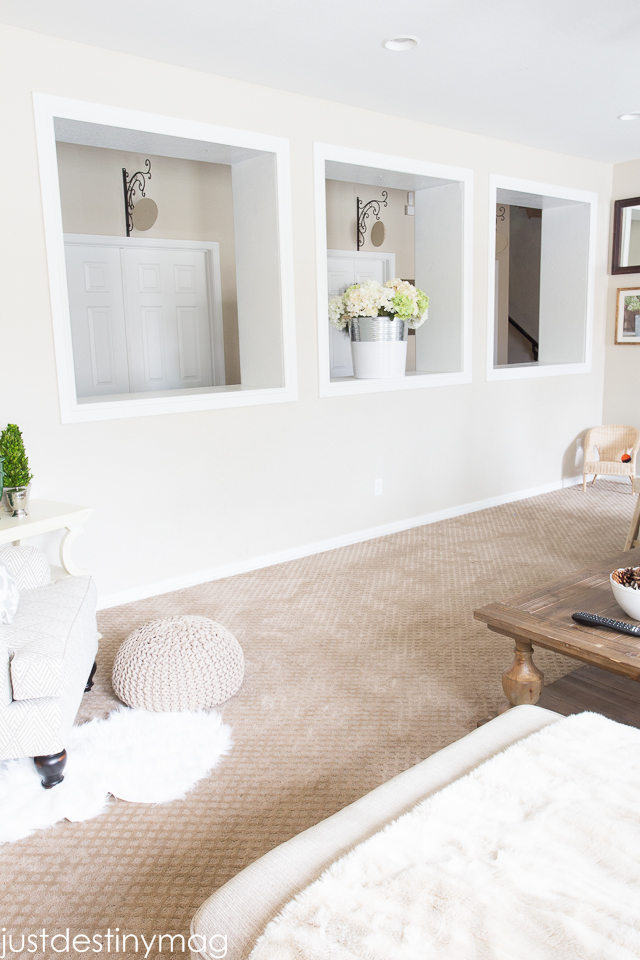 We haven't updated these niches in a while BUT I do have a plan for them! Just trying to figure out home much it will cost! What would you do to these niches friends?
[line]SOURCES[line]
Paint: Sherwin William Functional Gray-Top | Oatbran Valspar
Pillows: Living Spaces( Green) Homegoods( Gray and Green one on Chair)
Sofa: Robert Michaels
Chair: Living Spaces
Coffee Table: Living Spaces
Gold Garden Bench: Joss and Main
Curvy Side Table: Homegoods
TV Console: Down East Home
Curtains: JcPenney
Sofa Table: World Market
Green Glass: Goodwill
Carpet: Lowes
Fur Rug: Homegoods
Swing Lamps: Kenroy Home
Large Bucket with Flowers: Homegood Flowers:Michaels
Small Wooden Stool: Homegoods
Plant and Planter: Ikea
Thanks everyone! Hope you enjoyed my family room tour! Let me know if you have any questions or need to point out any spelling errors that might be bothering you:0) lol!