Another project is up and started!
I'm so excited about this one. You see I've always wanted a fireplace. But being that I live in a state that doesn't recognize 35 degrees as being "cold" it's an extra option most people don't really get when they're getting a new build. So it wasn't a surprise when the house we bought a couple of years ago didn't have one. But it did have the perfect spot for one:0)
So I did some research on having someone come in and install and frame out a fireplace. The prices and quotes I got weren't very budget friendly. So I scratched that idea. But the wall still needed something. After hours of staring, head tilting and visually imagination,I finally decided that all I really wanted was a mantel. You know a place to let our guests know the seasons have changed and to hang our Christmas stockings:0) Maybe it's because the holidays are coming up, I don't know. But a mantel piece is just what this wall needed.
I thought that maybe a extra long café shelf from Ballard would be perfect. I love how Shelley from House of Smiths has hers displayed. But after some more head tilting and staring, I decided I still wanted the LOOK of a fireplace without the fire. I did some more research and came across this picture which will be my inspiration….
l love the simplicity of this. I figured we can get some wood or mdf planks and make this happen! I love the mantel also! Can you believe he built that from scratch!!! Please click the source link above! You will die when you see his creations:0)
So here is the beginning stages…..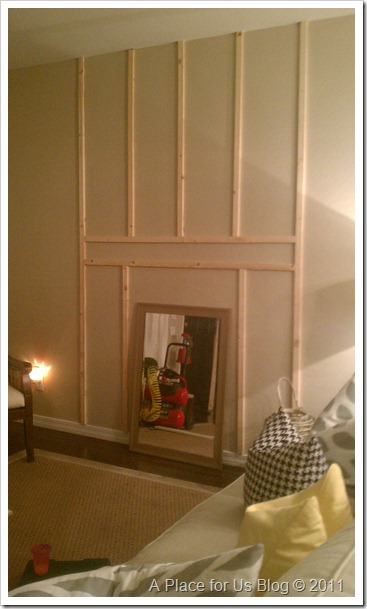 So if I don't have the fire, then what will go in that empty spot?
I like how Layla from The Lettered Cottage has placed a simple basket in the open area. I imagine a big bundle of seasonal hydrangeas:0)))
Wish us luck!