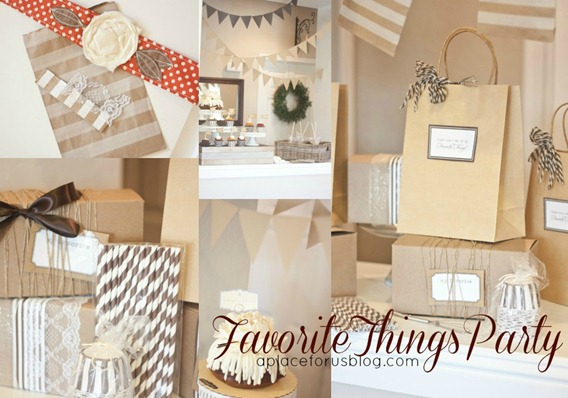 Check out my latest FAVORITE THINGS PARTY HERE!!
A couple of weekends ago my girlfriends and I had our 3rd annual Favorite Things Party! It was a blast and everyone had SOOOO much fun! If your not familiar with how the party works you can read about it here. But the idea is to bring 12-15 of your ONE favorite to share with each girl. At then end of the night we all leave with a bag full of goodies. It's really a fun time! This year I decided again to go with the brown paper bag theme starting off with these gorgeous printables made by my friend Sara over a HomeSpun Hostess.
Remember last time she whipped these up for me after my spring favorite things party. This year I asked her to switch the green to brown for more of a fall look, and it turned out fabulous!!! I didn't use the favorite things party invitation BUT man is it cute:0) You can find this set in her Etsy Shop!
Sara is AMAZING and I'm so happy to be able to work with her again! She even provided each girl with their own personalized set of notecards!! SOO cute! I think every girls should have at least one thing personalized:0)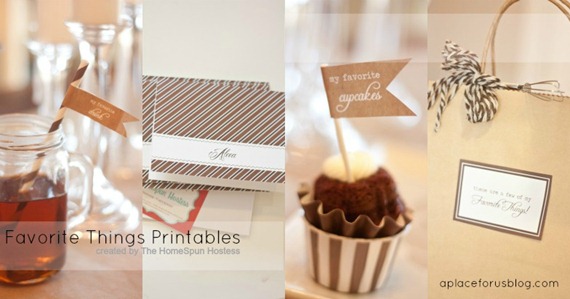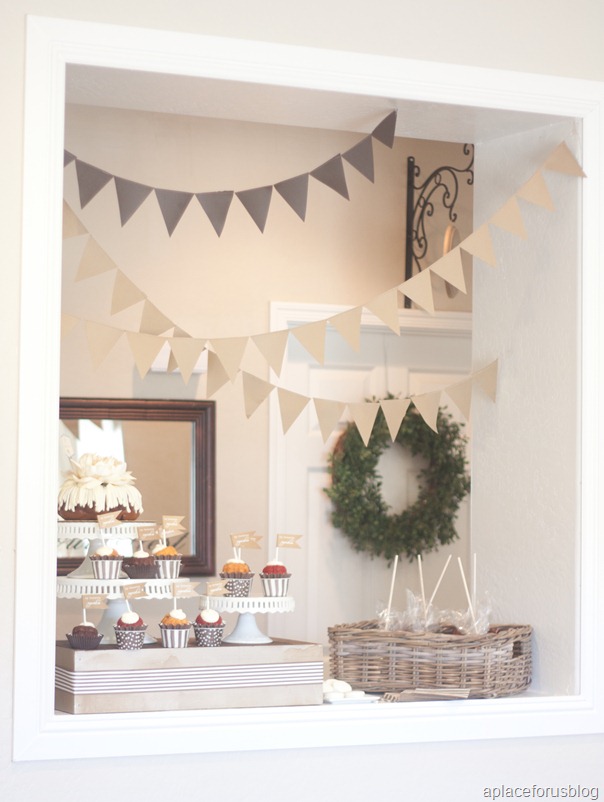 My Favorite Things
My favorite things this year included some pretty amazing things!
First off I wanted to gift something that I use just about everyday. So when I started to think about a gift, I immediately knew that Vintage Rose Wraps were going to be apart of the festivities. Katie from VRW is not only a friend but a doll! Such a joy to know:0) She sent over 12 wraps for the girls to take home and I've never heard so many girls squeal at the site of headbands! They were super excited and RUSHED over to my display to pick out their own!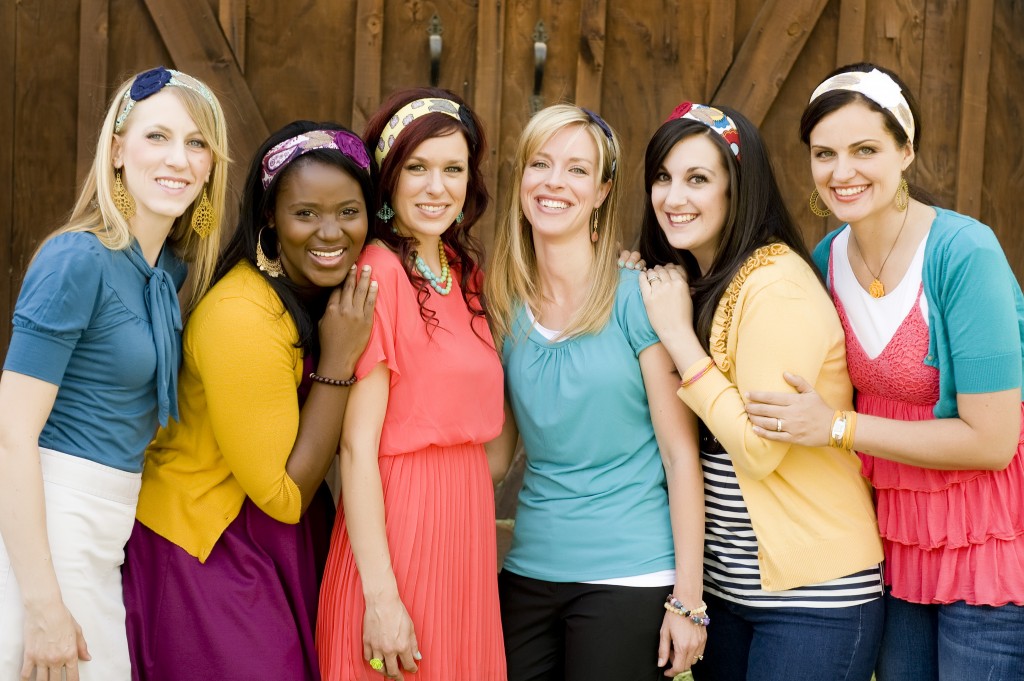 Each headband was packaged in these fun kraft bags from Tomkat and clipped together with a lace piece, burlap stripped ribbon and and a office clip. Then I hung them from some twine also available at TomKat, with clothes hangers.
Why are these my favorite?Well first they come in so many different colors and you can dress them up or down! I rock them in the carpool lane, grocery store, church and even a night out with my boo:0) You can find Vintage Rose Wraps on Facebook for tons of different looks and when your ready to order, you can visit the online store, www.vintagerosewraps.com.
The Tomkat Studio
My next favorite thing is actually a person, but it was going to be hard for me to bottle her up and share with everyone so I did the next best thing and teamed up with Kim, from Tomkat Studio and her team to gift the girls some pretty party supplies from their new online store…….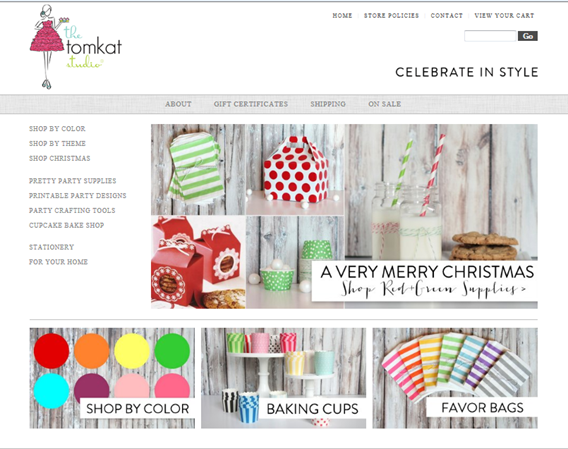 I know. Beautiful. It's packed full of gorgeous and colorful items to help you throw a party! From invitations-thank you cards! You can shop by color, or by theme and during each holiday they're sure to showcase the most popular items!
I consider Kim my lucky charm:0) She's got the business mind of Martha Stewart and the heart of a friend. I'll never forget the time she said, "Your going to be big" It totally took me off guard and all I could say at the time was THANK YOU:0) But a few weeks later I got an email from the Nate Berkus Show. So I immediately associate her well wishes with my seemingly lucky opportunities:0)
I wrapped each gift in these simple Kraft boxes with some pretty ribbon and Tomkat twine. I topped it off with Tomkat's paper tape in brown stripes, it totally tied in all my brown paper elements.
Each girl received these brown and white cupcake liners and paper straws! Perfect for entertaining during the holiday season! One of my girlfriends said "I've always wanted these straws!!!" LOL it was super funny!! haha! I wish I got more shots of the girls but we were having SOOOO much fun! I hardly picked up my camera!
Nothing Bundt Cake
My first experience with Nothing Bundt Cakes was only a few weeks before my party. But it was seriously love at first bite! I couldn't believe how moist and flavorful these cute little cakes were! Luckily it was only a bundtlet otherwise I would have had to explain why an entire cake was gone overnight:0)
My favorite happens to be the cinnamon and sugar. But the red velvet was the bell of the ball the night of the party:0) The bundtinis come in a package of 12 and are lined with a fun ruffled liner. Paired up with Tomkat's cupcake wrappers in chocolate stripes and polka dots, really makes for a charming display! I love the layered look!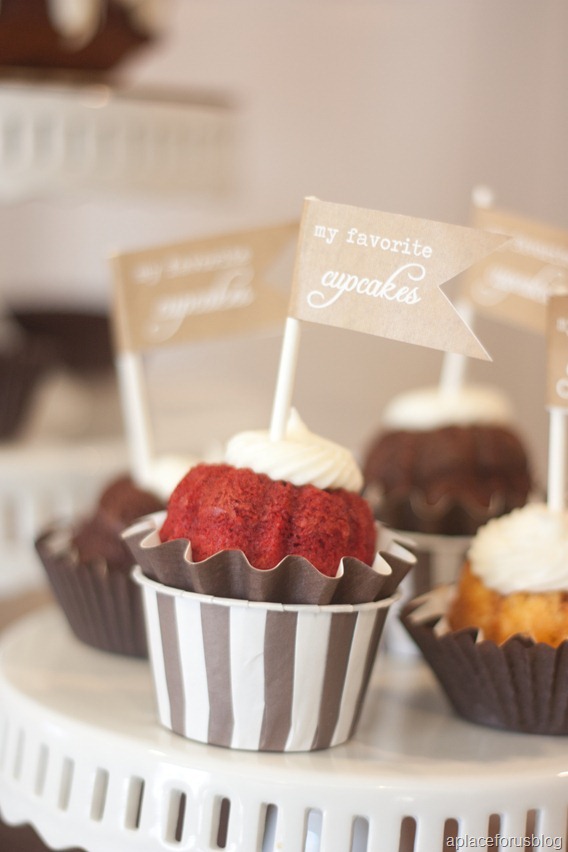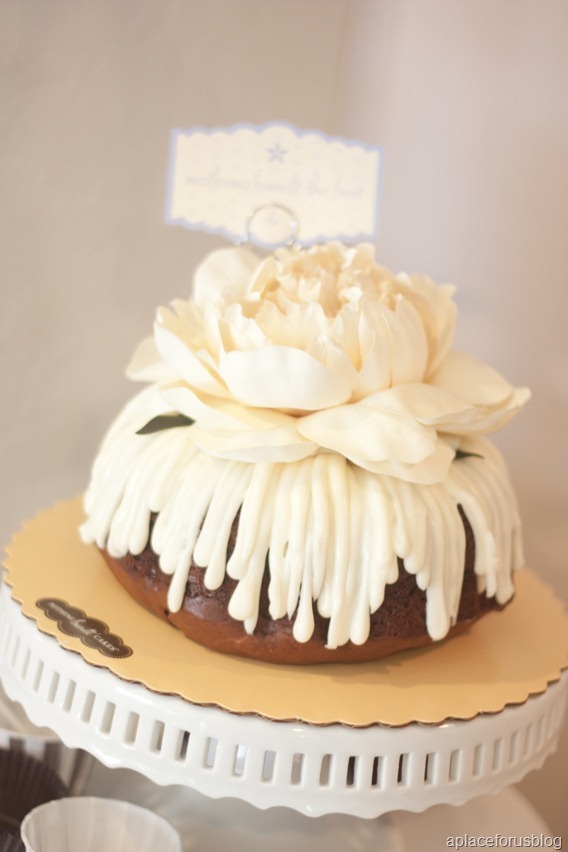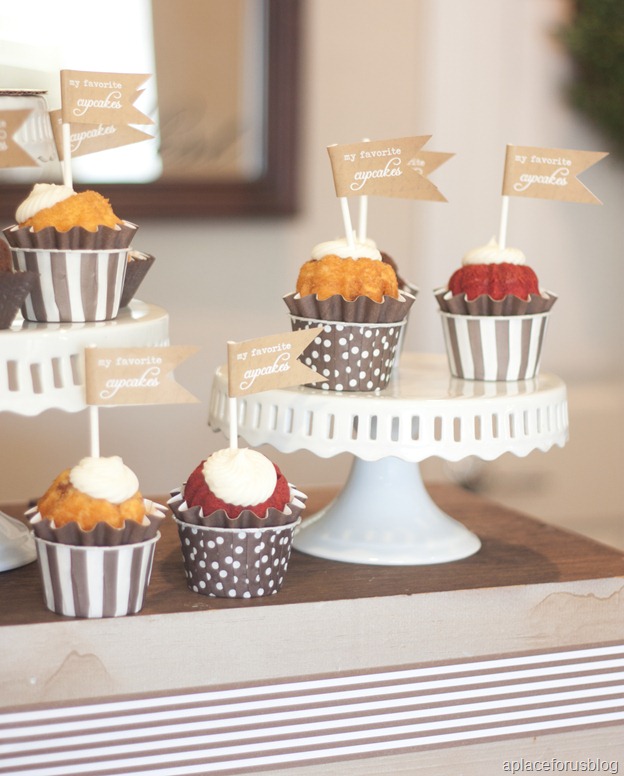 Nothing Bundt Cake in Glendale, AZ provided us with a BEAUTIFUL flowered 8 in cake chocolate Bundt, and 12 mini bundtins for the night. Everything was pretty much gone and some pieces of cake even went home with some girls. If you ever get a chance to stop in, your going to be in for a treat! It's a super cute shop with oodles of cake supplies and even samples!!! Yummmy!!
More Favorite Things
Check out some of the gifts each girl gifted!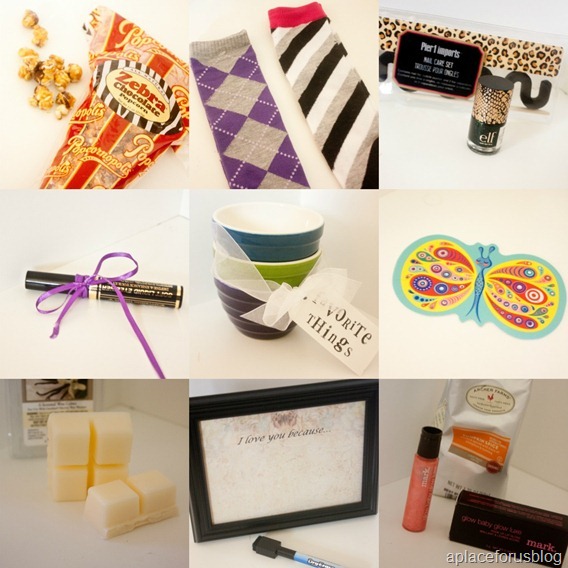 Zebra Popcorn,Long and SHSocks,Manicure Set and Nail Polish, Eyeliner, Crate and Barrel bowls with Salsa Recipe, Target Gift Card, Vanilla Bars for warmers, I Love You Pinterest project, Mark glitter lipgloss and pumpkin coffee.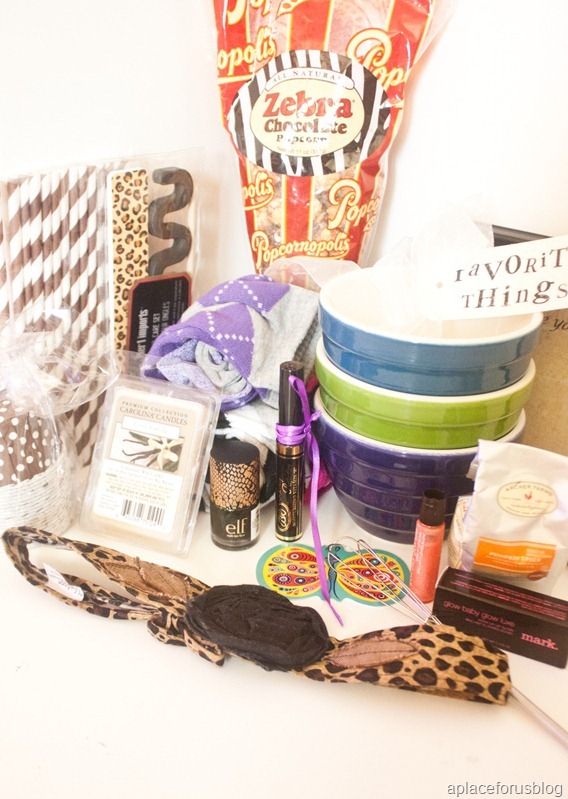 Pretty awesome right!!!
After the Gifts
The gift giving part actually went pretty fast so we were left with a LOT of down time! So we ended up pulling out Table Topics and let me tell you, we laughed, all.night.long. This was actually one of THE Oprah's Favorite Things:0) So I feel like she was with us that night…lol! I got the Girls Night Out edition and some of these question brought out the most hilarious stories!!!!!! I can't tell you how much I LOVEEEEE this little box. It makes for some great conversation and if you don't feel like the question applies to your group then you just skip to the next one!
They have a ton of different editions including, kids, family, book club, travels, etc. They also have a cute DATE NIGHT stack. It gives you some great date night ideas so you can mix it up and have fun!
So there you have it! The 3rd Annual Favorite Things Party was a hit! I just keeps getting better and better each year! Can't wait for our next one!!! It's going to be fabulous! If your thinking about throwing your own this post will help you out a ton! Have fun!!!!