My hubby's birthday is this week so I wanted to START off by gifting him something that I KNEW he would love and well just like any other sport fanatic, he loves his team, the Arizona Cardinals. After years of watching him support his team I'm convinced that he isn't a regular fan, he's an emotional, a little TO involved, I need to watch every single game and REWATCH every single game fan, that takes his role very serious. LOL!
I love his enthusiasm for his team, so I wanted to get him something that represented that. He doesn't have a man space in our home except for the garage, kinda:0) But his office at work was the perfect place to display his love for his team. So we decided to give his office a little pick me up with some AZ Cardinals FatHeads. If your not familiar with Fat Heads, they are larger than life decals that transforms any room into a life size game with actual size NFL, NBA and NBL player decals. But they also have life sized health and body decals, superhero's, Star Wars, Disney and you can even make your own custom Fathead:0) I can't imagine a life size picture of myself…lol, but maybe my kids:0)
I think  Fatheads are a great start to making his office a little more, umm alive:0)I joked with him and said it looks like you actually work for the Cardinals organization! Ha!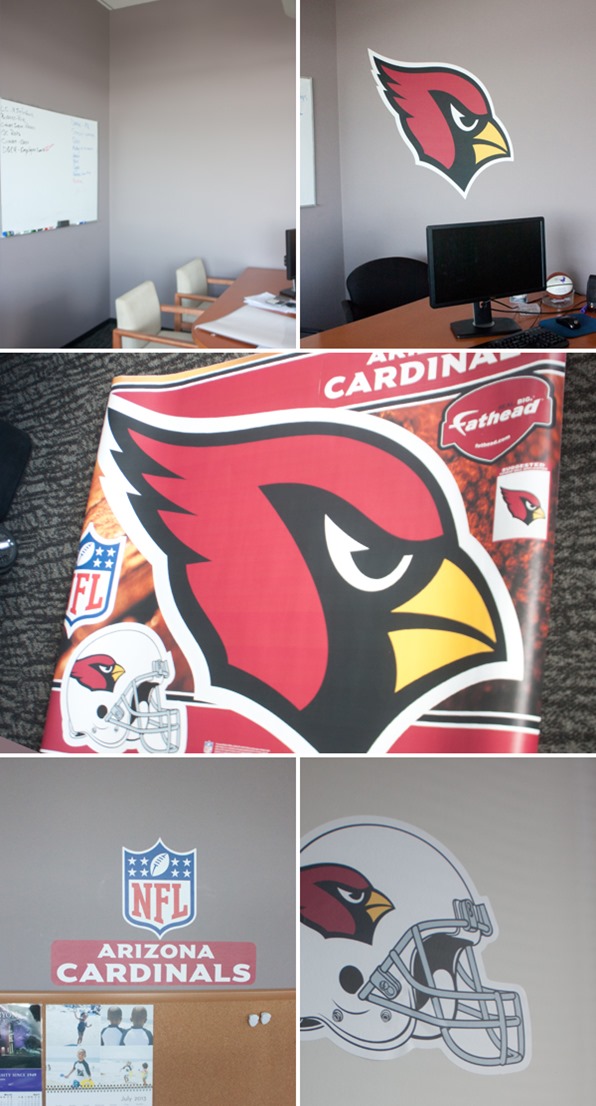 Here's a shot of how some of the other ladies used their decals. Some great ideas!
Have you used FatHeads before? If used correctly it can be a great way to transform a boring room!
This is a sponsored post on behalf of FatHeads. A Place for us might have received trade and or payment in exchange for this review. All opinions are mine!