So 11 months later are family room is starting to  feel nice and cozy:0)
Here is our room before we moved in…..
and After……
(for some reason this picture makes the room look BIG. It is a large room but it looks much more COZY in person:0) )
The seashell canvas pictures are from Ross.

The two little planters Craigslist.

Random lanters..HomeGoods,Target,Ross

Shelves… Hobby Lobby
Just about everything was bought at a discount. Actually everything was bought at a discount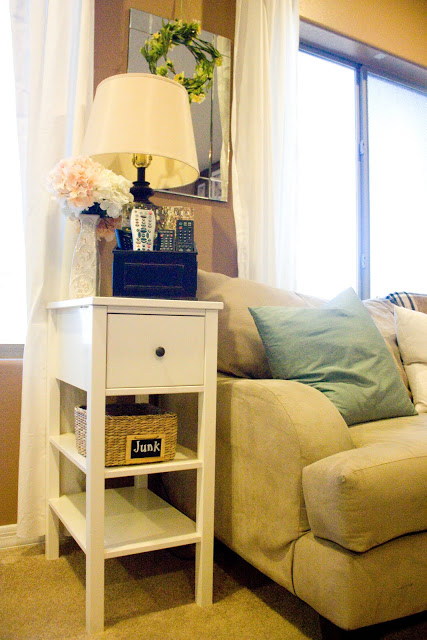 Lamp:Marshalls

Vase:Micheals

Table:Garage Sale..They are from Ikea and are actually nightstands:0) Got them for 10.00!

Pillows..JcPenny Chris Madden…love HER!

Mirror-Target

Wreath-Micheals
I had planned on making some floor pillows because if we aren't on the couch then we're on the floor. But I found these ones at Target for 8.00. Perfect addition:0)
Number 5: Ross

Shelves: Hobby Lobby

Mirror: TJMaxx

Candle Holders: Ross

Metal Basket: Garage Sale

Sofa Table: Craigslist…Pottery Barn:0)
 The Board and Batten was done a couples project:0) Reggie and I put it up in one night and I finished it off with caulking and painting. I primed 3/4 of the wall with Kilz Sealer. Then painted it white…I forget the color:0) We put it in right when we moved in last year and during that time there wasn't alot of information on the internet on how to do it…BUT these sights really gave me all I needed…
They both give GREAT step by step directions! Check them out!!!!
So there you have it!
So far so good…here are the things I still want to get done….
I still haven't decided on shutters for the windows or woven shades…..it's almost been a YEAR lol!!! I can't believe the previous owners took all the coverings…:0(
Are you guys still waiting on part 2 of Alivya's nursery? I'm still workin on it…and I will have pictures soon!