I have had this empty space above my TV,  in my family room for quite sometime. I knew I wanted something simple and meaningful. Something that defined the space we were in and something that represented our family.
So I contacted Leen  the Graphic Queen to get a custom decal made of the word
grace.
She did such a fabulous job and as soon as I saw it, I couldn't wait to hang it up!
To us this word defines the free gifts that our father in heaven gives us daily… sunsets, smiles, hugs, the breeze, quiet moments, a good phone call, the ability to let it all out, marriages, children, friends, sweet ice cream, summer days, cool nights. Grace to us  means that even though we don't deserve these gifts he gives them to us freely. Grace means failures forgiven and  His AMAZING GRACE makes my heart want to burst!! So seeing glimpse of this word throughout the day reminds me  to keep my feet firmly planted in his word. It reminds us to be thankful for the time we have had, to use our gifts and talents to praise him, and to LOVE. Because LOVE..agape love is how we are called to love each other.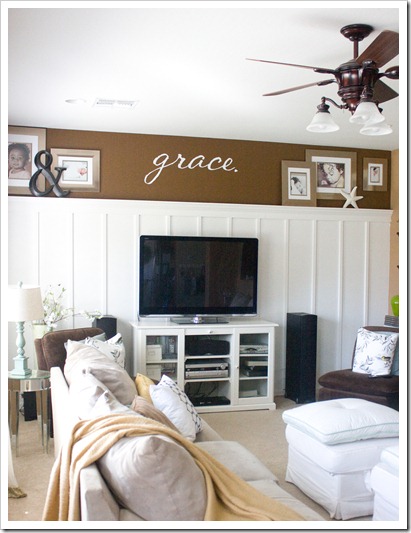 I  think this song by Matthew West….Only GRACE…..says in perfectly:0)
There is no guilt here
There is no shame
No pointing fingers
There is no blame
What happened yesterday…has disappeared
The dirt has washed away
And now it's clear
There's only grace
There's only love
There's only mercy and believe me it's enough
Your sins are gone
Without a trace
And there's nothing left now
There's only grace