Family room Update and Changes
This post is sponsored and may contain affiliate links, please read my disclosure policy.
Time for a little family room update for you guys. It's been a while:0) I suffer from it's not done yet syndrome so that's why I never feel like I can show you guys anything because really, it's not done. But you love to come on the journey with me so here ya go. Last time you saw it I think I had a different sofa and I told you all about where I got my new one from.. We are still loving our sectional and feel like it's perfect for our family dynamic. Super laid back, feet up, bowl of ice cream or two and lots of room for movie nights. We also host small group and everyone seems to like how comfortable it is. I think it's because of the down fill:0)
My style seems to evolve over time, just like yours does, I'm sure. When I was first married, it was all about reds and bronzes and more deep colors. As I've decorated my spaces over the years I've settled into a love for neutrals and more muted colors. I'm still very attracted to deep purples, blues and yes, even reds. But all that against a neutral pallet seems makes my heart says home. What about you? Have you examined your decorating heart lately? I know its super easy to just copy someone else's style. We are all tempted to do it! Even me sometimes:0) I have some serious design crushes!!! Because, well its easy and your eyes say it looks good. But at the end of the day its just not YOU! Right? Nothing feels better than trying things out and experimenting with different color combinations and styles. I've made so many "mistakes" trying to figure stuff out. Wrong paint colors, pillows and even FLOORS:0) lol. I have black and brown in my family room at the moment, mixed in with a grayish sofa, greens and a muted blue. I love the contrast the black brings into the space. My eyes love contrast:0) So most of the time my rooms will have some sort of contrast…I just can't help but to throw it in! I also love thrifted pieces. My sofa table and coffee table are thrifty finds. Oh and so are those green vases.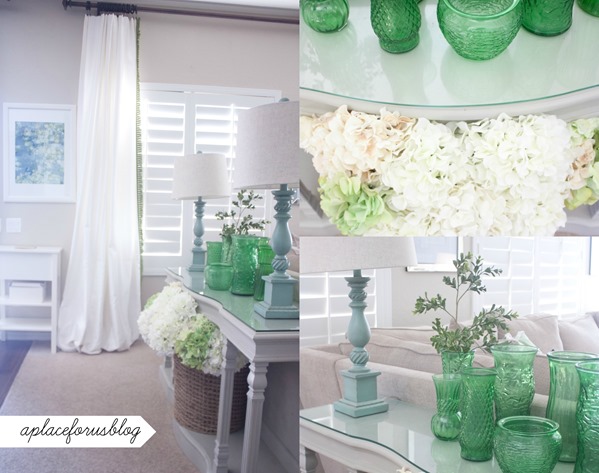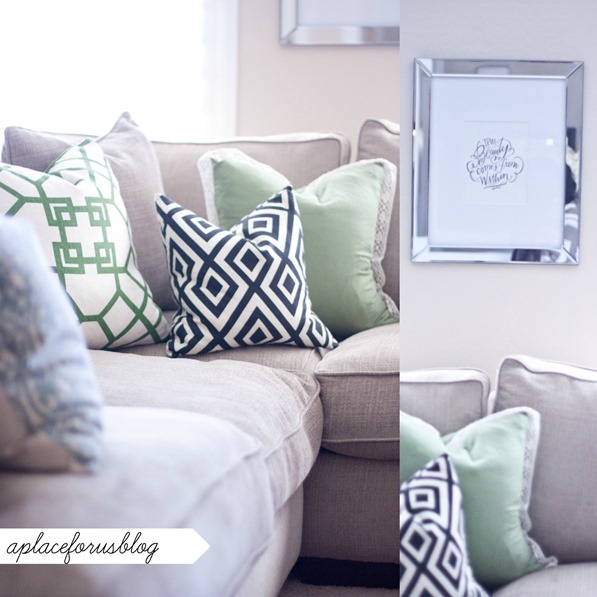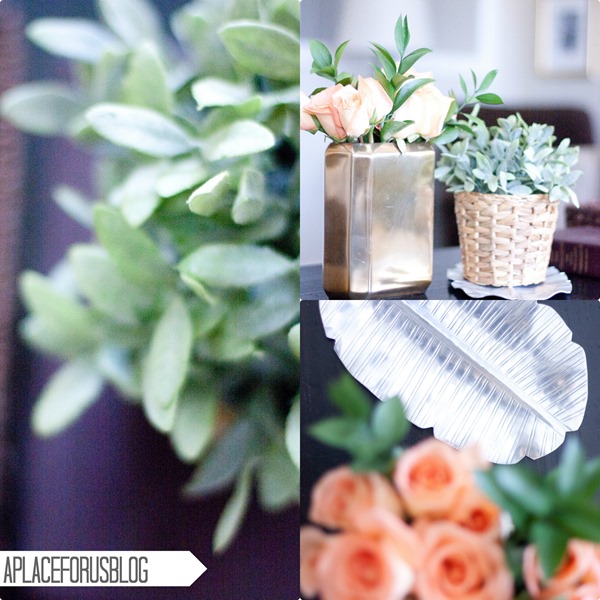 I added some green fringe to my white drapes just to give it a little pick me up. LOVE it!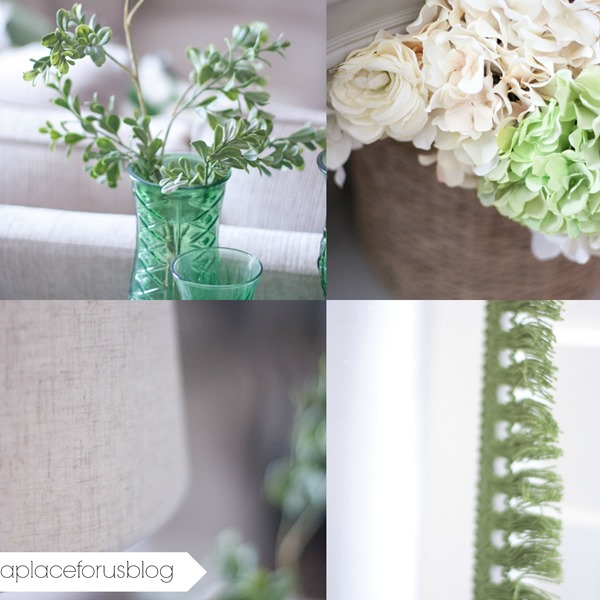 Here is a few shots of the room as a whole…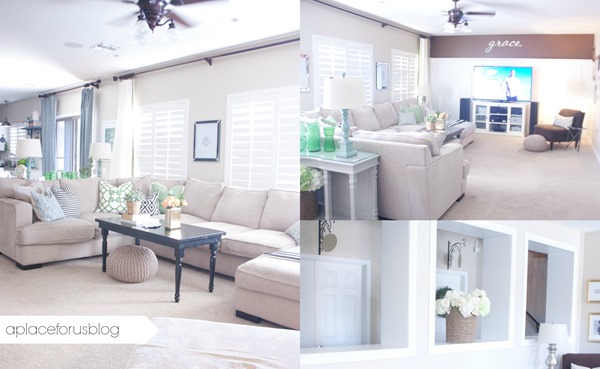 A couple of things I'm planning.
New Carpet
: We will be ordering REAL carpet this week from LOWES:0) I say real because this stuff is SO cheap and only lasted a few years. This time we decided on a beautiful diamond pattern from Stainmasters. Can't wait for you to see it. I've wanted it forever! I went to visit my friend Tracee the other week and she had something similar in almost a white color from and independent carpet maker so it just confirmed my decision!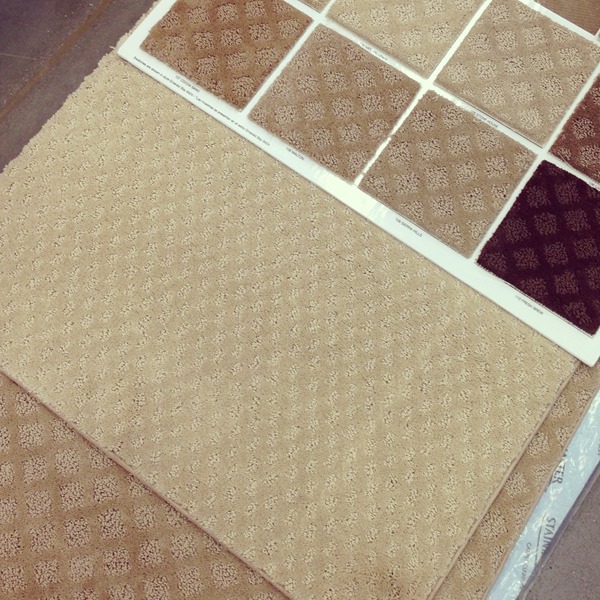 We just upgraded our TV to this humongous thing. Hmmm. Men and their TV's..lol. I think Its a tiny bit to big but it will be fine:0) I won a gift card from a Better Homes and Garden Challenge a while back so I decided to give it to him and this is what he got! GO figure. The media center we have right now is struggling to hold up all its weight. So we're gonna upgrade. I love this one by Pottery Barn.
But I found something cheaper that I think will look just as great! Stay tuned.
RUG
I feel like this room needs a rug. I had one in a beautiful slate blue. But removed it:0) I think I might get one just to ground the space and draw you eye in a little more. Blue for sure though. Rugs USA always has some great deals an I've order from them about FIVE times now:0) How do you feel about carpet on carpet. It always looks like I'm hiding a big stain….lol. But I just love the layered looks.
GRACE WALL
The word grace will be taken down and I will be doing something else on top as well! Think wallpaper-ish!
This corner needs some love. Greenery for sure. Boxwood, ferns or a tree:0)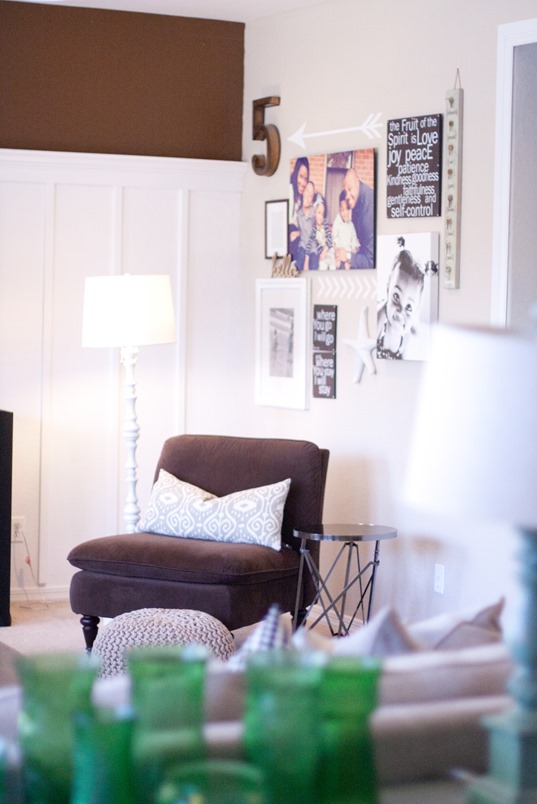 I'm also going to add some pillows in that floral fabric. I've always loved this fabric. First spotted it in Ballard Designs:0)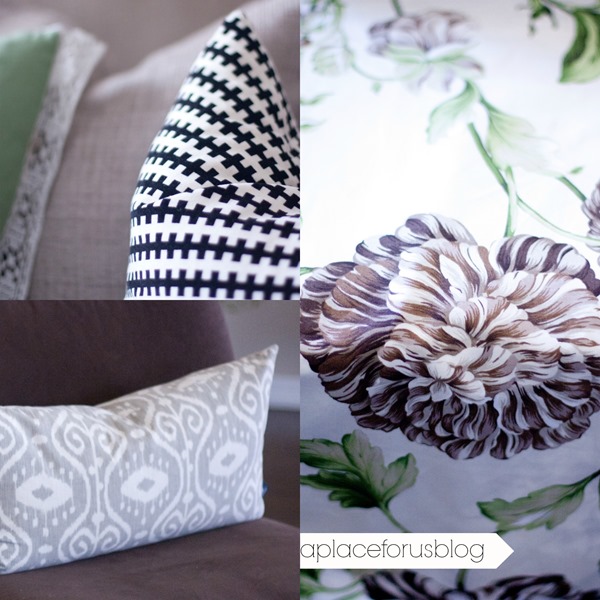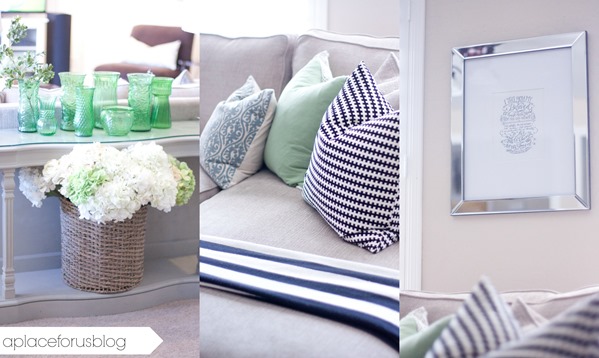 I picked up some clearance pots from Target today from Smith and Hawkins. (I Love that line) they might fit well in here!
I think I might go ahead an get the media center this weekend. We shall see:0)
Later! :0)