Hello Homelovers!
Today, the family and I are taking our family photos! I've been trying to figure out WHAT TO WEAR and it's been one big stress ball! You need to match but not matchy match. Throw in some prints but not to many. Mix up the colors but make sure they coordinate. My head is gonna explode!
Here is what I'm thinking…..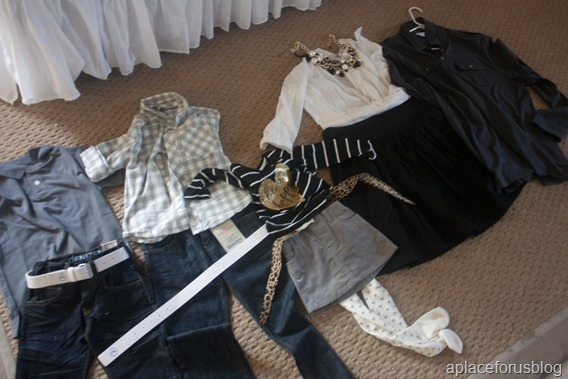 I'm not sure if I want Reggie to wear pants or not

lol! Hopefully it all looks great and my photographer Jamie will be able to work with it!!!!
Right along with outfit coordinating I've been surfing one of my favorite sights for Christmas cards! TinyPrints. My other favorite spot is Shutterfly and it's no surprise because they are all under the same stationery umbrella! I totally work backwards because in the years past I would take my photos with a certain color scheme, but then when I went to pick out a card, I could never choose a cute one and I always wished I went with a different color scheme:0) So ere are some of my favs that should go with what we are wearing!
I'm totally love the updated newsletter look! Some of our friends don't have a facebook account so they REAL have no idea what we've been up to, so this one would be great. I love the graphics too!
Then the circle cards are always a fav. I could get a few different ones for everyone and now they have a Design Your Own feature so you can customize them:0)
I don't know! But we will see! Are you guys sending out cards this year? When is your deadline? Do you only give cards out to friends who give you a card too?
You can get THREE free samples by clicking here!  and 20% off by using the code novsw25 with orders of 49+
Have a great weekend!!!!!