A few months ago I got an email from Elmer's asking me if I would like to host a craft party sponsored by them! They would send me party supplies for 10 of my guests and extras for prizes!  Yep, I sure do, sign me up!:0) I thought it would be great if a few of my girlfriends and I got together and crafted some Thanksgiving table décor and crafts! When my box full of goodies arrived I was SHOCKED!! Tons and crafty things for everyone! Thank you Elmer's for being so generous and FUN:0)
Each girl was given a bag full of supplies to get them started and put them in a crafty mood!:0)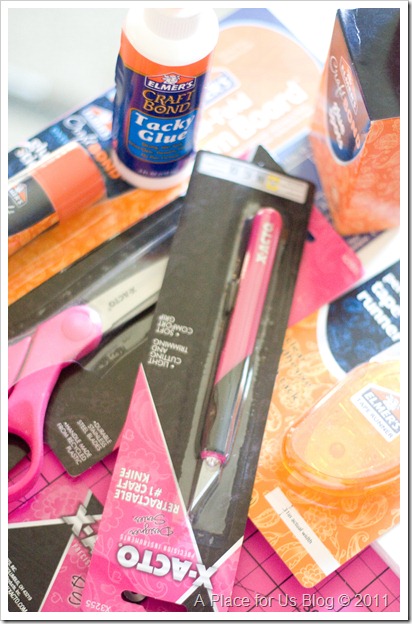 X-ACTO Retractable Knife
·         8" X-ACTO Designer Series Scissors
·         X-ACTO Self-Healing Mat
·         X-ACTO Decorative Edge Scissors
·         Elmer's CraftBond Extra Strength Glue Stick
·         Elmer's CraftBond Tape Runner
·         Elmer's CraftBond Glue Dots pack
·         Elmer's Mini Bi-Fold Foam Board
And in the center of our table was a caddy full of crafty tools!!!
Our first craft of the night was, you guessed it…Brown Paper Flowers. I took a few minutes explaining how to make them and then they got BUSY!!! They were so good at them:0)
Another craft we made was a combo craft. Felt Lollipop Turkeys in a Coop! I got the Lollipop Turkey instructions from Parents.com and for the turkey coop I used the bottoms of the brown paper bags! Remember I told you to save them? :0)
Tutorial coming soon! I think these would be SO cute on the kids table BUT really fun on the main table too! The houndstooth duck tap coordinates perfectly with my houndstooth pillow!!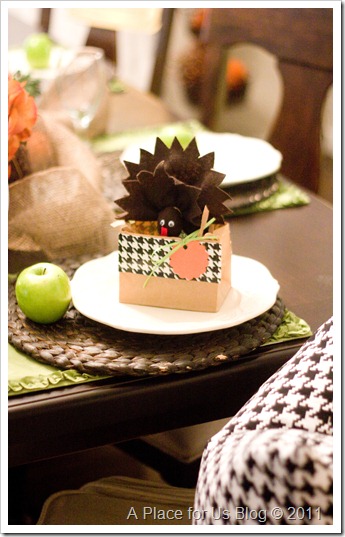 It was so fun getting together and LAUGHING, listening to some Chris August, Mercy Me and chatting about scandalous reality TV shows,,,lol!!! We also discussed things like husbands and laundry…probably the funniest conversation ever!! Especially when Reggie made an appearance to put his two cents in! Girl time is the best time:0))
So here is the fun part….
Giveaway
Elmer's wants to also send TWO blog readers a pack of  goodies to have a mini Craft & Tell party, too! Leave a comment on this blog entry to enter. Must be a US resident to win (for shipping purposes). One comment per person please. Open to all A Place for Us Readers!!
3 X-ACTO Retract-a-Blade knives
3 CraftBond Extra Strength Glue Sticks
3 CraftBond Tape Runners
3 Mini Bi-fold 9×12 Foam Board packs
1 Painters Markers pack
1 X-ACTO Decorative Edge Scissors pack
1 Circle Cutter
1 X-ACTO Self-Healing Mat
1 Glue Dots pack
2 Photo Corners packs (various colors)
1 Gel Pens pack
1 Tacky Glue bottle
Winner will be announced Mon. November,14th on my FACEBOOK page ! Good Luck!!