Every now and then we get together with our friends and have a Taco Night! We consume yummy Mexican dishes and chat and LAUGH a lot! With Cinco de Mayo coming up we knew it would be the perfect night to have some buddies over AND meet new people! This was a group of friends and new friends from our church and the Love and Respect bible study we did last year.
Prepping for this party was a bit stressful just because Reggie wasn't feeling to good! Come party day he IS my other half! lol! Watches the babies for me…cleans the porch off, you know:0) It wasn't anything serious but the day before he just couldn't do much. But thanks to a good friend Alyssa, I was able to have about three hours to get the house clean and run to the grocery store! Amazing right? She took the boys along with her two babies and had a fun time at the park and McDonalds. So thankful for her! Gosh!
So, here are some EASY steps that I took to have this get together….
Use what YOU have!
I've always done this. Mostly because I'm cheap and I can't afford to go out and buy something NEW every time I have a party:0) For the set up I used some festive dishes that I got from my mother a few years ago. I combined them with a natural textured fruit bowl and some clear cake stands! I also used some placemats that came from left over stuff I had from a Island party. So nothing was bought brand new, all things from around the house!
Fresh produce for décor.
HOW pretty would lanterns in orange, pink and yellow  have been for this party? But I didn't have enough time to order any being that I had about a week to prep for this. I kept everything pretty simple. I used plastic margarita glasses…we don't drink, so I had to use them for something! ha! I filled them up with cilantro to add some greenery. I used the fruit bowl and added some festive fruits, oranges, lemons,limes and bananas:0) I also made some cupcakes and used
TomKatStudios, FREE Cinco de Mayo printable
s for the toppers ! They coordinated with everything so well! I also got some bottled sodas to match the décor and add some more color!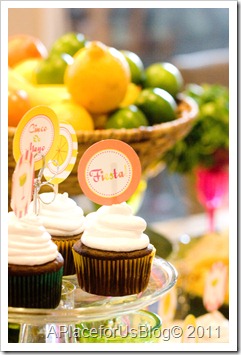 Potluck
For the rest of the food, everyone brought a favorite dish to share with everyone! Tacos, enchiladas, rice, beans, were all on the menu. When you are crunched for time ask everyone to bring something! For the most part everyone really DOES want to bring something! So get together a menu and a list of supplies and give up some of the responsibility.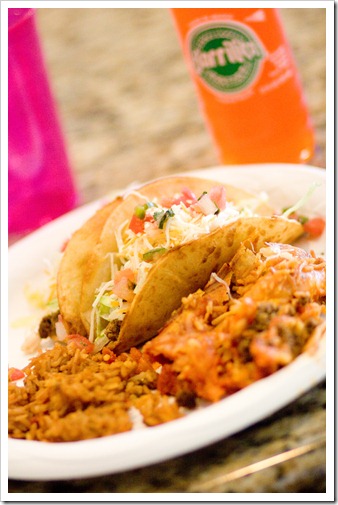 Remember to LET go and invite your friends over even when your house is "undercontruction"! Clean up the best you can and let your guest know your plans for the house, it's a great conversation starter.  Your friends are there to see YOU and your family not look at an art gallery or a museum:0) We had about 15 people over and I had LOTS of unfinished projects…
Didn't get to frame those niches……Or finish my gallery wall…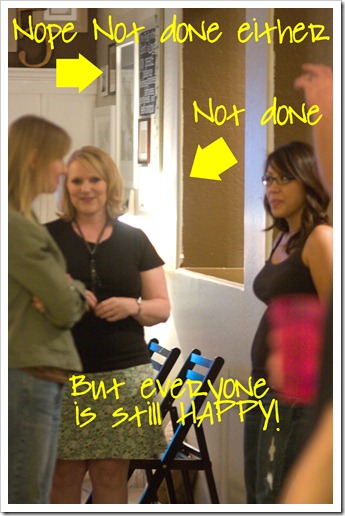 We would never have any visitors if I waited until I was "done" decorating! So don't let that stop you either!
Happy Monday Everyone:0)