I'm getting there! This is the LAST project before I reveal my living room and dining room to you guys! It's been a year in the making, I cant believe it:0) But now that the holidays are over I always get stuck with POST Christmas decorating. I never know whether to winter up my house with winter décor or head right into spring with wreaths and greenery. To be honest it feels like Spring here in Phoenix so its kinda hard to have cold weather décor hanging when its 65 degrees outside:0) So for my front room I decided to use some everyday décor for now.
INSERT-> DIY PALLET ART
Pinterest is the first place I saw PALLET art and basically what it is, is you take a shipping pallet and use the wood to create a piece of art or sign. We all know I LOVE to decorate with signs because it gives any room instant charm. But what I love about this particular type of art is the materials used. Something super simple can be recycled to make something beautiful.
My friend Katie from Sweet Rose Studio ( I'm such a name dropper…ha) created her own version and gifted it to her newlywed friends. So sweet right?! Check out how she made hers here.
Here are some more organic examples…
So this isn't anything new per say but I did want to show you how I made mine!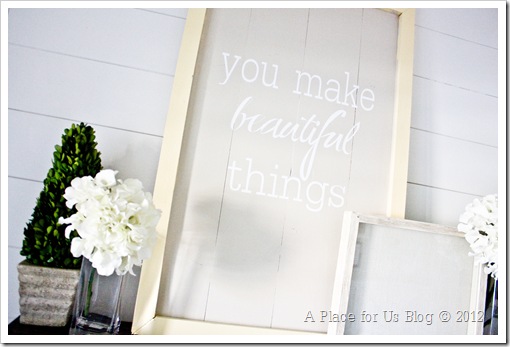 First off I didn't have any pallets near me. Well I did, the builder around the corner has some stacked up in a dirt filled corner. But know one is ever around and I feel so bad just taking them…lol! But I think craigslist would be a great source to look for them. I just never made the time.
So I just used some wood that I had left over from my DIY Fireless Fireplace and Mantel Project.
First, I cut them down to size and glued them all together with some wood glue and let that sit for a couple of hours.
I wanted a more finished look so I added a trim using 1x2s. I also attached them using wood glue.
I put some weight on everything so that it would sit nice and tight bond together. I let that sit overnight as well. (If you need to you can sand any rough spots. But I didn't need to:0)
The next day I painted some left over yellow from my buffet around the trim and painted the inside with left over Valspar Oatbran from some other house projects.
Then I added some vinyl that I cut with my Silhouette machine.
And there you have it sittin pretty on my mantel!
As far as the saying, it's song by Gungor. I've had it stuck in my head now for a good two months now..hehe ( I ALWAYS have a song in my head. You too? ) I don't know if you've heard it or not but it's soooo sweet! "You make beautiful things, you make beautiful thing out of us." Take a listen…I know you'll love it:0)