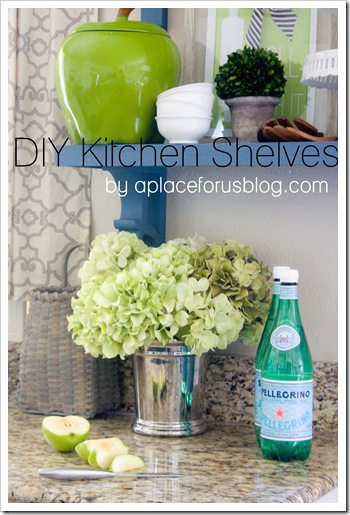 As I thought about giving our kitchen a update with painted cabinets, new hardware, etc. I knew I also wanted to work in  open shelves into the plan. I think open shelves are a great way to add instant character to what can normally be a very ordinary space.There are so many different looks and options! But adding shelving doesn't have to be an a entire kitchen overall. It can be as simple as taking of your cabinet door fronts and adding some beadboard to the backs like my friend Ashley from TheHandmadeHome does. So fresh and so clean:0)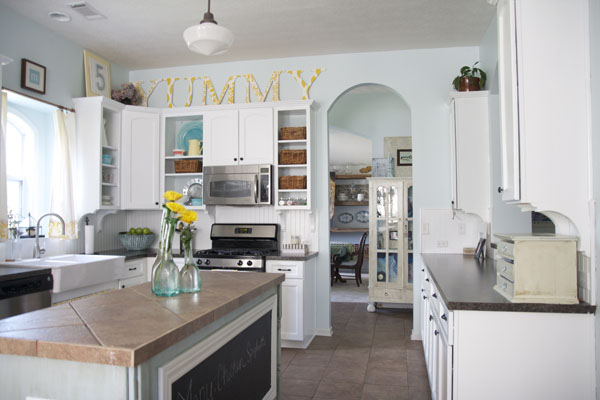 via thehandmadehome
Or you can swap out a small space of uppers.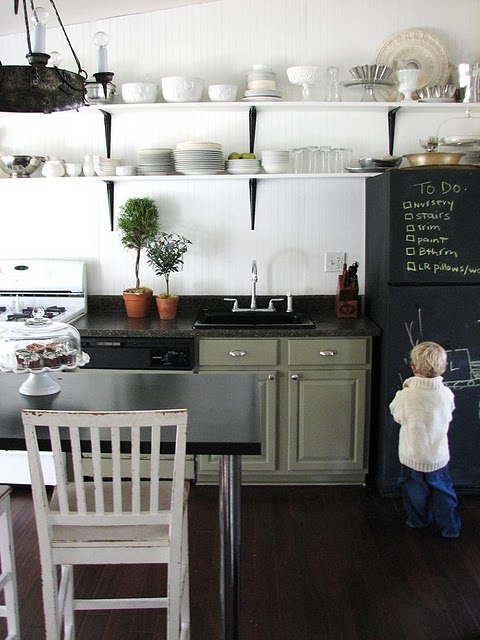 But because of my lack of KEEPING things organized and tidy( I can organize with the best of them, keeping it that way…um,kind of a challenge!), switching out a small space of uppers seemed like the perfect solution for my kitchen.
The first thing you want to do is take down your upper cabinets. Mine was a single cabinet to the right of my kitchen sink. So it was actually quite easy to remove. I did it by myself in about 10 minutes. But depending on your space you may need some help. So plan accordingly. We don't want any accidents!
After removing your cabinet, it's important to patch up any holes or imperfections with calk or any filler for drywall. I didn't ,but you should…lol! After it's dry, paint over the patches and the part where the cabinet once hung.
Then your going to want to take a few measurement to see how WIDE and how LONG you want your shelves.This can be as simple as using masking tape to section off the areas of the shelves and the corbels. I bought my corbels on an ebay bid. I first spotted theses beauties on Pinterest via UrbanGraceInteriors. It took me about 1.76 seconds to realize that they were PERFECT! I hung mine up using push pins to hold them in place temporarily. I'm all about visualizing. I temporarily hang a lot of my things just to get the look for it…including those café drapes to the left:0)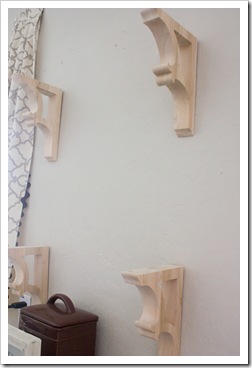 Get some ideas from places like Pinterest or Houzz. They have a really good selection of photos. Even if you can't get the EXACT look you can get an idea of how you would like it to look. Here are some things to take into consideration:
how thick or thin do you want your shelving?
how long or short you want your brackets or corbel?
and how much space would you like in between each shelf?
do you want them to blend in the the cabinetry?
would you like them painted,rustic,glossy? What finish will look best?
how much weight will be used on each shelf
do you have studs to work with or are you going to need extra support?
Once you've decided on the look start preparing your corbels or brackets to be hung. My corbels came with a keyhole so it was pretty simple to hang. Whether your comes with a keyhole or a traditional hole you can use these tips that I found.
http://www.instructables.com/id/How-to-mount-a-shelf-with-wood-shelf-brackets/
DIY SHELVES
For the shelf part your going to need a thick piece of plywood cut to your desired length.(I think mine was about 1/2in thick) I picked up some super cheap scraps at my loca1 ReStore. They cost me about 1.50 each shelf. My shelves are 33×12. Just enough room to hold a full size plate and cake plate.
*Optional:  2in poplar/hobby wood cut to length for the edges of the shelf. You can pick these up at HomeDepot. This piece will give your shelves a slightly thicker look that I added on later.
Lightly sand all your material as needed. Then paint them the desired color.
I choose this moody blue by SW that I got color matched with my FREE paint from Clark+Kensington paint at ACE I got last weekend. It's a primer and paint in one so I didn't need to worry about an extra step.
You can use a paint brush or a sprayer like I did. Those things were painted in no time flat. I love my sprayer!!!!! I'll talk about that more in my cabinet post.
After they dried I hung my corbels up and gave the shelves a test run. I liked them a lot! BUT I wanted them to be slightly thicker or chunkier:0)  So instead of starting over I just add a piece of 2 in hobby pieces of wood to the front and sides with 2 inch nails and liquid nails.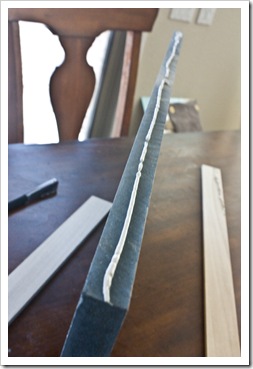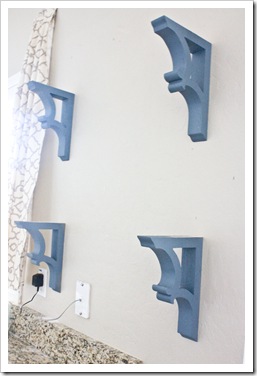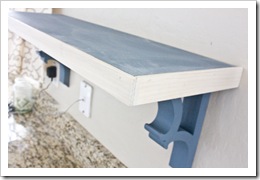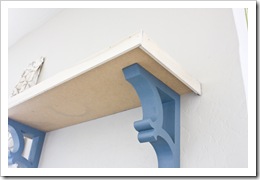 Then I took the shelves down and gave it another coat of paint on the sides and on the bottom. After they dried for a few hours I hung them up! I attached the shelves with liquid nail and allowed it to dry over night. ( With all types of décor on it of course…lol) I'm so impatient sometimes!
I love the color. I love the way they look. I just LOVE them! Here they are all styled up:0)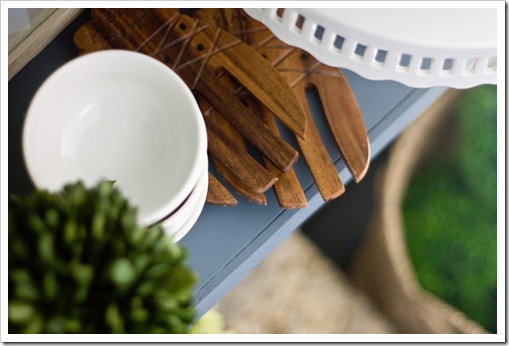 And Before you ask…
Resource List:
Chrome Flower Pot: .99  from Target about a year ago.
Flowers: Michaels
Green Apple Cookie Jar: Garage Sale
White dipping Bowls: Target
Small Preserved Leaves in Pot: Homegoods
Cake Plates: Homegoods
Egg Holders: World Market
Wood Hand Spoons: Gift from Hawaii
Printable Picture: Pinterest
White Shadow Box: Pottery Barn via Goodwill
TopShelf
SS Ice Bucket: Goodwill
Green Tea Tin: World Market
Glass Bowls: Grandmothers
Green Topiary: HomeGoods
Milk Cookie Jar: World Market
Wood Frame: Hobby Lobby