This post is sponsored and may contain affiliate links, please read my disclosure policy.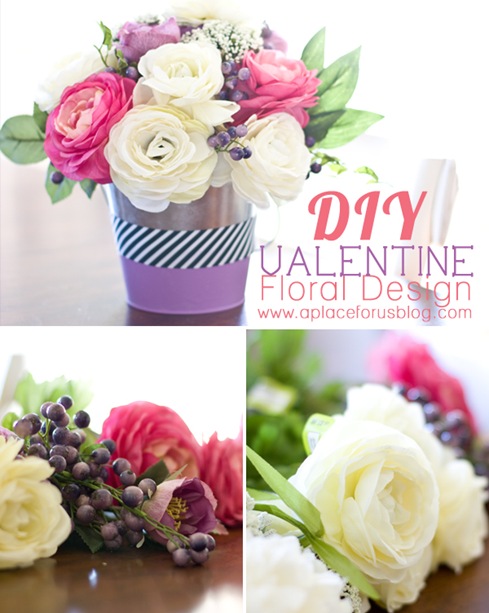 Floral design can be a little intimidating, a little stuffy and well a bit boring. But with the right amount of wit and creativity, they actually can be super fun to make and relaxing. The other day on Instagram I was pretty much lost in the art of floral design:0) So today, I'm gonna show you how simple it can be.
First things first, your going to want to come up with a color scheme. I love to use Design Seeds for inspiration when it comes to color. For this arrangement I was thinking Valentines. Minus the red of course. So for the two large flowers I used white and pink. For the medium flower, a purple rose. For the fillers I used a little babies breath and purple bead things. ha ( didn't take a look at the name) I'm sure someone knows what they are! Get a lot of flowers. To be more specific, I have about 12 large stems, 2 medium stems and a lot of filler:0)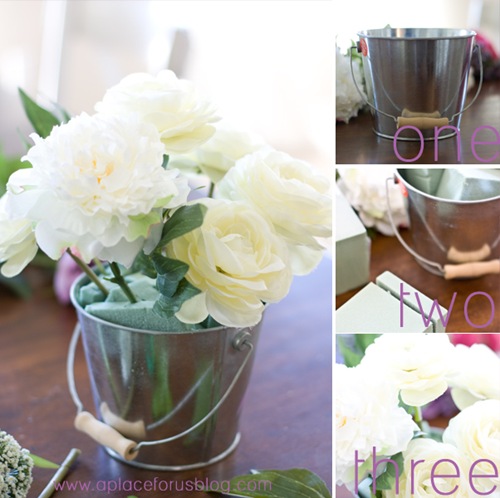 To make your arrangement, follow a few easy steps.
1. Get a container. Depending on how big its going to be. For this one I used a medium size bucket.
2.Go ahead and  stuff the bucket with some green flower foam. Pack it in nice and tight and cut as needed.
3. Begin with your largest flowers. Start to clip them using some wire cutters made for silk flowers. You want the height to be taller than the container so use your good eyes to take a look. I would cut it about 4-5 inches above the container to be safe:0) I also took off all of the extra leaves so I could see more of the flower. Then arrange them inside the bucket. On the top, bottom, side, sideways, bent, you get the point. Do the same thing with the remaining larger flowers and medium flowers.
As your arranging make sure you take some time to step back and take a look at what your creating. You might need to move some things around. Keep in mind what shape your trying to make as well and keep within those lines. If your going for something asymmetrical, then break those "in the lines" rules:0)
One your flower arrangement begins to take shape. Start to clip and insert all your filler pieces. I used some greenery on the sides, but for the most part babies breath and those purple bead things filled all the empty spaces.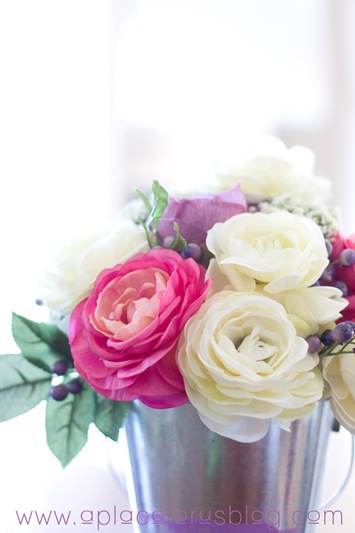 To add some extra love. Paint the bottom a coordinating color and tie a ribbon around it.
This is a perfect Valentines Day arrangement and even a gift. Right now mine is waiting to be gifted to someone special!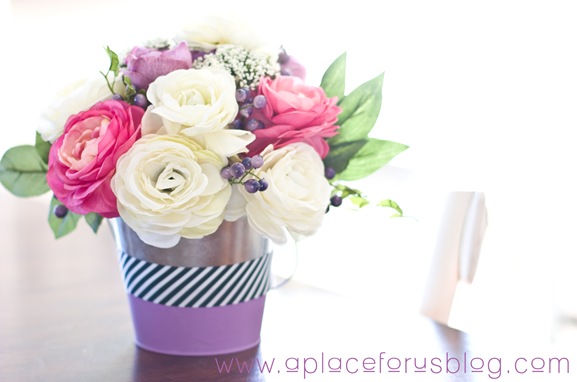 Are you intimidated by floral design? Do you have any silk arrangements in your home? Are they collecting dust:0)
……………………………………………………………………………………..
Stay connected with A Place for Us Blog with behind the blog action, real life, and even more inspiration on my Instagram feed!