Hello Homelovers!
Hope you had a great weekend celebrating Father's Day! We sure do love our daddy around these parts.
I recently took a decor detour upstairs and ended up in Alivya's room. It just seemed to happen:0) I never finish anything…lol! I just get an idea or something bothers me so much that I just have to get it done. Well, at least started. The kitchen is still coming along fabulously. I can't wait to show you guys, but I've seemed to have spent SO much time in there looking at the walls, that I've lost some of my inspiration. Does that happen to you guys? It does to me…design overload. SO I took at step back, and started focused on my daughters room AND my little boys rooms.
I can't even believe how big their all getting. I mean just yesterday I was decorating nurseries:0) But it became apparent to me that they all needed some "bigger" spaces so I spent sometime in their rooms…staring at the wall and dreaming up some practical spaces to fit there needs.
Today I'm gonna give you a peak at some changes I've been want to make to my daughters room! Later on the week will talk about the boys. I know some of you are super excited because you've emailed me about my kid spaces!!
For Alivya's new room, I had a couple of inspirational photos. I even went bananas over on Pinterest pinning every single pink room I thought to be pin worthy! We got her a queen bed back in November so that our Thanksgiving guest could sleep in comfort:0) (we totally skipped the toddler and the twin bed by the way..she did wonderfully!)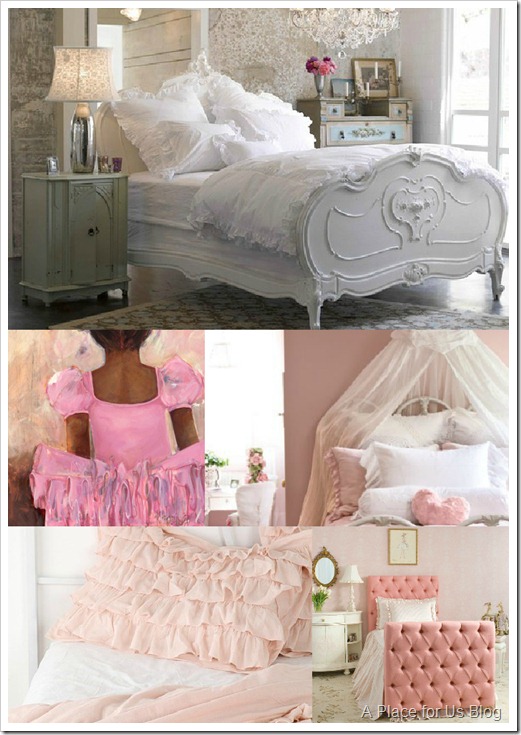 Alivya's nursery was a pretty purple and green, you guys remember, right? I loved it and she loved it but I think I was trying to be different and tried to convince myself that were weren't pink girls….well we are…pink girls for life yo. At least for now:0) I won't tell you that she keeps telling me her favorite color is purple…lalalala can't hear you! I figured I'd surround her with this color until she changed her mind:0) ha!
I wanted to paint the walls a blush color, maybe a little on the muted side..BUT I really know myself now. When it comes to color on the wall, I get excited, I flip through paint decks like nobody's business, I pick out the color that know ones even heard of, I buy it, paint it and I LOVE it and then…I'm over it within 6 months. It's just the way I am…lol! So I knew I wanted to go with a neutral back drop for her décor and accessorize it using whites,pinks, pretty grays and a pop of greenery. I always thought that bedrooms should be serine, soft and quiet. Also cozy and cold (not the feeling cold, but literally cold..like 74 degrees…lol) 
When it comes to decorating a girls room, you have so many different color options, styles, accessories. If you're a homelover like I know you are, you can appreciate ALL types of styles. But when it comes to your own home you really have to go with you gut. Even if it seems to look like the same ole same ole, there's always away to add character and charm so that your room is uniquely yours:0)
Things are cha cha cha changin……
The first thing I did was gave the room a fresh paint of neutral paint, I got my SHERWIN WILLIAM paint deck out and narrowed it down to this beautiful color called Agreeable Gray. It's not gray gray, but gray enough to be called gray:0) I love paint names…lol!!

If you follow me on INSTAGRAM then you've probably notice I've been picking up random girly stuff for awhile0) One of the first things I grabbed for her a few months ago was this pretty ruffled bed skirt that I got on Overstock.com for 23.00 (I had a discount code). I remember seeing it AND the price and saying …oh, she has to have that! Plus, it's the knock of version of good ole PBK at a much better value! I love when that happens:0) I that snagged that scalloped console table from one of my favorite stores, World Market a few months ago. I plan on getting another one so I can make one long table:0) It would be perfect for a desk as well. I believe it's on clearance right now too!
Check out these adorable little prints from Holly Abston I spotted while browsing Etsy! It's so hard to find cute "African American" children in art you guys. I'm super sensitive about stuff like that…so when I spotted these prints I about died! My new friend Holly is so talented girls! Check out some of her creations, you'll die too! She's even changing all the orange to pink! SWEET!
I also ordered this wooden monogram from WoodenLetters via Etsy. There's just something about a scrolly, sweet, proper monogram. I'm such a wanna be southern bell:0) My mom and dad are from the south…so it's kinda in my blood, right?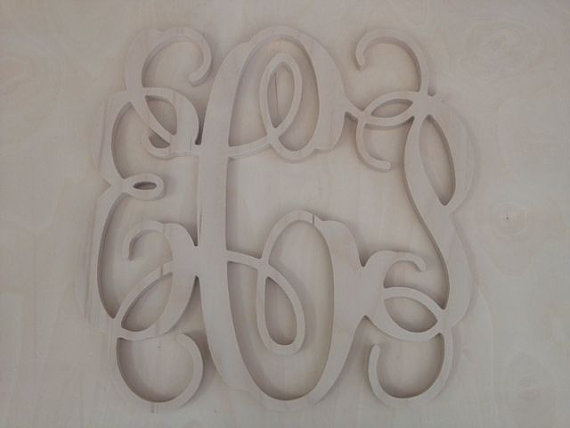 Oh, I can wait to show you some of the other things I'm going to be adding to her big girl room! Tea time table, new duvet, some funky frames, some window treatments and hopefully some more linen from my mom! haha! Don't count out wallpaper either, that stuff is addicting!
How many different stages do your kids rooms go through? I mean their in your house until the big 18! How many bedrooms changes am I looking at? 3,4,5? Let me know!