Looking for some cute Mother's Day Gift ideas? Look no further! Here is a fun guide for all different types of mothers! All types of budgets, from simple to luxurious!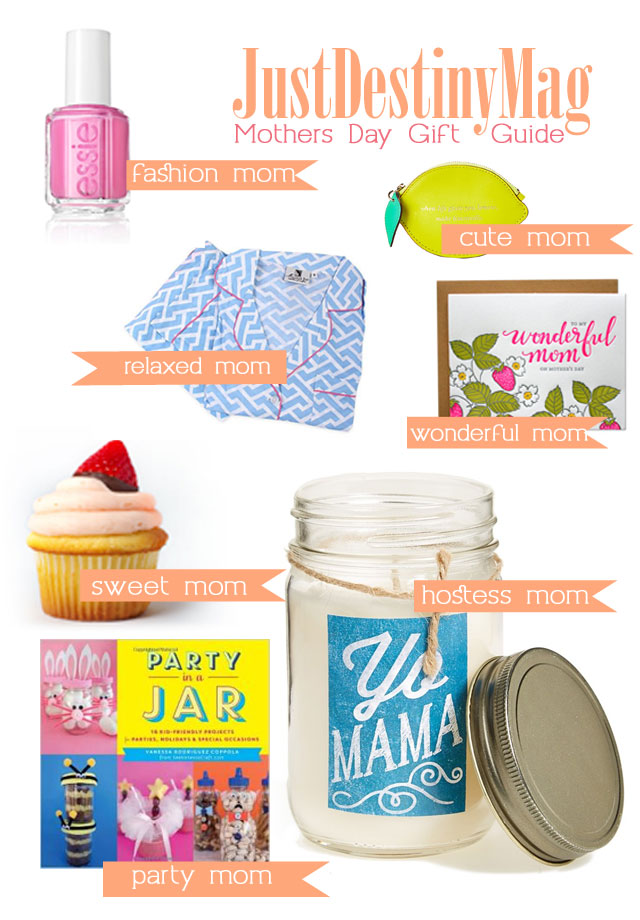 Fashion Moms would LOVE a few of these little bottles of joy from the nail polish line Essie. So many different colors, she might just get OBSESSED! You can find them in any drugstore or right here online!
Cute moms love cute things. So this adorable little lemon coin purse is the perfect little accessory for the mom who loves cute. Did I mention it was cute? Oh my gosh, so cute.
Most moms don't mind relaxing. I know I don't! But what about relaxing in style with these adorable pajamas by Malabar Bay! One Kings Lane has them right now! I have a set and I love them!
What mother doesn't like a Mother's Day card! This one from Etsy is so wonderful :0)
Have a mom who loves to bake or is a cupcake lover? If you want to wow her taste buds you HAVE to give her a dozen of the best cupcakes I've ever had. I've had a lot by the way. I consider myself and expert! lol! But I had to stop because my pants weren't fitting. :0) Sweet Tooth Fairy has the most incredible flavors. My favs are Strawberry Shortcake, ViNIElla and oh the cupshakes?! You will die! So good.
Party moms are going to adore this new book by my friend Vanessa, from See Vanessa Craft! Party in a Jar has so many cute ideas for your little ones play dates and birthday parties! And its under $10 bucks!
If you know a mom who loves to host then this fun candle "Yo Mama" will definitely make her smile!
[line]
How do you celebrate Mother's Day? Lunch, gifts, just a day to relax? I love breakfast in bed from my kids and lots of relaxing! My dad always gives me and my mom beautiful arrangements and my hubby throws something on the BBQ. I'm not gonna lie…I love being pampered:0) I think it might be one of my many love languages…ha!
*post includes affiliate links