You've probably been wondering where I have been this week! No updates no new décor…no NOTHING! I've been BUSY!! and if you follow me on TWITTER and FACEBOOK, you know I will be heading to my first BLOG conference…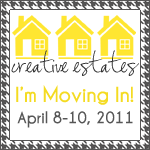 Creative Estates! Right here in good ole AZ! Perfect right?
I will be rubbing elbows with some of the most fabulous creative minds in blogging world! Handmade happiness!!
If you want up to date details about what's going on at the conference, make sure you follow my twitter handle @aplaceforus
I will check you guys out next week for a really FUN giveaway from my newest sponsors at DAYSPRING…..who offers free Christian E-Cards, boxed cards, gifts, home decor and more . You've most likely already heard of this awesome company but if NOT your in for a real treat:0)
OH and I still need to use my new Silhouette!
See you later friends!
Muah!