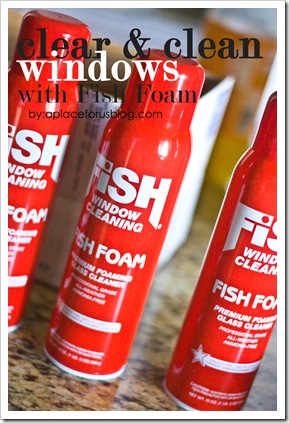 Hello HOMEies!
So glad to be here with you today giving you guys a review on a fabulous product, FISH FOAM glass cleaner. This really couldn't come at a better time because I was just about to give up on my window cleaning chores and call in the pros. I've tried EVERYTHING to clean my windows, the popular BLUE, pure vinegar, vinegar mixed with distilled water, just to name a few. So I went on the Fish Foam website to see what made their product different and this is what I found…
"Fish Foam is an all-weather, ammonia-free glass cleaner and when sprayed, the professional grade cleaner immediately goes to work to make your glass sparkling clean. It does not leave streaks or a haze."
Ammonia free? Interesting. So,I couldn't wait to see the difference!
Home economics doesn't come naturally to everyone. I don't know how many times I've goggled something home related cause I had know idea what I was doing:0)  So to demonstrate the fabulousness of Fish Foam and a to keep true to my love of teaching I've put together a little tutorial of how I cleaned my own outdoor windows.
             How to Wash an Outdoor Window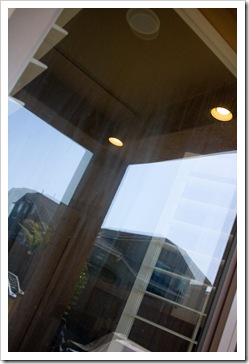 First thing is choose a time of day when the sun isn't directly shining on your windows. The reason is because the heat from the sun can cause streaks and you will be on mad maid. Its kinda hard to avoid the sun here but do the best you can!
Next thing you want to do is "clean" any loose dirt loose dirt with a wet sponge, rag or a soft brush. I had a lot of dust on my windows so this was a needed step! Then dry it with a rag. Here is what I used…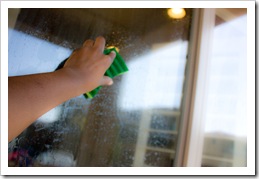 Then spray your Fish Foam solution generously onto the glass surface. I know this is sorta silly but the foam just makes it that much BETTER! I want to foam up every surface in my house just because of that…haha!
Wet the end of your squeegee..I love that name..squeeeeeegeeee:0)
Start in the corner of the window and stroke down firmly to the bottom. Go back to the top and slightly overlap the first stroke and repeat. After each stroke wipe the squeegee with a lint free cloth and repeat repeat repeat.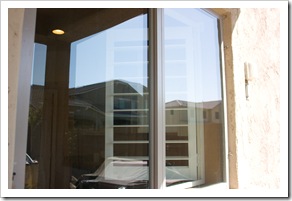 With this knowledge I'm confident that you'll be able to squeegee your way to clean and clear windows! With Fish Foam your windows will have a slight twinkle that the other stuff just can give you! Oh and if you have a glass sliding door, be careful! It's so clear that birds and humans have been known to walk right through it thinking the door was WIDE open…yep, that kinda clear!
Fish Foam can also be used on mirrors and any glass surface you have in your home. I have a few of those:0)
Four Reasons Why you'll love Fish Foam
1. Drip Free for real
2. Streak Free for real
3. Ammonia Free for Real
4. Affordable for Real ( only 4.95 for a LARGE can!) Get it HERE!
If your thinking, aww that's cute Destiny, you and your clean windows.  But I'm still not interested in a squeegee or a lint free cloth.Well Fish Foam has cleaning services for YOU! Head on over to the website to call in the pros. I know I'm about to call to get a quote myself! I wasn't planning on cleaning all 14 windows upstairs by myself. Me on a ladder, squeegeeing? Probably NOT going to happen…lol. 
Have a great TUESDAY!