Lately I have been on  a chalkboard kick….painting everything I can with chalkboard paint!  Ever since I was a little girl I have been a writer. Doodling,drawing. painting on everything I could. My mom can vouch to that! If you look at any of my childhood books, dolls, they all have my scribbling on them somewhere! So its no wonder I have always loved chalkboards. I remember how excited I was when I got a chance to WRITE on the chalkboards…(when they had them:0) at school! I don't know, there's something about getting to write something that everyone will be able to see is quite satisfying, as strange as that my sound! lol! I use to use my white closet panels in my old room growing up on North 64th drive, as my chalkboard when I would play with my neighborhood friends. Instead of chalk I would use a dry eraser:0)
But anyway, I have found that using chalkboards in our home is a great way to keep up with everything from menus, little reminders to the hubby or bible verses the kids are learning in church! It's also a great way to leave motivating messages for yourself to help you get through the day! It's awesome when you feel completely overwhelmed and you turn and there's a message reminding you to RELAX or BE PATIENT! :0) Its like God is talking to you right then and there!
This is the main chalkboard I have in our house….I TRY to write the weekly dinner menus and friendly reminders to the hubby to do things like MOW THE YARD! lol
This chalkboard was made out of a picture frame that I didn't want to use anymore. I just took out the mat and painted about 4 coats of chalkboard paint directly on the glass and put the backing back on!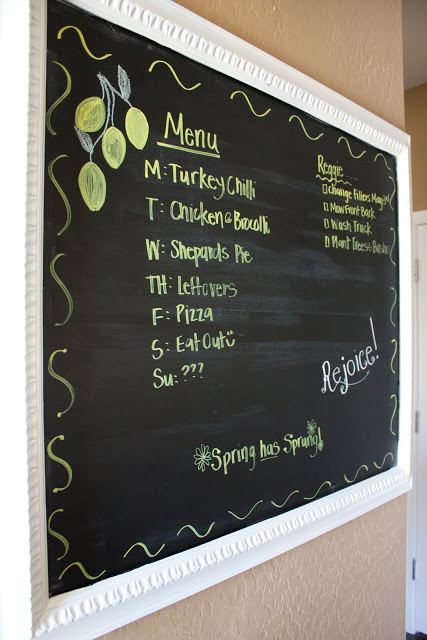 This is a mini candle plate that my mom got for me at Goodwill…she always gets me something when shes out! lol! I am sure she paid 1.00 for it. She always gets amazing deals! Anyways…I decided to use it as a chalkboard just like in the PotteryBarn Catalog! BUT they want 99.00 for them! I feel so sorry for PotteryBarn sometimes…lol..they just don't understand the word AFFORDABLE! lol Don't they know that us women can make just about anything!!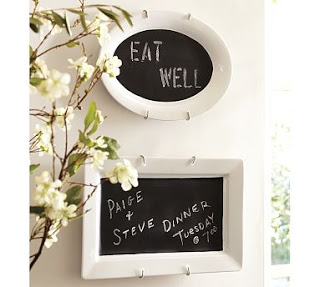 But the do make and stage some cute stuff!
Mine is a much smaller scale but you get the point. I left it green but you can make a white one just as easy! I have tons of white platters for when I entertain…I like things to match. So just go to good ole WALMART and pick up one of these platters for like 7.00 add some chalkboard paint and you got the same look! Or   you can pay ME 99.00 and I will make them for you:0)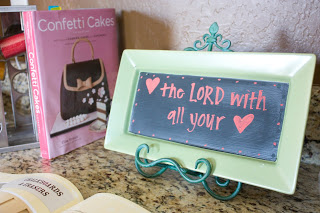 This is my latest one! I got this idea from the book
FarmChicks in the Kitchen
( You guys didn't know I wanted to live on a farm???lol I live my fantasies through books and other people:0)
Use and old drawer and paint that puppy with some chalkboard paint!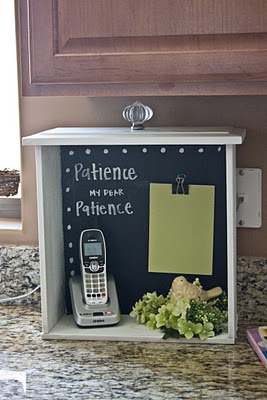 I made mine into a little message center and a cord hider! lol!
So now off you go…go and paint everything you can think of with chalkboard paint!!! :0)