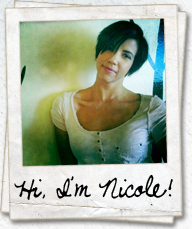 Nicole and I met through a dear friend. Remember last year I asked you all to pray for my friends Tracee and Jeramy as they were preparing to bring their son into the world very prematurely? Well I'm happy to say that those prayers were heard and God has brought them and their precious son Gavin out of the darkness of those days:0) He just celebrated his FIRST Birthday, last month. That's were Nicole and I met…again:0) I had just came back from Creative Estates and we ran into each other again and the subject of blogging came up..not by accident I'm sure;0) We exchanged blog addresses and even though it took me a while to make it to her page, I'm SO glad I did because it has been food..really good comforting FOOD to my soul. She discusses the most taboo topics that everyone is afraid to talk about…like Sunday: the Most Segregated Day of the Week. and Have Sex…Even When You Don't Feel Like It. Or "unpopular" issues like Why I Don't Like Talking About the Fact that I'm Black. You know it's good reading when you can LAUGH out LOUD in one post, scroll down to the next post and reach for your  Kleenex. Nicole, from  Modern Reject is a gifted writer who has submitted her talents for HIS glory! Let's get to know her a little better…….
Blogging..Tell us how you started, about your blog name, and how you found your niche!
I started blogging almost a year ago. My year anniversary is next week actually. Woo Hoo! My husband nudged me. Then God nudged me, so I final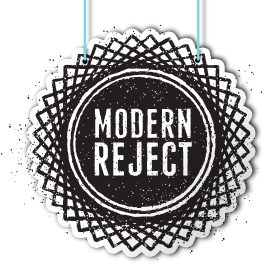 y said "okay, I'll do it."
My blog is called "Modern Reject" because for one, I consider myself a modern girl. I love design, decor, all things retro and beautiful. But I am also a reject. Just like Christ was rejected as the cornerstone, so I will be rejected for my faith. I also reject the average life and instead I want the abundant life God promises.
My niche sorta found me. I just started writing about the things I care about, struggle with, and am working through. Some say I'm controversial, but I really just love discussing the things that are often left unsaid.
 I feel like your taking some of the thoughts right out of my own head and putting them down in writing.  I LOVE your series "Dying Daily" Tell us a little more about what moved you to write this series.
Well, I knew that I wanted to share my own personal walk of faith. I am always a little hesitant when it comes to getting personal, but I know that in sharing my own struggles and triumphs, others are given courage to do the same.
 
There is no doubt you are authentic when you write, raw and real too. How has this journaled blogging experience helped your spiritual maturity? Good and Bad.
Great question. First off, writing down my thoughts has helped me discover what I actually think about certain topics. Often times, it is not until I write it all down that I realize my own personal belief.
I would say too, that I am more aware of what God is doing around me. It's as if I have grown longer spiritual antenna. I "pick up" more information. I sense God more. I see His hand more. This is partly because I am always looking for my next topic. I see topics in everyday life now, which means I am seeing God more, if that makes sense.
The bad is the flip-side of this. I can tend to see everything through the lens of a blog, instead of as Nicole or as a servant of Christ. I have to work to maintain that balance.
HE Said/She Said Wednesdays is another great series were you talk about the differences between men and women. What's the one thing that has kept you and your hubby happily married?
Two words: Date. Night. My husband and I have date night every Friday, no matter what. (yes, we are totally lucky and blessed to have so many date nights) Is this the key to our happiness? Well, it is certainly a factor. It simply means that we prioritize time as husband and wife, as friends, as lovers even. We aren't only "mom" and "dad."
 
I read the post when "Jesus found you"  the summer before your senior year. Your so open about your TESTIMONY. What advice do you have to those who struggle with sharing there sometimes shameful past with others?
I would just encourage and remind anyone struggling with sharing their testimony that the story isn't really ours, it's God's. When we tell others what He has done, we are essentially telling His story. The focus can't be on us, but rather on Him. He gets all the glory, even for our past mistakes because He is the one who redeemed them.
 
The Christian life is not the promise of the "good life," or even the "American life." It is, if we are obedient to Him and Spirit-led, the promise of the "abundant life".  This was written in your post titled The Easy Way or the Hard Way.  How has this message helped you stay grounded since you gave your life to Jesus at 16?
The older I have become, the less and less concerned with worldly "success" I am. I mean, I still want to succeed, don't get me wrong, but my motivation is so different now. I heard Dr. Tim Kimmel say once that success is not money, power, beauty, or fame. Success is, instead, loving Christ and loving others…and that is the abundant life. That's God's promise.
When I get bummed out because I can't buy the latest mid-century chair I have been eyeing or some gorgeous rug from West Elm, I try to remind myself that I am in pursuit of the abundant life. Yes, I can still have nice things, but I want to honor Christ first, not myself.

Your a wife, and a mother of soon to be THREE :0) Tell us how you and your husband plan to lead your children in a world where they WILL be a Modern Reject?
Wow. That is a big question. Most days I'm just trying to keep my kids alive. It is hard to think long term when you have a 4 year old, 2 year old and a bun in the oven.
I will say though that my husband and I want to model Christ each and every day, which is hard to do. We want our kids faith to be authentic and to be their own. We also want to build a house of grace, honesty, and love–where our kids could freely come to us without fear of judgment or legalism.
Big goals for sure. Today, I'm focusing on feeding them 3 meals, teaching them the alphabet, and breaking up any sibling rivalry…oh and stealing a nap for myself when I can.
 
Your hair is SO cute!! I imagine you've had plenty of hairstyles. So what's your favorite?
Hey thanks! I have had lots of hairstyles…too many in fact. I think my fave is the same as my hubster's which is just past my ears, short chopped bob, dark dark brown…a little edgy.
 
If you were invited to My Favorite Things Party (the party where you bring your FAVORITE thing or product to share with everyone) what would you gift and WHY!?!
Ooh, I love this question. I would gift a Robert's Revival Radio. They sell them at Anthroplogie in the U.S. They represent me well. They are retro looking, almost old-fashioned, but are also updated modern versions of digital radios. They can even play your iPod. They come in a rainbow of colors. I have a red one and it is one of my favorite things in my house.
Thanks Destiny for the great questions. This was fun. Thanks so much for inviting me to be part of your blog for a day.
Blessings to you!
Nicole
Thank YOU Nicole! As you can see Nicole is a girl with a purpose! Confident in her Savior and in her walk, still learning, still being humbled! So much to Be Inspired by:0)
You can visit Nicole on her blog ModernReject.com