So it's been about a month or so since I started the Ashley Sleep "Seize Your Day" Challenge! We've slept over 320 hours and 19200 minutes on this beauty and what a difference! Nights are more comfortable and sleep is lasting a lot longer:0) I know many of you really want to know if this is a good BED and how do you buy the perfect mattress and energy? Yeah, are you getting more of that? Do you want to have more energy each day? View highlights from our "Seize Your Day Challenge" and see what we did with the extra energy we gained from sleeping on our new mattress from Ashley Sleep. We somehow kept up with our kids and that my friends is an accomplishment!:0) Ha!
Remember we started off by heading to Ashley's Furniture to test out some of their amazing mattresses. After narrowing down we finally choose the very popular Ellis Bay. Why? Well because it was had the perfect amount of support for Reggies back and it held all of the hypoallergenic needs for me!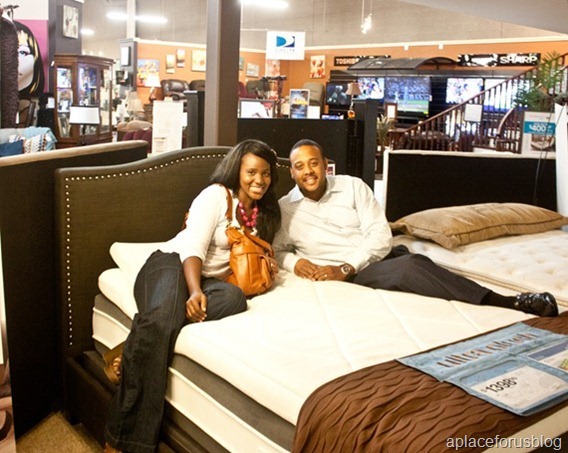 Then Ashley Sleep sent me on a few excursions to test out my energy levels that had me waken up early and relaxing!
My most recent two excursions were an afternoon of JUMPING with the fam and an afternoon of consulting with one of the BEST stylist here in the Phoenix area, Fawn Cheng to help me pull together my signature look for blogging events and conferences! She also suggested different outfits for the everyday mom like myself! Check out this short video of some of the highlights!
What a fun time! Fawn was so awesome at walking me through some everyday looks that are super easy and stylish! With busy days I find it challenging to pull my looks together! But now that I have a little more pep to my step I can manage to use some of the tools she has given me to look as fresh as I feel!
Spending time as a family is definitely one of the ways I seized the day with this challenge. We are a young family and our kids have about 10x as more energy as we have, but as you saw in the video, we kept up with them pretty well! Jumping is probably one of my favorite things to do! I mean you feel like a kid again when your just jumping in the air like that! Have you guys ever been to a jumping gym like this! You totally have to go! Just make sure you have plenty of rest under your belt!
How to Buy the PERFECT Mattress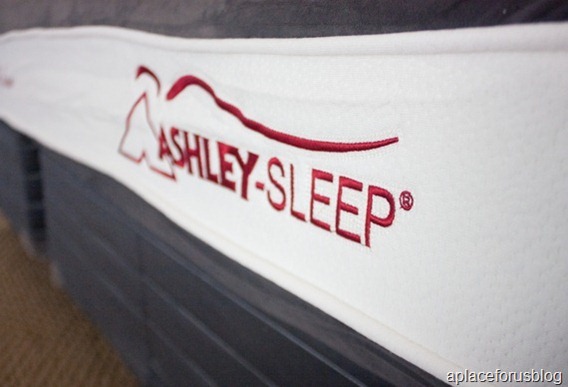 After going through the mattress buying process, I'm happy to provide some advice and list some ideas that helped us to make our decision!
Set a Price and Make a Plan
Before you head out on your mattress buying adventure make sure that you have a set price in mind. Depending on whether you take the traditional route or upgrade to a memory or latex mattress, your budget will vary. You should also browse the web to see which types of mattress each brand has to offer. Ashley Sleep has a great comparison tool that we used before we went into the store. I knew exactly which one I THOUGHT I wanted:0)  When your planning your day make sure you wear super comfortable shoes and clothes. No pajamas, ha! But something that you can move easily in. Also have the measurements of your bedroom and door ways! So delivery is easy to set up!
Bring a list of your Current Issues
Reggie and sat down and listed all the things we wanted in our next mattress. First we knew that our mattress was old and it was time to upgrade. Reggie also wanted some major support for his back. He's a tosser and turner as am I. My number one concern was the GREEN features. My allergies are HORRIBLE and just like everyone knows, they can get 10x worse at night. For years now I have only been able to breath through one nostril. Even though a new mattress wouldn't solve this problem, I knew I didn't need anything that would make it worse. With this list we were able to walk and talk to our sales rep confidently and he was VERY happy to know what we really needed.
What type of mattress will you be purchasing?
Reggie and I both new that we wanted a memory foam or latex mattress. So that's what I will compare today. From the information I gathered and from our experience so far, this is what a memory foam mattress and a latex mattress has to offer.
-Memory foam mattresses conforms to YOUR body, it's allergen and dust mite resistant and has minimal motion transfer. It takes a while to adjust from to it if your transitioning from a traditional inner spring mattress. What I loved about the mattress we got was that Ashley added Active Charcoal and Green Tea extract to the foam to reduce odors. It was nice to NOT have that new mattress smell fume up the bedroom!
-Latex Mattress are perfect for those who want a more GREEN mattress and don't want to worry about any unnatural materials into your rooms. "While Latex is lush and adaptive, it's also durable and has been shown to keep its resiliency. Latex is also resistant to the growth of bacteria, mold and mildew – keeping you cool, clean and comfortable."-Ashley Sleep
We didn't get to check it out but, there are also Latex and Memory Foam Combos and the newest technology GEL infused mattresses!
Test it OUT OUT OUT
Yes, no matter how beautiful they appear in those glossy newspaper ads, or on your HD computer screen, you must go into the store and lay on those mattresses. You have to toss and turn. Lay on your side, on your back, curled up in a ball and possible with a blanket:0) Take your time, stare at the ceiling and even take a little power nap! It's SO important! Remember how lovely I thought that ULTRA PLUSH mattress would be until I realized I couldn't climb out of the bed! Ha! Also remember that just because a mattress is "14" inches doesn't mean that it has 14 inches of memory foam. Make sure to ask your Ashley Sleep sales rep how many inches of memory foam you will actually be getting in your mattress.
Must Know Questions
What is the warranty and what are the conditions that would VOID it? With our mattress our warranty is void if it gets wet. So we made sure to get a waterproof mattress protector. The protector should not be heavily quilted because you want to make sure you can still enjoy your new memory foam or latex! So make sure you get in writing or highlighted on you paperwork so you fully understand the warranty and replacement agreements! It will save a lot of heartache, I promise!
What is the set up and delivery charges? Make sure you add delivery charges to your final total and ask your sales rep out set up. Ashley Sleep delivery included set up as you saw in the first video! They came in, unloaded, unwrapped and clean up! Perfect service for us since we have stairs! SWEET!
Does the total price include box springs? This is something that most folks forget, but whenever you upgrade to a new mattress your going to want to upgrade your box springs as well! They are the foundation that keeps your bed comfortable!
Any Specials? This is a question I always ask and even before I head out to shop for ANY big purchases we are making sure that there is some type of sale going on! You can save a lot of money on those THREE DAY weekend sales but also towards the end of the year when companies are clearing out the older models for the newer ones.
Big Thank you to the team over at Ashley Sleep for giving us a chance to go through this process for you guys! Mattress buying is a BIG deal but with the right tools, questions and of course brand:0) Your choice can be pretty painless! Make sure to follow Ashley Sleep over on their Facebook page for more insight on all the newest mattress technology! 
This has been a sponsored post in collaboration with Ashley Sleep. A Place for Us Blog my have been given product.trade, or payment in exchange for this post.