Well, I've been wanting/needing a sofa table for my family room for a while now. I've finally found one on craigslist that look like it had some great potential! But let me tell you,this one started off kinda ruff! lol I spotted her a couple of times on craigslist and each time I went back ….she was still there…nobody wanted her. I eventually contacted the owner and he said he still had her. The only reason I even held back for about 3 weeks was because it was 100.00. But last week the owner actually contacted ME and asked if I still wanted it… I said yeah…would you take 50?? *you gotta negotiate girls*….lol…he responded back yeah and I thought dang…I should have said 30 lol!
Craigslist mugshot….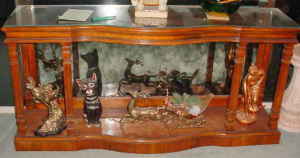 yeah…I know…hmmm..not so pretty. I think the cat is kinda throwing me off…and the back..has like this tie dyed mirror thing goin on. But still, with a new coat of something I thought it just might work.
When I am looking for something to refinish or paint I usually look for something that is 1.Cheap in cost…but GREAT in quaility and 2. Has some details to it, something that fits my taste:0)…the little columns in the front were just enough!
So Mr. Right aka Hubby aka THAT GUY….went to go pick up the Drexal Heritage orphan*I know fancy right?*….while I stayed with the kiddos because that's just a rule in our house..no pick ups by yourself…you know how it is.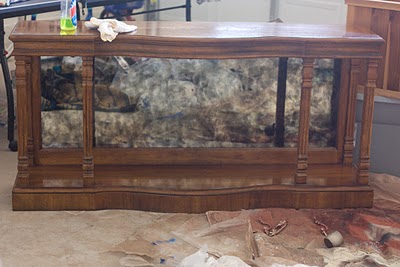 This is her in my garage getting ready for a makeover….MAN she looks better already…I'm telling you it was those cat statues! lol and….the tie dye mirror thing.
Before I started I wiped off the old dust with an all purpose cleaner. The table was actually in PERFECT condition…I kinda felt bad about painting it…well not that bad. I tried to remove the mirror but it was so well made…I would have had to take the entire thing apart….and you know that wasn't happening, so I just sprayed right over it:0)
So after that I got out a can of primer…sprayed on one coat…I think I would have felt better with two, but I was just so impatient:0) I used Krylon Spray Primer….
After THAT I let that dry and applied 2 cans of  Krylon Celery over it for about a 3 hour period. Spray….Dry…Repeat!
sorry…no photos though!:0)
And tadda…here she is….a NIGHT TIME photo…. can you see my hubby?:0) Hi baby!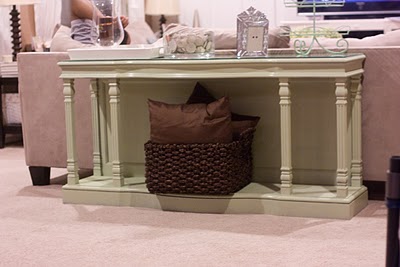 And a DAY TIME Photo…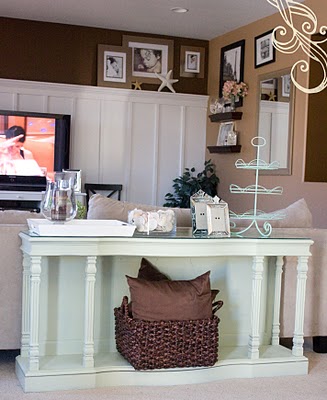 and WHY YES, that would be Board and Batten on my back wall…. but we'll talk about that later;0)
And well it turned out great…fabulous…WONDERFUL! and do I LOVE IT???.. YES of course:0)

0