I'm not one for lavish extravagant parties(lie) Whenever I see parties featured online I just have no interest in them(lie)
hahahhaaaaaa!!!!
The truth Is I love parties..not just birthday parties, but any type of get together. I love having all of our friends over. I love inviting friends I haven't seen in a long time…best friends…work friends…church friends…new friends. My hubby shares this same type of love with me so I'm a lucky girl. At least once a month we are doing something that involves friends at our casa:0) Taco Night, Girls Night…man night??? lol!
I think when it comes to having friends over our number one goal is to make them feel at home…and that's with good conversations..maybe a game our two and some yummy food:0))) We want everyone to walk in and know that we have been waiting for them and we are excited they came over!  The bible says in Hebrews 13:2 that we should " not be forgetful of hospitality; for by it some have unawares entertained angels" I love this verse because it reminds us as followers of Jesus that we are to open our home to strangers and show them the love of Christ…by doing so we are doing his work. There is something so amazing about being around the people you love! Another simple gift from our God that is so easily overlooked!
Moving on….we celebrated Alivya's First Birthday, Saturday with a Cherry on Top theme. I kept the color palette pretty simple with red, white and pink…which was planned because it was close to Valentine's Day and I knew I could get a bunch of discounted items….smart:0)
I started off by giving myself a timeline….and like I mentioned in the Superhero post I "hired"some help…sorta…lol! A few weeks before I sat out the dessert table MOCK up to see what I needed to add:0)  I had everthing I needed at my house so that was GREAT:0))) Even that little truck…the boys must have thought it needed a touch of "boy" so sweet those two:0)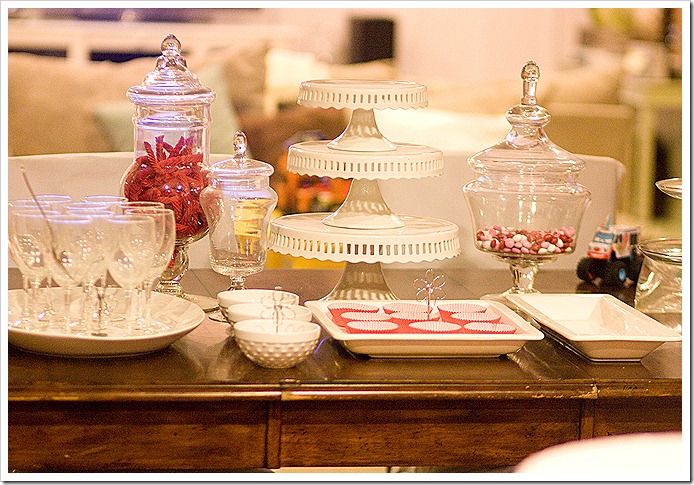 My friend Tracee made these sweet cake pops for me…I just went home and added the white chocolate to make it look like drips and the cherry on top [red tamale] . Cute:0)
I baked her cake and froze it the week before. Then a day before the party I frosted it with some store bought whip cream frosting..bought from Fry's/Kroger. I added pink melting chocolate on top and maneuvered it on top so that it looked like drips. Then I added a  cherry gumball on top..Perfect.
Then I made the cupcakes…saving time I used a store bought mix and the same frosting I used on her cake. It's soooo yummy and makes the BEST frosting:0)) added a cherry on top and they looked sweet:0)
)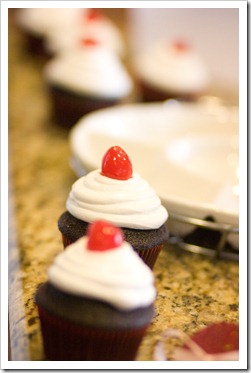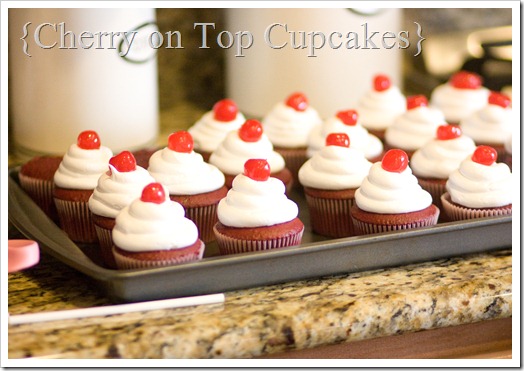 Here is the rest of the party…..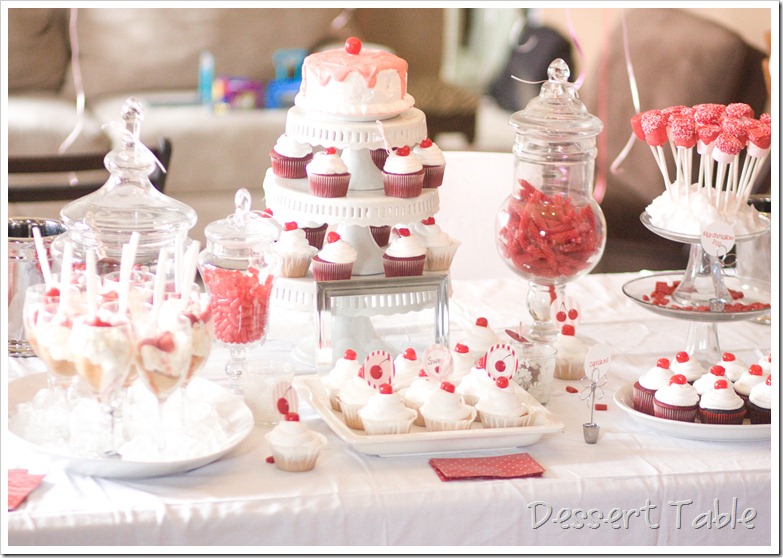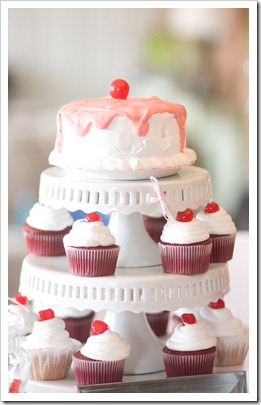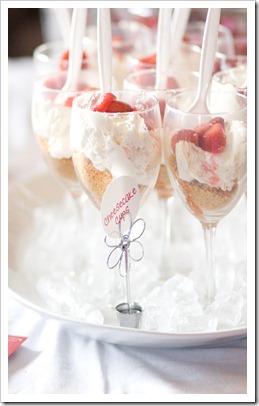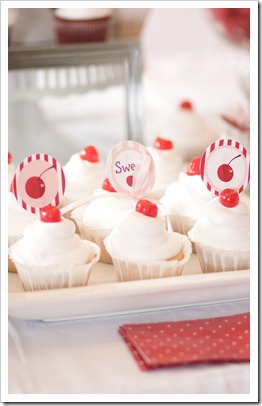 My mom made some of her FAMOUSE cheesecakes…I just took the filling and put them in wine cups…they were delicious…I heard;0)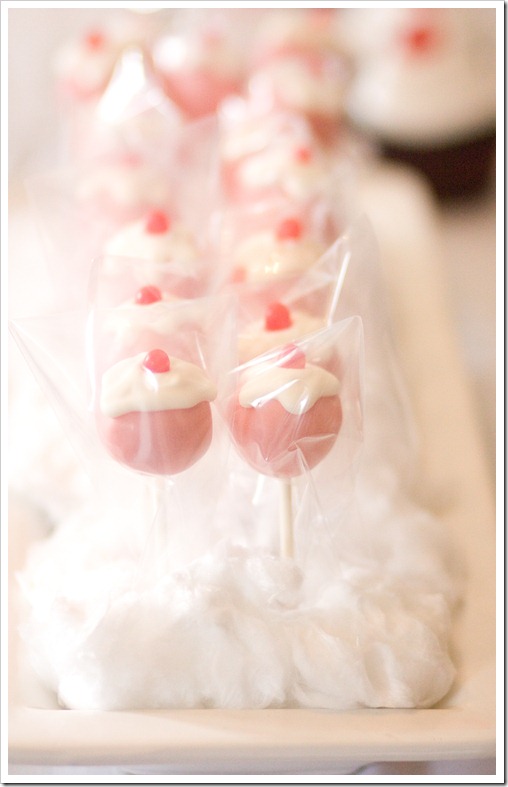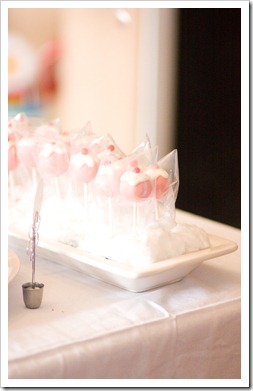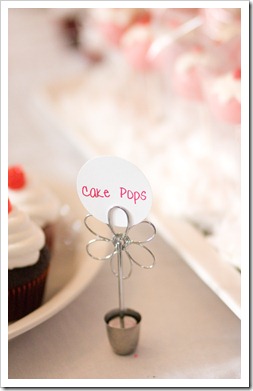 The favors I made where cotton candy cupcakes with a cherry on top…and bags of pink and white cotton candy:0) I got tubs and tubs of them for only 50 cents at Frys!!! Picked up the pink tubs from the dollar section at Target!
Our Birthday Girl:0)
In an Adorabelle pettiskirt and rosette… .. The birthday hat and shirt was purchased at Babies R Us and I made the two little pig tale bows:0)
We love her so much!
Here are some of the guest that celebrated with US!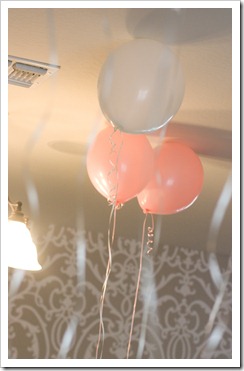 Special Thanks to these guys for providing oodles of  inspiration…Adorabelle Pettiskirts……HowDoesShe……AmyAtlas……..free cupcake toppers… Free 50 photos from Shutterfly……The Sweetest Occasion….
It was a great party!! Reggie and I and the BOYS are so in love with our little girl:0) We are so happy that God chose her for our family! She is a prayer answered by God and we are so thankful!
You guys planning any parties? Do you keep them simple? DO IT BIG? Or do you just stay in between with pretty décor and yummy food? What the BEST party you have ever been to??? I wanna know! lol!