Alice Lane Home Sale: My In-Stock Favorites
This post is sponsored and may contain affiliate links, please read my disclosure policy.
Whenever Alice Lane Home has a sale I get a lot of inquires on Instagram and my DMs from friends like you! WHAT SHOULD I GET? When a sale hits we can sometimes get a bit overwhelmed with all the choices. So here are my favorite in-stock favorites from Alice Lane Home right now.
Many of the items in this post are gifted from Alice Lane Home! All opinions are mine.
Of course it depends on your budget and your needs but these items can seriously go anywhere in your home. Because style, in the home and in fashion should reflect your personal aesthetic and be versatile for the best possible investment.
ALICE LANE HOME Discount Code!
Looking to save some money on your Alice Lane Home purchase? Use JUSTDESTINY20 to get 20% off your total order!  *Valid when ALH is not running a sale.
These also make AMAZING gifts! 
Alice Lane Round Clawfoot Dish
One of the first things I purchased from Alice Lane Home was the cute little candle dish. It was the perfect "introduction" to the brand and made our space feel special. If you don't know what to get, this little beauty at your desk, entryway, bedroom, bathroom, kitchen counter, etc will elevate your space in the most unexpected way. They also suggest using it for a catching your keys or you can place a little dome over it for some added sophistication and interest.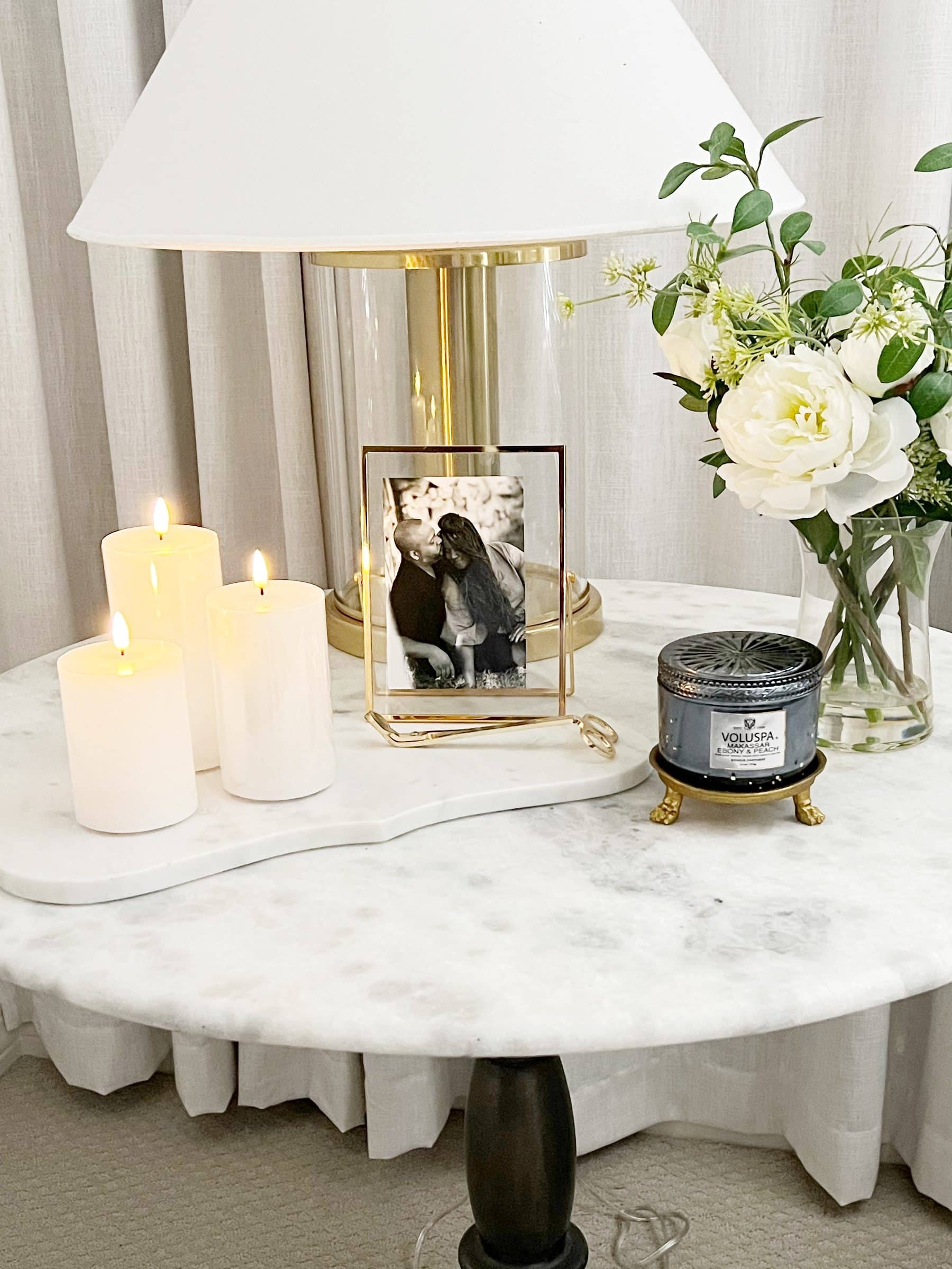 Cherry Blossom Stems
I've owned some cherry blossom stems in the past and none compare to these ones. Most blossoms are poorly made and shed almost immediately with just the slightest movement. When you're paying for faux stems you want the look of real flowers of foliage but without the maintenance. These check that box for sure. You can see my reel here so you can see what 3 stems, 6 stems, 9 stems and 12 stems look like! That way you can start off with just a few and add more as your budget allows. But I definlty think you'll love this added lux to your space. They come in white and pink too!
Horn Bowl
Now this one was a little bit of a surprise. Online I didn't really see it fitting into our decor. But in person they are so stunning and unexpected. I use them on my coffee table and they add the perfect amount of sophistication and allowed me to add some masculinity to our coffee table set up. You can also use them in the entryway to catch keys or in your closet ( his side too) to catch watches and jewelry. I have both sizes so you can see how they compare.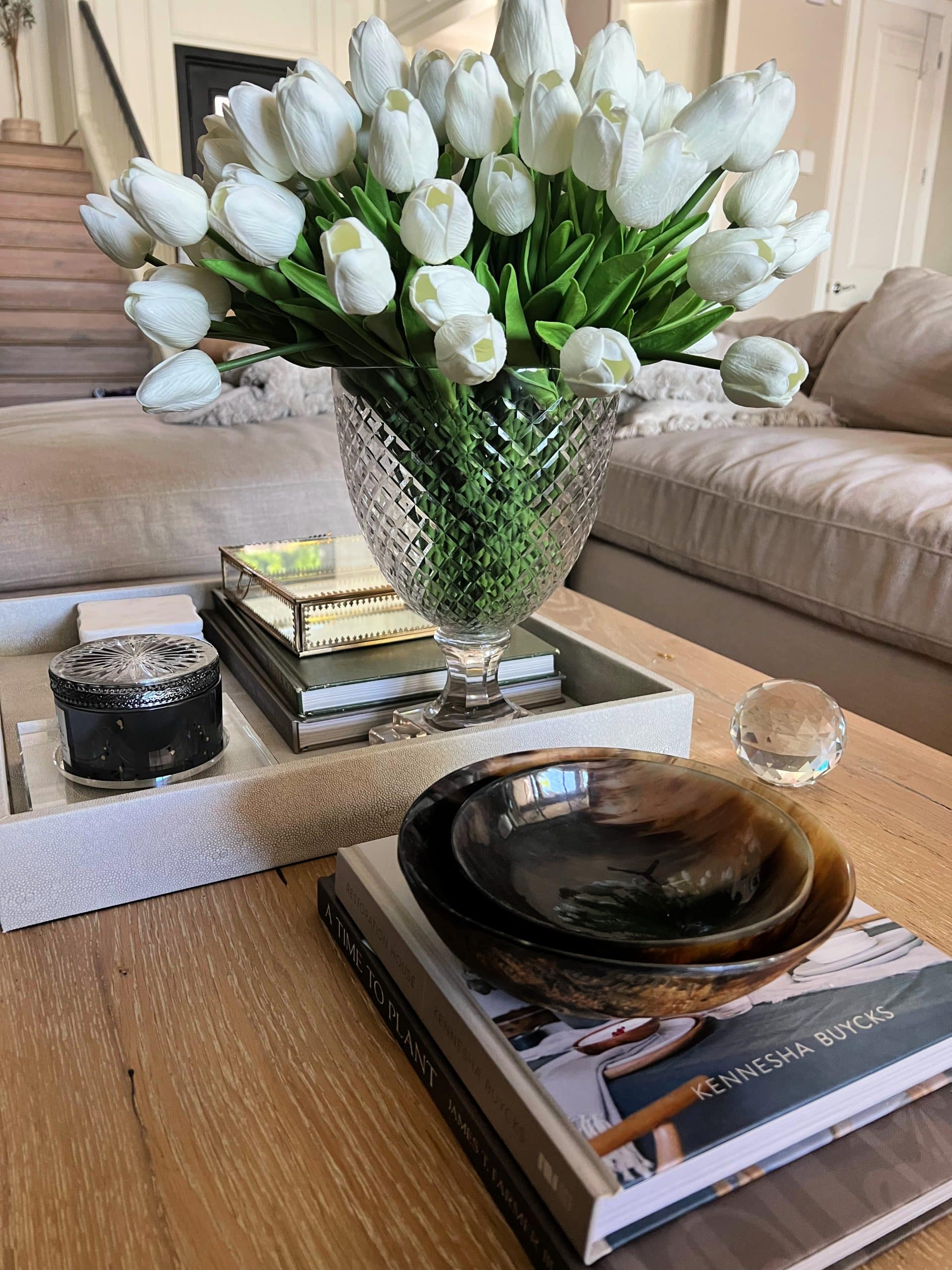 Lattice Bowl
These bowls are so pretty.  Again, one of the first purchases I made from Alice Lane. I use these all over the house and they look great everywhere. I currently have them on my family room console but I've used them in the kitchen during the holidays! I have both sizes and totally recommend you get both as well. They look great as a set. I also think these would be pretty gifts to give during Christmas!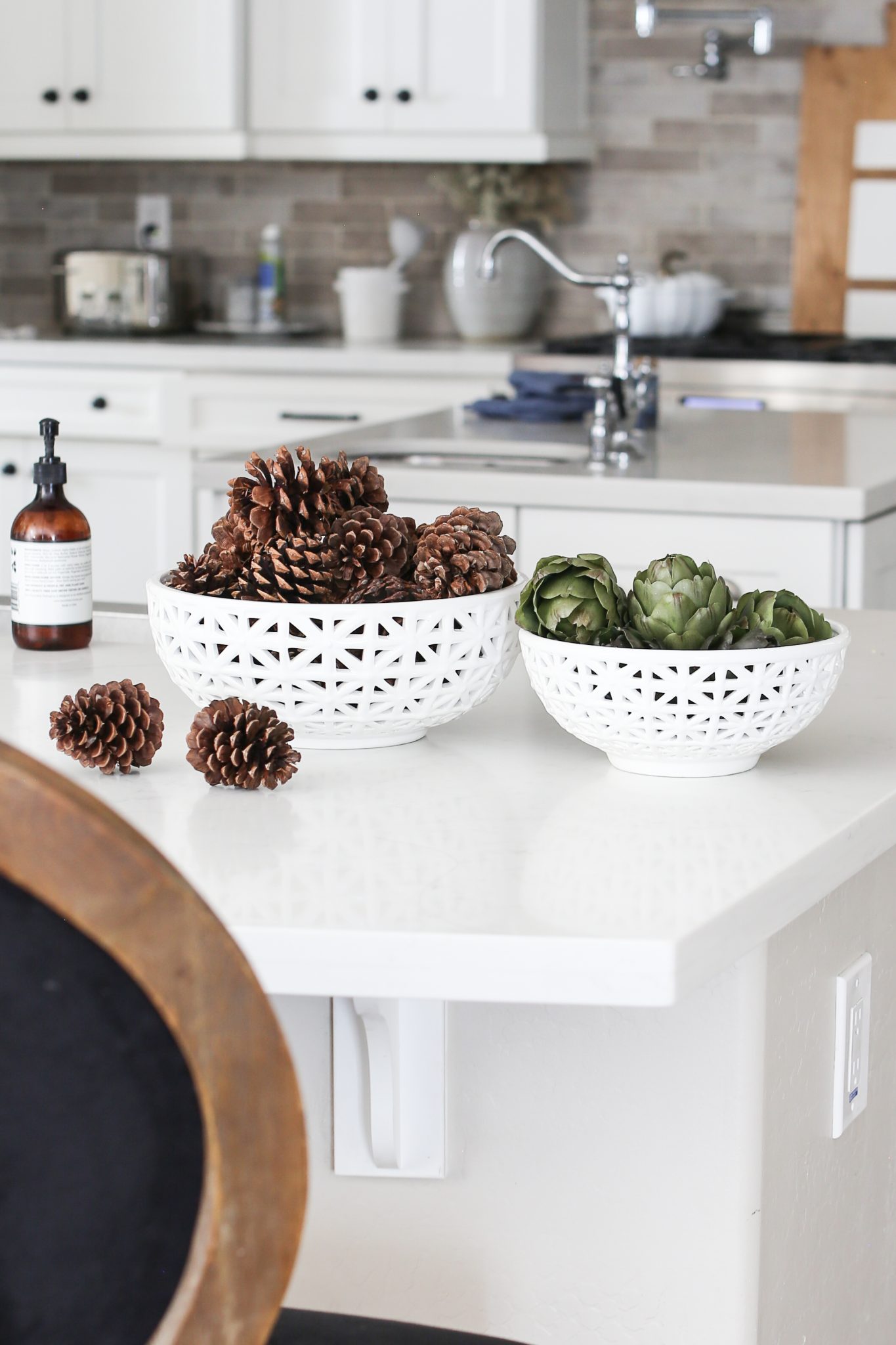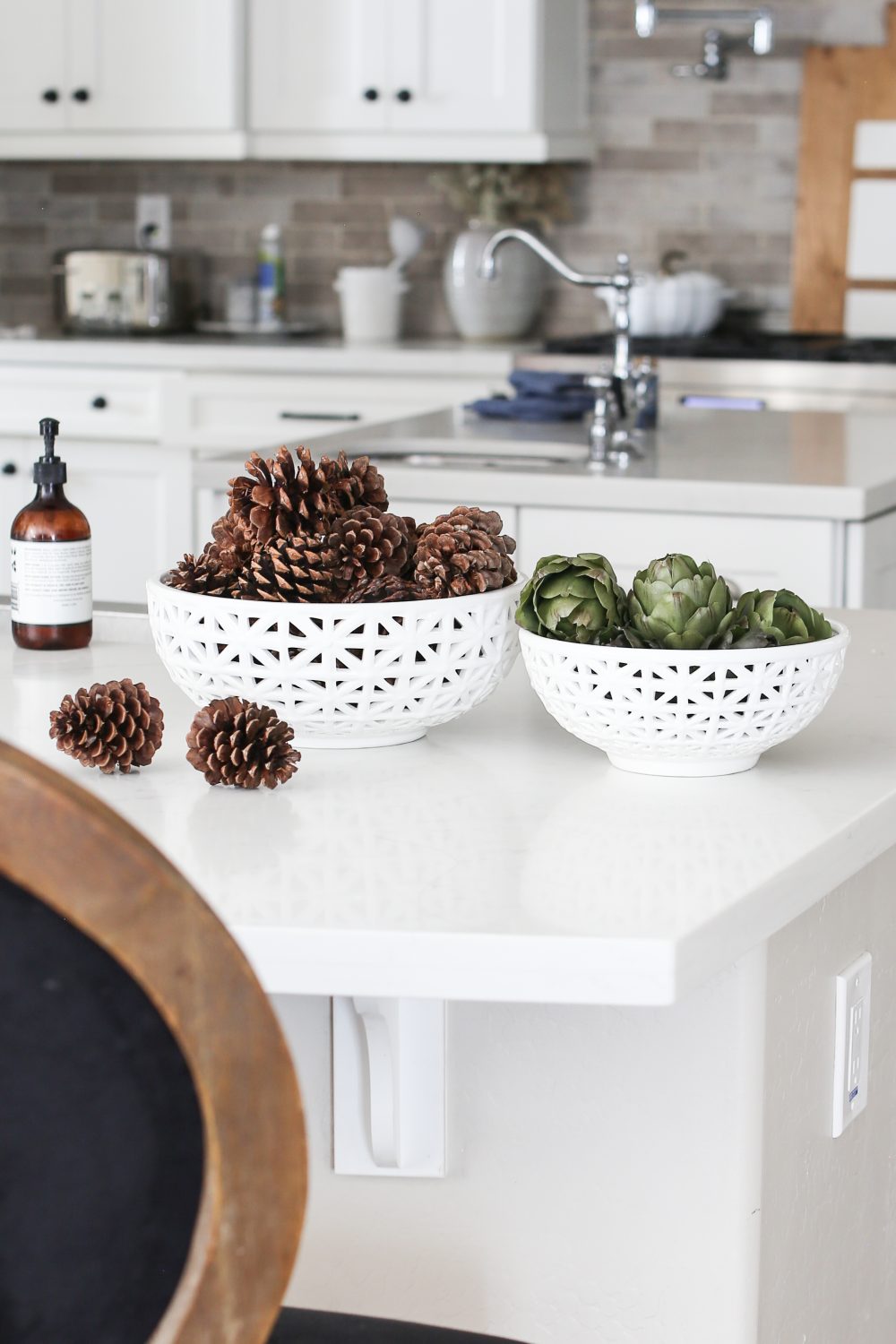 Crystal Candle Dish
OHHHHHHH these might be my favorite of all time. When I first opened them I think I gasped lol! They are nice and heavy and clear as ice! I also have both sizes and the Volspar candles fit perfectly in these holders. These are going to be stunning in your home friends. You will not be disappointed. One thing to keep in mind these are made of lucite so in order to keep them clean you'll need to have a lucite cleaner.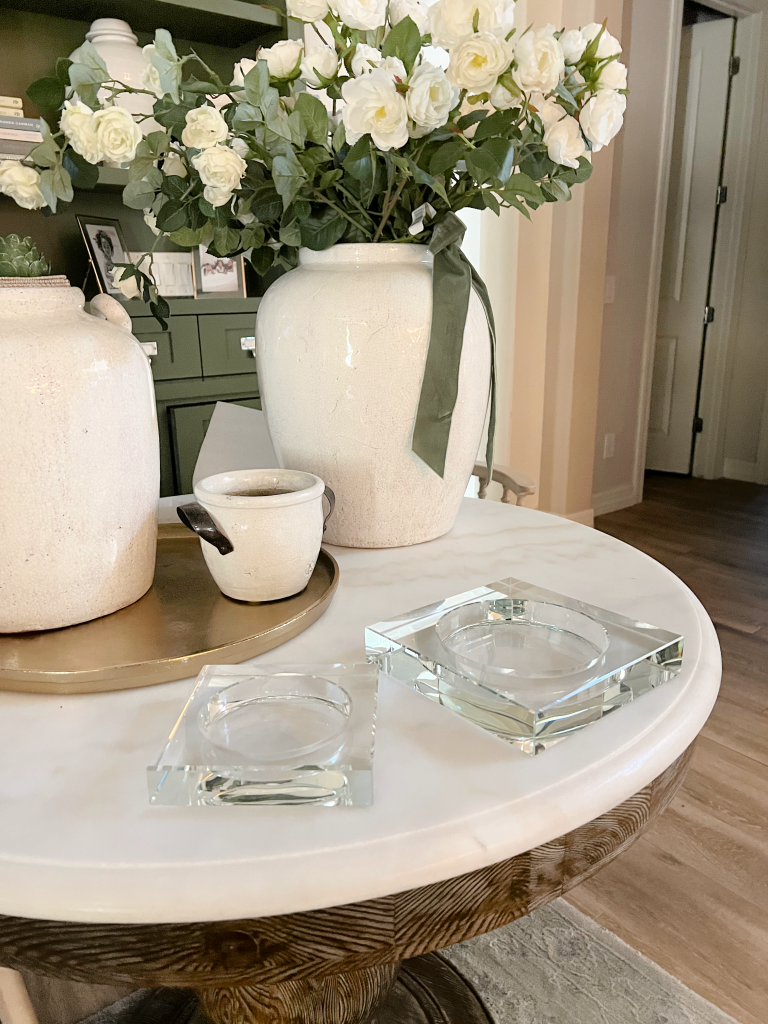 Crystal Candlesticks
These beauties just really add that elegance to your room. I have them in a set of three in the entryway and they look stunning with a taped candle! Also pictured below is the penny box!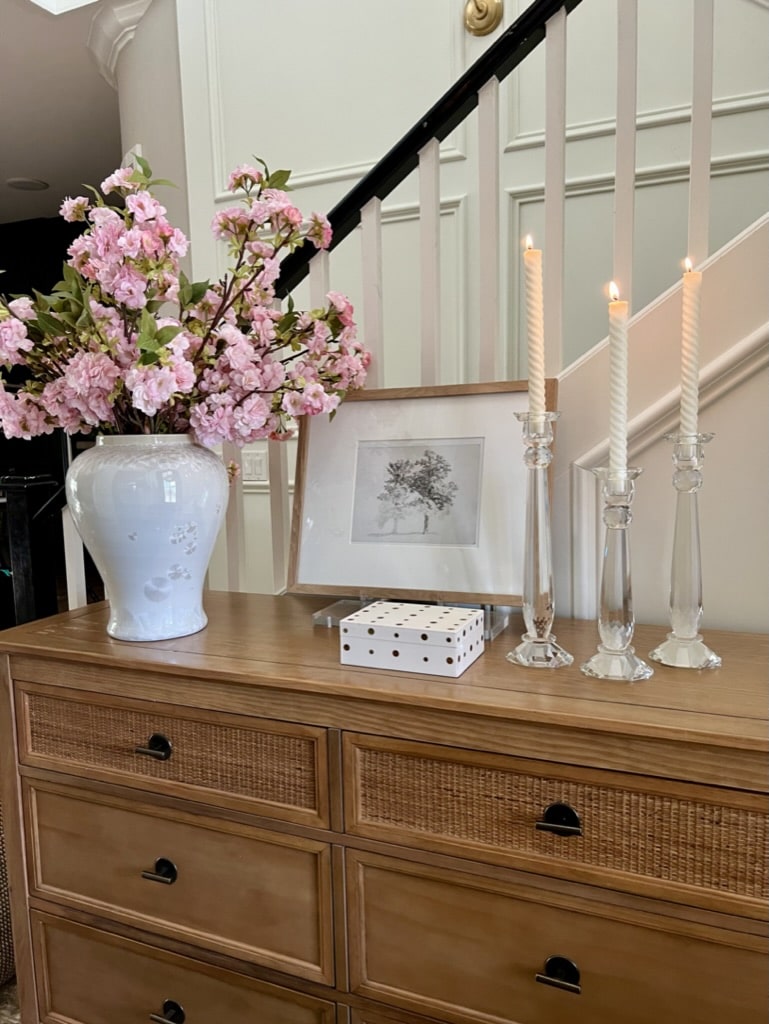 Crystal Lamp
This beauty is another elegance upgrade for sure. This was one of the first pieces I got from Alice lane as well. I think it's the perfect scale for an office or secondary light in any room. I heard in the Alice Lane podcast, Dear Alice, that crystal is one of the textures they try to add to each of their rooms. Which makes sense because it instantly gives the room some sophistication. 
Sting Tray
I have this tray in gray and in blush PLUS both sizes. I used the smaller size on my coffee table and it was still pretty big. The tray has this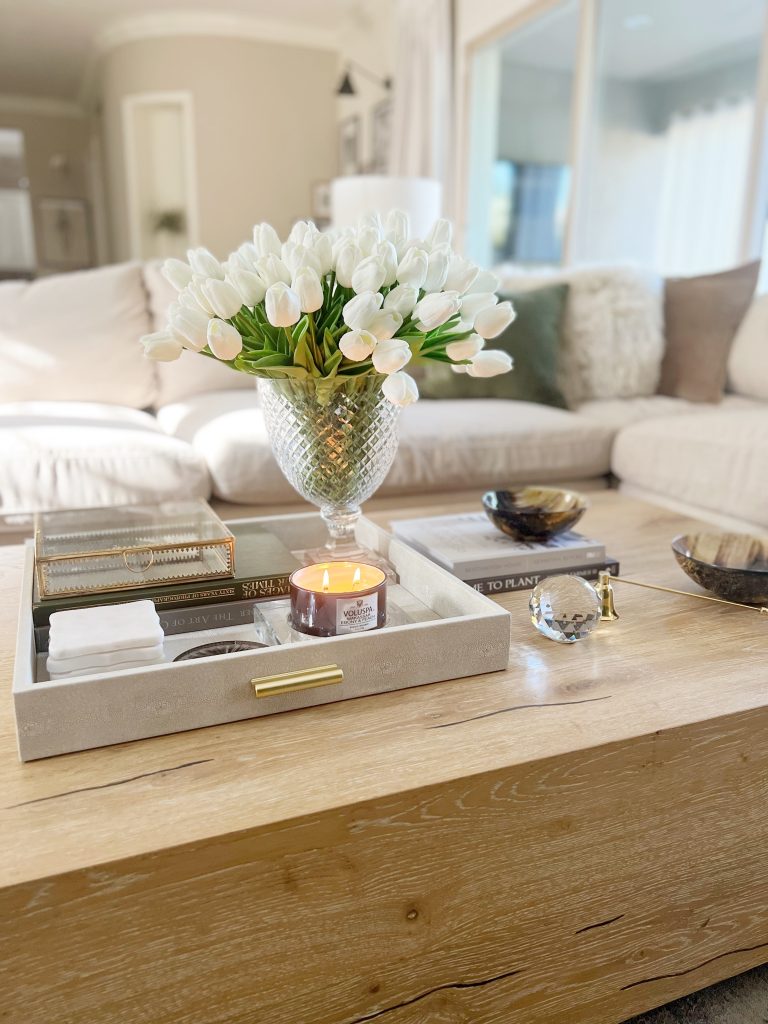 Shell Jar
Iconic Alice Lane piece!! You are going to love this beautiful jar! It comes in two different sizes and the cherry blossom stems and magnolia stems look BEAUTIFUL in these vases. You can style it in the bathroom, entryway, dining table, coffee table, and even the kitchen. It's truly diverse!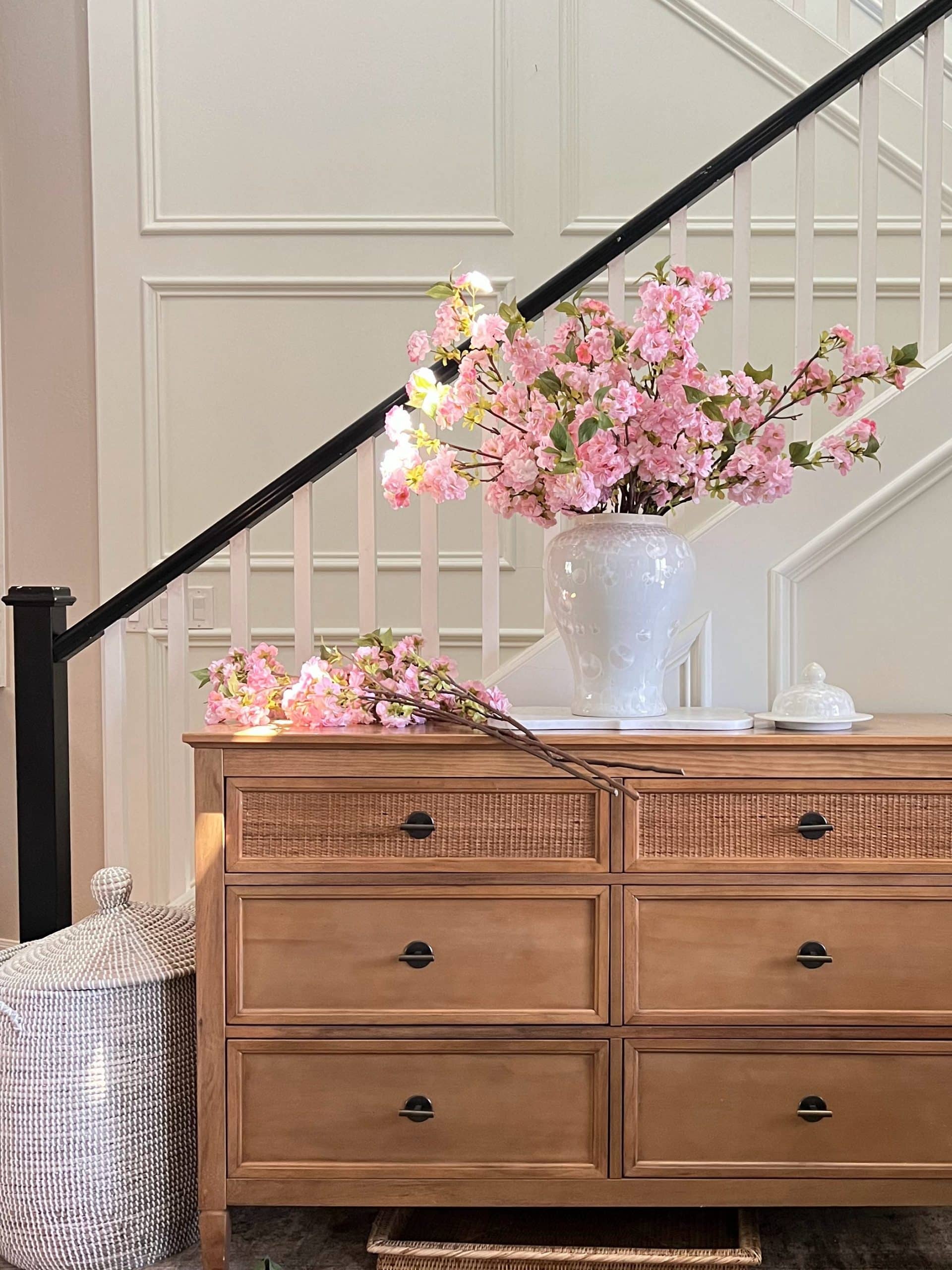 Braided Jute Rug
Most jute rugs are scratchy against your feet. But this little beauty is soft as butter! I think it can go where ever you need a little extra comfort under your feet! Bathroom, kitchen or laundry room. The texture is the perfect addition to any decor you have. The size I have is a 2×3 and it just the right fit for most smaller areas!