So for us mommies who have a fancy camera aka DSLRs but are far from PROFESSIONALS I wanted to explain how to do and easy photo shoot with your little ones using things around the home! I'll try to keep the photography lingo under control: 0)
Our little Alivya is coming up on one so I have been trying to get some cute shots of her for her party and other projects. While the kids were playing in the back I put her in this cute Laura Ashley handmedown dress ( goodness we LOVE great handmedowns!!!) and took a couple of sweet shots of her…… none are edited by the way:0)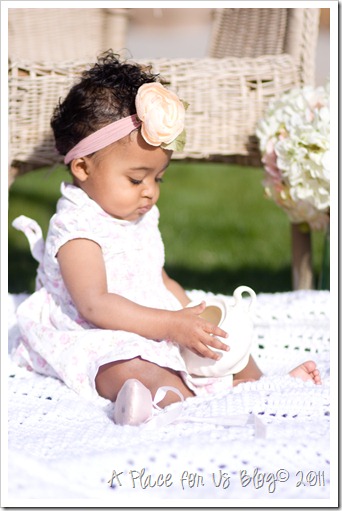 I used a few things…..
A broken lawn chair, beautiful white afghan bought from goodwill and a garage sale mason jar full of hydrangeas, her ballerina shoes given by her Mama C and a tea set.


I used my 85mm 1.8 lens that I got this year for Christmas because it tends to take beautiful portrait shots. But a 50 mm 1.8 should work just as great!
Set your camera on auto ISO but I usually have it on 100 when I'm outdoors. On the dial set it to AV….and at a 1.8 aperture or the lowest it will go . Make sure the sun is behind you and facing your subject so it get tons of sunlight and avoid any shadows. I love my photos to be filled with natural light..so if this looks "overexposed" to you then adjust your exposure. Now click away!
If you have no idea what ISO…or 1.8 is make sure you READ your manual…it actually has some good info…lol!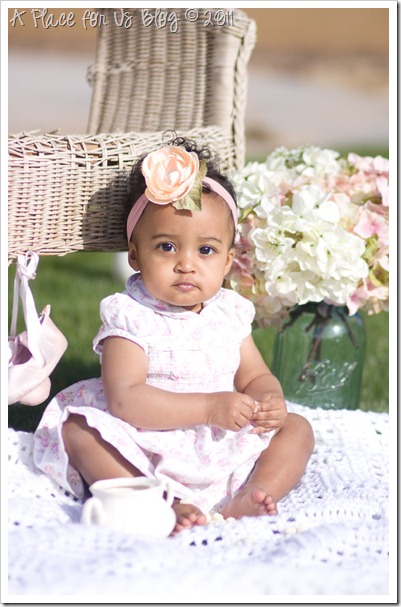 Remember to get close…being close is goooood. Also remember that you don't have to be in a beautiful setting to take great everyday shots…here's what it looks like around this mini photo shoot…..the baby left! lol!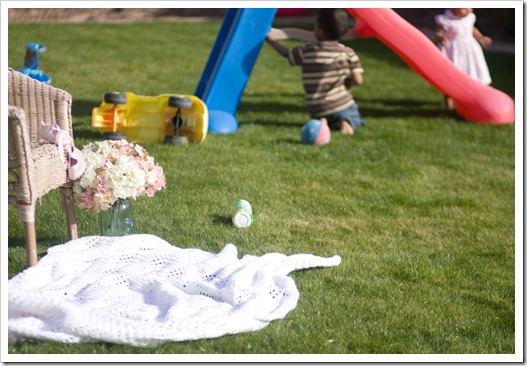 Hope this was helpful! Let me know if you used any of the tips I shared and if you have anymore questions let me know!
How many of you have fancy cameras? Do you have any secrets you use for good shots?? Or do you let the professionals do your PROFESSIONAL pictures?
0