Hello Everyone!
It's been  such an exciting weekend for me! Since Friday morning my message alerts haven't stop! It's kinda like when you plan a really fun party and you invite all your friends, send out invitations and all. Of course your super nervous cause you don't really know if anyone is going to show up!! Party time comes and you nervously wait for your guests to arrive and FINALLY someone rings then bell:0) Then all night your doorbell rings and rings and you greet your guests with hugs and a smiles. That's exactly how I felt this entire time! I've received messages,text, tweets from you all introducing yourself and telling me your story! I was determined to answer all you emails and your messages BUT my optimistic typing hands couldn't quit manage, all though I did start:0) So right now I will set out to answer all those FAQ you've sent me!
How often do you blog Destiny? I see you don't have dates on your post, is that on purpose?
Oh, you caught me! Yes, I don't have dates on my blog post on purpose. I guess it's just a way to trick myself into thinking that I blog a lot.:0) No one likes to see 10 days in between posts:0) Which leads me to my next answer, I post 1 or 2 a week. I know that's NOT a lot if you're a blog reader and your use to seeing professional bloggers post 5-6 times a week or sometimes 2 times a day. A Place for Us is not a daily blog. I take blogging a seriously as I can, but it's not a priority. Our family dynamics are pretty simple, God, each other and our kids and within in that my roles as a wife ( sharing time with my husband,kissing,watching our favorite shows,talking) as a parent( staying at home,teaching,keeping things pick up, cookin, planning,etc) is what most of my day is dedicated to. Everything else comes as a bonus!!
How do I follow you? There doesn't seem to be a place for that.
There are several ways you can follow my blog!
One is through a feed. What is that? Feeds are a way for websites to distribute their content beyond just visitors using the internet browsers. Feeds permit subscription to regular updates, delivered automatically via a web portal, news reader, or in some cases good old email.
On the right side of my blog you will be able to sign up to receive my blog updates through a feed by clicking the feedburner logo under my photo. Another way is to simply sign up via email which is also located on the right side of my blog! So that way you will never miss an exciting post. Or a not so exciting post:0)
Most of my fans follow me through Facebook. If it's your first visit here you should have come across a facebook pop up to direct you to my page. If not then you can join me by clicking widget on the right side of the blog as well!
If your not a Facebooker that's ok because my updates automatically feed to Twitter. Nice:0) My handle is @aplaceforus
Other fun ways to see what I'm up to is through Pinterest and Instagram (under aplaceforusblog), two of the best things EVER!!  
I loved the wall treatment you did in the living room with the boards going across and the shelf going the length of the wall where you had pictures. I watched that segment over and over, but couldn't understand what you said that was called.
That treatment is called board and batten. I didn't do a formal tutorial on it but you can find it all over the blogosphere! Here are a couple of links.
http://itsthelittlethingsthatmakeahouseahome.blogspot.com/2009/02/how-to-board-and-batten.html
http://hookedonhouses.net/2010/08/19/our-playroom-gets-a-new-look-with-board-and-batten/
HOW do you do it? How do you manage to keep such a clean home,do all your projects, posts, etc with three LITTLE kids in the house?
Oh the million dollar question!!!! I'm never sure how to answer this one. But I first must say that my house is NEVER spotless…unless your coming over for the first time.(that's our gift to you) I try my best to keep the downstairs clean and picked up. But I'm so lucky to have a office door, laundry door and a coat closet door to hide all my clutter! hehehe:0) The upstairs….undecorated uninspiring, just UN….lol!
When ever I take a picture of my space, I clean it up or stage it if you would like to say that. No one, yes not even YOU wants to see my messy space when I'm doing a reveal!!! Imagine BHG or Elle Décor taking pictures of the interiors of homes the way they looked day to day. I'm guessing you and I wouldn't be inspired to purchase any of those magazines:0) That's exactly what I do. I take pictures of my pretty space, post it and then it goes back to normal!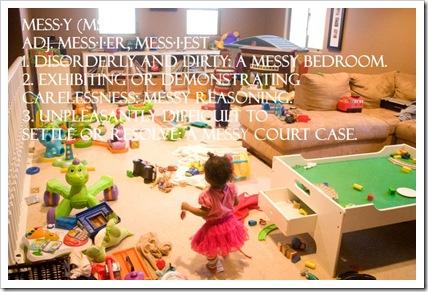 See…lol.
Another thing is that my hubby is SUPER laid back for the most part. I'm always mid project and he doesn't seem to mind at all. Occasionally  he will tell me to get my behind in gear..but all in love of course :0) For those of you who's husbands aren't exactly interested in DIY, your not alone. I could name a million things my hubby is great at, A MILLION. But when it comes to hammers,nails,design and ideas, he rather not. Not to say he wont help, cause he does when I'm to scared to use one of the power tools he'll show me how, or when something heavy needs to be lifted, he's right there! lol! But this is not a couple thing that we go at together and that's ok and it should be for you too, if it's something you enjoy! I can honestly say that him and I are really passionate about our family and giving THAT our best! As for him, he is a sports FANATIC! I know his dream job would be to work with ESPN or the AZ Cardinals:0)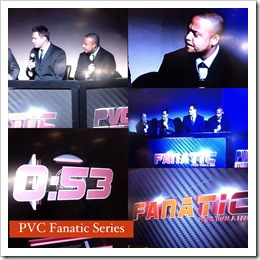 Going back to our dynamics, we don't mind having people over to our house when things are under construction. Every Thursday we host a bible study. So whether I've just started a project or in the middle of one, our friends still come! To us it's not about the spotless appearance of our home. If someone's coming into our house to judge us on those circumstances then we fail every time. Our goal is to have a great time and enjoy each other!!
Do you do in home consultations, answer design dilemmas, etc?
I guess the answer to this is NO. I've dabbled in this area before and I LOVED it! I recently got to work in a home close to me for a few months. I decorated two guest bedrooms for two empty nesters. It was under the most perfect circumstances, amazing client, only 15 mins away from my home,worked a few times a week, great budget, no daytime visits, and we did a lot of shopping at local stores. I had a blast!
I've even spent some evenings researching design dilemmas for readers free of charge and as you can imagine that was taking a long time.
So I've decide not to. I know I know… I feel so bad!!! Some of my friends tell my I should charge a small fee and turn it into a business, but honestly it's not even about that, it's about the time. I just don't have enough of it. This is one of those things that I just don't have the time to do!
Can you please provide us with your wallpaper information?
I purchased my wallpaper from MahonesWallpaper Shop.
The brand is Seabook and the book is called ShadowPlay. You will see this most gorgeous selection of prints in this book! I would advise you to get a few samples of what you see! Also follow them on Facebook for great deals! As you look through the selection you'll see that it can get expensive. That's why I used it on one wall. It really makes a big impact in that room though!
Here is the link to my wallpaper
http://www.mahoneswallpapershop.com/Shadowplay_p/sp146724.htm
What are those round green plants on your yellow side table and also the ones on mantel?
GREENERY!! I love decorating with greenery.
The ones on my side table were found at HOBBY LOBBY about a year ago.
The mantel ones are preserved topiaries trees. This means that they are REAL leaves and you have to spray them once of month to stay fresh.I found mine at HomeGoods but they can also be found on the internet. Unfortunately they are more expensive:0(
What color did you paint the walls next to the beautiful grey and white wallpaper?  What color are you painting the living room and what new color is down the hall with the great signs?  (Closet, Laundry, etc.)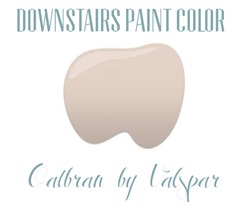 I've used one color downstairs and that is Oatbran by Valspar!
It's the most delicious neutral color on earth, in my opinion of course. If you're thinking you would love to start with a neutral  base and add pops of color then this will work for you too! I love it because it doesn't have a lot of yellow in it. Your also not going to get stuck with a neutral with pink undertones. I've made that mistake before, yuck:0) Pick up a sample and see if you like it!
How long has it taken you to decorate the way you have with three kids?!
Well we moved into this house July09. I was pregnant with my little girl who made me super sick. So we can just forget about that first year…lol. So in 2010 when things started to settle I finally stared some projects around the house. So far I've completed my powder room, living room/dining room and family room. Right now I'm giving my kitchen a facelift. I still haven't touched my office, laundry room or coat closet. Not to mention the entire upstairs. So within a couple of years I've gotten a lot done, but these things take TIME! I don't have a deadline for myself. I really just enjoy doing it. It's hard to stay focused on one room at a time but that's what I've been trying to do since the beginning:0) TRYING.
As far as budgeting it's a month by month thing. I try to buy something for the house weekly. Whether it be organizational items, upgrading different fixtures in the home, or buying fabric to make pillows.(what a great rule I have for myself..lol) Each week something big or small goes to the house. For the LARGE order items like sofas and tables and carpet we save up for that. I let my hubby know in advance what we need and he usually agrees and he plans accordingly. Then after bugging him a time or two he lets me when we can get those things:0) This year we plan on replacing our family room sofa, upgrading our carpet in the family room and possibly finishing the window shutter order from upstairs! He's super cautious about putting things on credit or payment plans. We've only had a handful of things on a plan during our 7 married years. Just about all of our purchases are paid in cash.  I hope that's not to much information! But I always wonder HOW other people do it! So I don't mind sharing a little financial detail!:0)
I love the couch/sofa in your living room, the white one with three cushions. Could you let me know the brand and where you got it?
Sure! That sofa is a Robert Michael's sofa and can be purchased here. The sofa is called The Savannah,
I wanted to do one long rod like you did and was wondering where you found your rod and how you connected it all so when the drapes are hung it looks like a wall of windows?
I purchased that rod from Bed Bath and Beyond. It's actually three different pieces an two, six foot rods and one eight foot one, connected together to make one large rod. I'm not sure of the brand but its over by all the wooden rods. I think I also bought a extender piece that's in that same section.
Would you post some of
the styles that you designed for your bedroom and your kids rooms? I really need some ideas for them.
I sure will! As soon as I get to them:0) Like I said the upstairs really hasn't been touched by my dreamy décor plans yet. But just in case you wanted to know I have a master bed,bath and closet, two full baths, one large playroom and three bedrooms! So stick around for a whole lota decorating!
You can take a look at my little girls nursery here (there is no part II )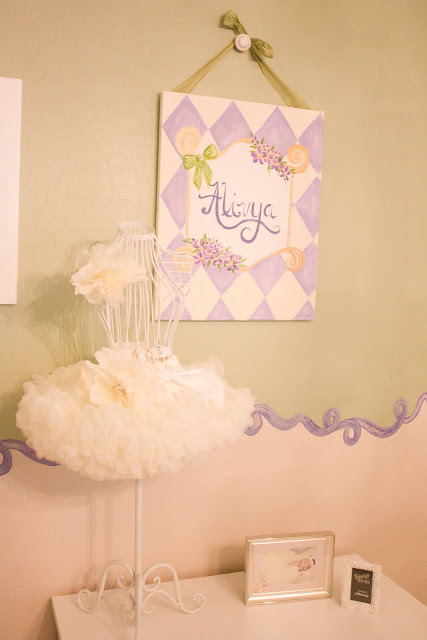 What did you use to put your flowers up on the wall?
Elmer's glue dots, the best thing ever! It won't ruin your wall. This is a good thing. You can purchase them at Walmart!
Do you sell your monogramed plaques, hallway signs or paper flowers?
No, not at this time:0) But you can easily do it yourself! If you don't have a personal vinyl cutter you can purchase one here or here. If that's not an option you can get vinyl custom made here. Shelly also still sells my hallway sign vinyl packages in her shop, House of Smiths Design.
What type of skin care do you use?
This is another one of those questions that I get asked a lot! Well it's pretty simple. Water, Dove for sensitive skin and a mild lotion.( This is not everday by the way, maybe 3 or 4 times a week)  I've never used anything super complicated when it comes to my skin. About once a week I use a course sugar scrub to scrub off my dead skin cells and it leaves my face SUPER silky, like a baby's behind

I love makeup and you can read about that here and here. 
Hope that answers most of your questions! If you didn't see your question answered here or want to ask another question feel free to contact me and I will get back to you as soon as I can! I will keep adding more to the list as well. For everyone's convenience I will also have this information on my navigation bar at the top of my blog for future reference!