2022 Just Destiny Gift Guides: Gifts for Him
This post is sponsored and may contain affiliate links, please read my disclosure policy.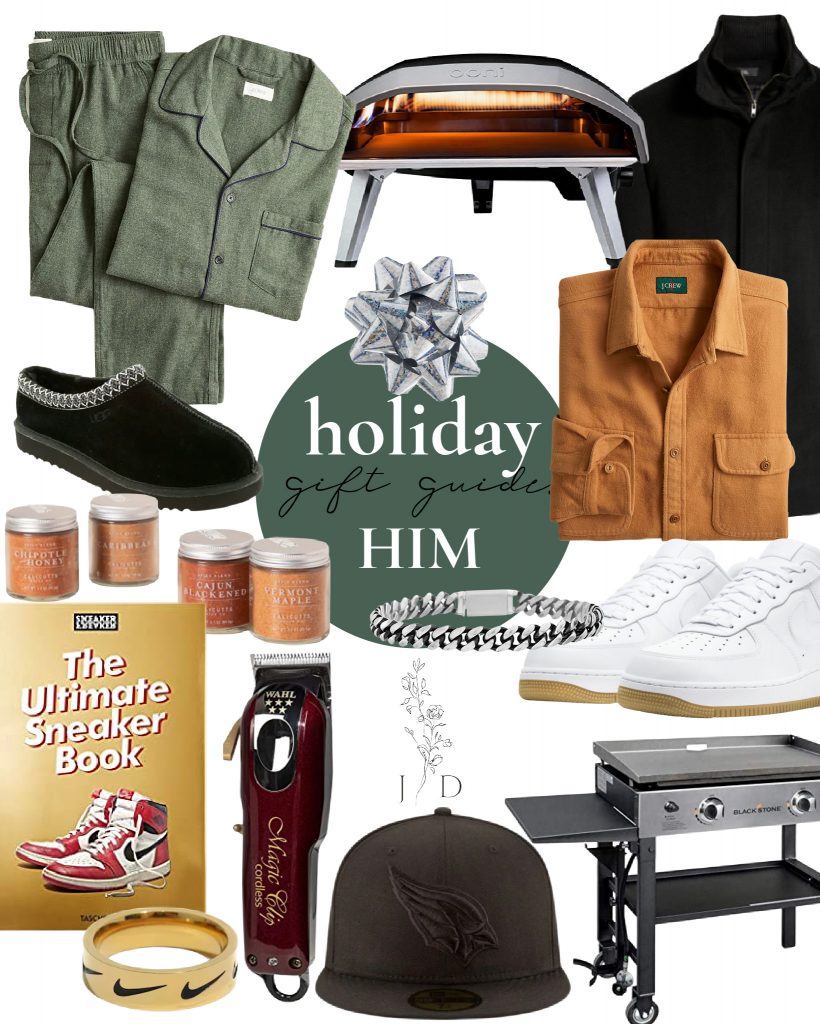 Cozy Pajamas -nothing says grown man like a nice pair of proper pajamas. This might be the year to get your guy into some nice and cozy pajamas! These are highly rated and I have a few myself from the women's section! Plus love the color for winter. 
Ooni Pizza Oven– we had this oven way before it was cool and we still love it. Great alternative to bbq-ing! If your man loves to grill he will equally love pizza night! 
Wool Coat– another classic. This wool coat is perfect for those cold winters. Even if you live in a warm weather state like me, guys are always thankful to have a nice coat to throw on for dinner. 
Workcoat/Flannel– another winter essential your guy will love. Looks great with a good pair of boots! Reggie will love this for sure! Great for layering if your guy doesn't want to wear a jacket! 
Grilling Spices– a great selection of spices to try for grilling! Great on steaks, burgers, chicken etc!! 
Curb Chain– great little chain under $20. This looks great for the guy who likes to rock jewelry! Classic style and pairs great with a watch or looks good on it's own. 
Ugg Tasman Slippers-super cozy house shoes for your guy. Comes in a few colors but the sole is thick so it feel solid underfoot. 
Air Force Ones- my guy loves a good pair of shoes. Air Force ones will ALWAYS be a classic and a great gift! 
Sneaker Book– my middle is a BIG sneaker head so this one is definitely going in the cart. But young men turn into adults so I bet you might have a sneaker head in your house that will enjoy this book! 
Nike Ring– Another great piece if your guy likes to rock jewelry! 
Wahl Magic Clippers– great for those times in between hair cuts! 
Cardinals Hat– Black on Black is such a cool look! Even if your guy isn't a Cardinals fan I bet you can find one to rep his favorite team! 
Blackstone Griddle– Reggie has a griddle and loves it. Again you can do the burger and dogs but on this you can take breakfast to the next level! Pancakes, eggs and more on this is SO fun!