I finally started on my gallery wall folks.I love how it's looking so far. I feel like I might add some more pieces to it, but I just wanted to give you guys an update! The office is REALLY coming together! First it was the confetti wall with the coral dresser. Next some new drapes and last week I showed you my new wall, desk and rug! I'm on a roll;0)
A while ago I was looking for the perfect anchor piece for this wall and I ended up picking out a couple I thought would look nice but I ended up going with this ultra feminine poster from Minted by artist Courtney Wilburn, the illustrator and designer behind C.Whimsy Designs. I LOVE this print. The gold trim skirt embellished in glitter fits in flawlessly with my coral and gold office. Oh and those legs. Mine aren't exactly like that…but close. lol. Yeah right. Maybe they took a shot of my sisters legs, they look about 5'9ish and 15% body fat.. :0)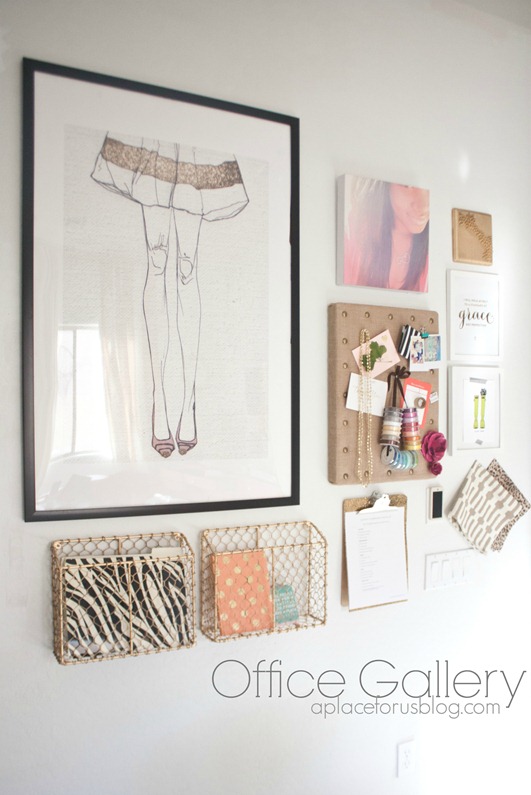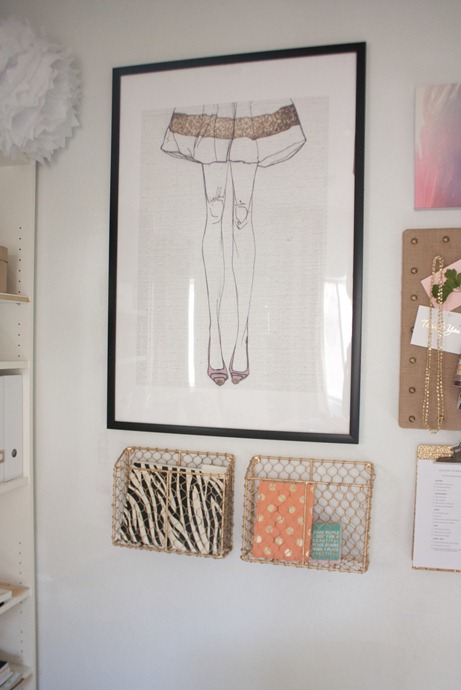 This print is apart of thousands of art prints created by a community of artist on Minted.
"Minted is a global community of independent graphic designers and an online store that prints and sells the best of their designs in the form of paper goods."
Which means when you order from Minted you are supporting the work of talented artists all over the US. COOL. Not only will you find art prints but party goods, invitations for weddings, Christmas cards like the ones I ordered last year, and more! I even purchased my parents wedding anniversary invitations through Minted! We still Do:0)
Here's a closer look at the rest of my wall. I have a left side view from my desk, and with it just steps away I really wanted it be just as functional as it was pretty.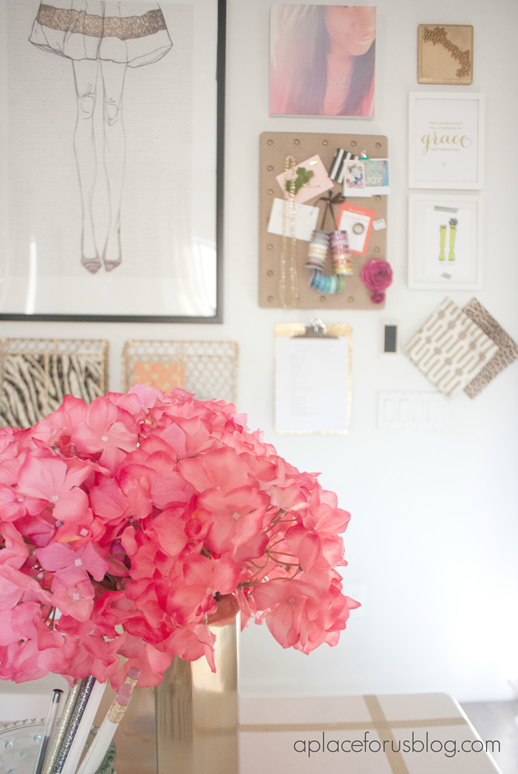 I added some hanging file folder organizers that I got from World Market and spray painted them gold. Right now they hold a few notebooks and other miscellaneous papers, but eventually will hold some much needed "to be filed" papers:0) I think the chain linked look is so fancy!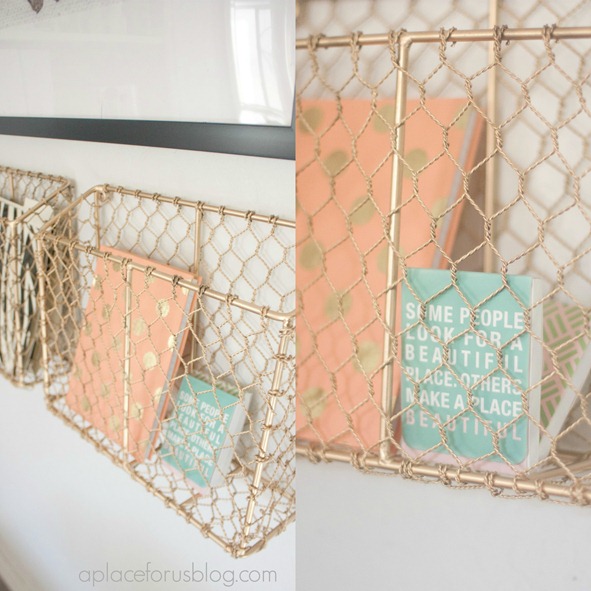 I also created an original art piece using some spikes:0) I love how it turned out.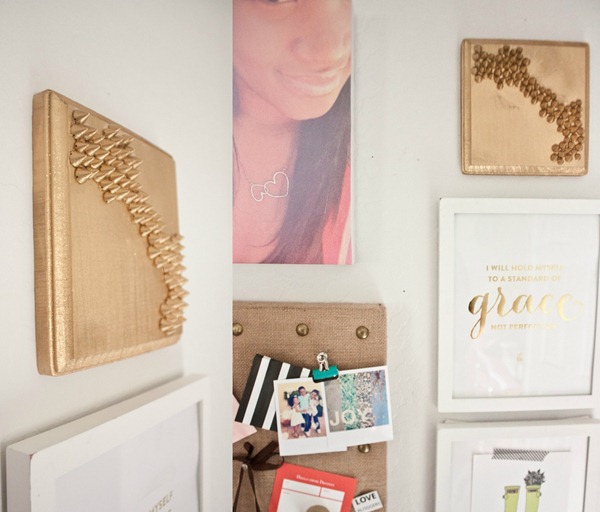 I picked up this burlap message board from Marshalls aka TjMaxx aka HomeGoods. I'm pretty sure it's the SAME one from Ballard Designs. But I got mine for 14.99. Yes.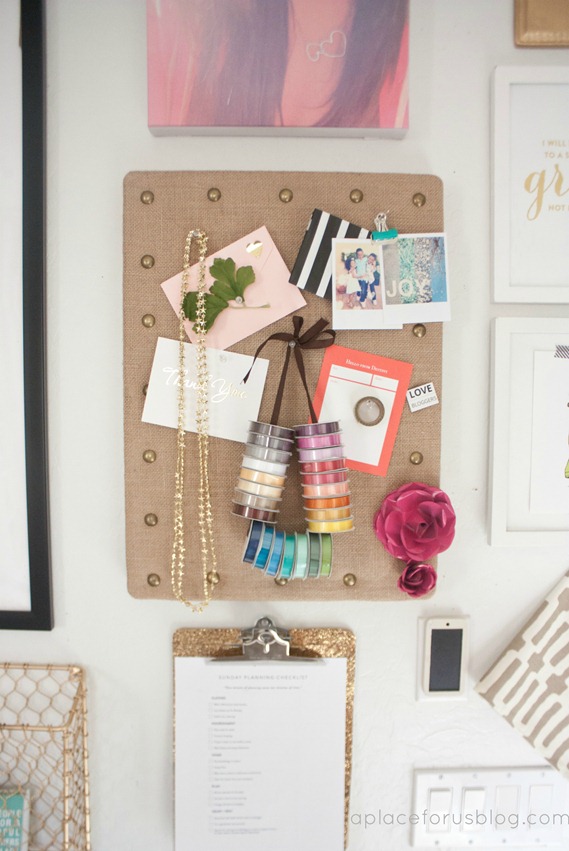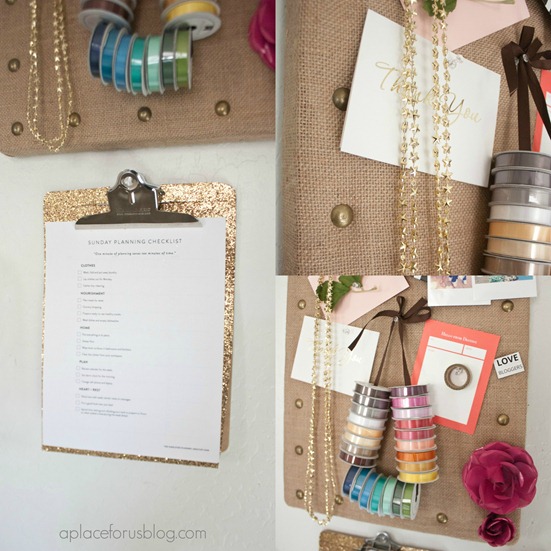 I have a few checklist that I downloaded from Emily Ley and of course some random lovelies on the board to make things pretty. I love the view from here:0)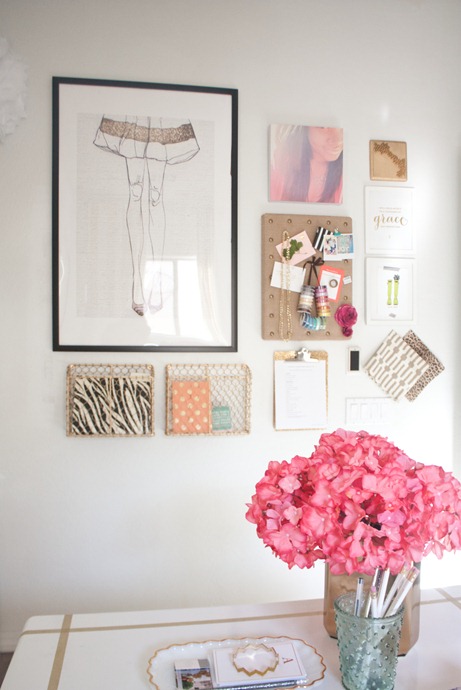 Get inspired over at Minted.com by creating mood boards for your dreamy office view. You can mix and match prints just like this by using their inspiration boards. I think this chair might be my next purchase:0) It's just so perfect. I wish I could put pen to paper and have it come out all cute and stuff. Hello little chair, your pretty:0)
Oh and they always have a pretty sweet referral program: Get a $25.00 credit to use on your first purchase of $50.00 or more so make sure you tell your friends and your friends friends for a nice discount! Go on over and fall in love, you have my permission!
This is a sponsored post via Minted.com. A Place for Us may have received payment, product or trade in exchange for this post. But I only promote products and companies that I would personally marry and put ring on it. Minted.com is one of those companies:0)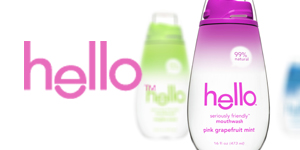 The following two tabs change content below.
Destiny is the founder of Just Destiny Mag, an online publication that focuses on home living and lifestyle. She is a native of the beautiful state of Arizona where she raises her beautiful children right along side with Mr.Right. She believes her destiny is so related with everything beautiful and that those beautiful things can come in experiences, food, fashion, family, photography and laughter to make a beautiful life!