It's getting HOOOOOOOOTTTT down here in Phoenix! That means summer is a knocking! If your up north and it's still snowing, I feel for ya and we are sending the warm weather as fast as we can! So whether you'll be spending your days on the beach, hitting up all 50 states, or hanging out with family in the backyard, here are TWELVE must have Summer apps that will keep your vacation plans in check and you entertained.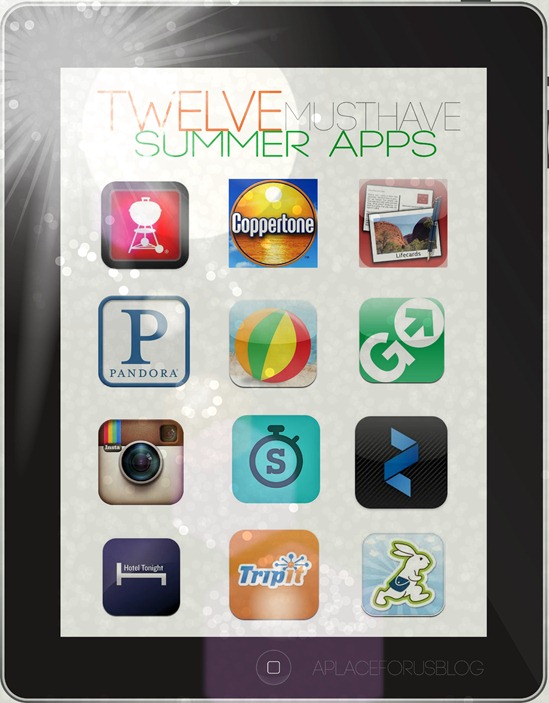 Weber Grill App– If you plan on doing any grilling this summer, make sure you download this free app that will give you grill techniquies, tip and recipes for your next outdoor party. It includes over 75 recipes that will keep the fire burning all Summer long.
Copperstone App– I love this app for the family. It provides you and your family sun protection information. Giving you local UV index forecasts, custom sunscreen reapplication reminders that you set. Which is PERFECT because I never remember to reapply. It also has individualized product recommendations, coupons, sun protection tips and more.
Postcard App– Having a great time on vacation? Use this app to send your friends and family…really grandma and grandpa:0) , a postcard directly to their email, facebook or twitter! It includes over 300 templates for you to chose from and you can sign it with your finger! Perfect for kids too!
Pandora App– now what would Summer be without a great playlist. Cleaning out the garage, hanging out at the lake, and traveling around town with girlfriends are all the perfect occasion for music. Pandora offers listeners stations that is fit for your type of genre. My personal favorites are 90's pop, 2000's pop and r&b station. Oh the memories! "Summer Summer Summertime"
Beachfinder App – Looking for a beach near you? Download this app to find the best rated beaches closest to your location. Perfect for those of us who aren't from the coastal areas and those who are traveling with out a plan:0) Last year my husband and I found this beach while in California using this app. Super quiet, and CLOSE parking:0)
Goselect App– This is a time saver app and it's easy to use: "Instead of standing in line at the gate and paying full price, travelers can use any smartphone to visit GOselect and purchase admission to more than 400 popular attractions in America's top tourist destinations. Either way, anyone with a smartphone can then skip most entrance lines and go straight to the gate, using their smartphone as their admission pass!"
Not only does Go Select Pass give travelers a way to avoid long lines and the hassle of printing, carrying (and possibly losing) tickets, it helps travelers save on the price of admission to popular destinations. Visitors who purchase passes with two or more attractions are guaranteed to pay less than the gate price, and the more attractions they choose, the more they save – up to 40 percent off.
Instagram App -Before you do anything this Summer you need to be on Instagram. It's the perfect place to snap a selfie, add a filter, caption it and share it with the whole world. I'm on it at least once a day and so are all the cool kids:0) You can even upload the photos to your facebook and twitter feeds which makes it THAT much better. Follow me here!
Sworkit App– Need to do a little work out while on vacation. Well this is the perfect app for you. You can do intense workouts that will make you break a sweat. With workouts ranging from 5-60minutes, it's a great app to keep those abs tight while on vaca. You can even customize your workouts and they have videos for you to review if you don't know the move. No weights or equipment required.
Zonio App– I love a good magazine. Plane,train, or automobile, I'm always down for a good read. Use this app to subscribe to your favorite magazines and get them before your friends do. All though I love the glossy pages of the real thing, I don't have room to keep them all in my beach bag so this is a fun alternative.
Hotel Tonight App– my friend Allison introduced me to this handy app. It offers discounted hotel rates after 12:00pm each day from your location. Great for those who are traveling and need a little bed to lay their heads. Look for discount codes for even more savings.
Tripit App– This app is pretty cool if your want to stay super organized on your FOUR week vacation:0) "Whenever you receive a confirmation email from anywhere you book, simply forward it to plans@tripit.com. TripIt instantly recognizes reservations from 3,000+ booking sites including cruises, restaurants, concerts and more.
You can easily share trip plans with family or colleagues directly, or let Facebook and LinkedIn contacts know when and where you're headed." Sounds pretty cool to me and I love that you can synced it with your calendar! I'm all about the calender.
SO what other MUST have apps do you recommend this summer? I would love to hear from you!